Out of this world. Unbelievable. Tremendous.
Those are just three of the superlatives Vincent Thibault, co-founder of the Quebec-based data processing infrastructure firm QScale, uses to describe the extremes in technical innovation, engineering ingenuity and power usage required to engineer and run the firm's new $200-million data processing centre currently under construction in Levis, Que.
"The numbers here are just out of this world," said Thibault. "The level of equipment and the details that go into such an infrastructure, you've got to see it to believe it. I mean, it's mind-boggling."
Phase one of QScale's Q01 campus has a completion date targeted for late this year. It will be the first of eight phases of a long-range, $867-million program that Thibault says will certify Quebec as a world leader in the data processing hosting field, which he explained is a major step up from the more pedestrian data storage sector.
Hosting high-performance computing (HPC) devices and supercomputers requires so much energy and generates so much heat that a five-storey building acts like a huge radiator, Thibault said.
The plant requires its own twin power substations with two sets of transmission wires and he identified four different cooling systems the team of 100-plus engineers is incorporating into the campus – air cooling, rear door, direct liquid and immersion – to be followed by a fifth system to be required in future to chill quantum computers down to minus 200 degrees or so.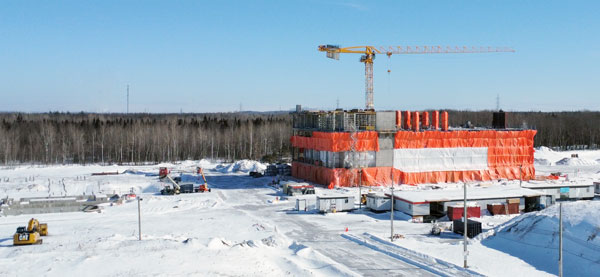 He compared the heat generated by some computers to a fridge-sized device that has 30 oven elements in it.
Every component of the Q01campus project is intense, Thibault said, from the 300,000-litre pools of oil required for the transformer and its gigantic heat exchangers to the oversized 35-foot-by-50-foot transformers.
Even the piping is extreme.
"We're talking kilometres after kilometres of piping, we're not talking one-inch pipes, we're talking 16-, 18-inch pipes for the cooling system," Thibault said.
The data processing sector is expanding exponentially, Thibault said, more than doubling each year, with increased adoption of AI and HPC fuelling the growth of self-driving cars, biomedical research and the metaverse. Firms that used to host their own CPUs (central processing units) now look for offshore campuses and that's where two of Quebec's competitive advantages – cheap and clean energy, and cold climate, perfect for cooling needs – set it apart.
"There is no reason for you to run an aerodynamic simulation in a place like Tokyo or Frankfurt or Zurich, where power rates are five or 10 times as high," Thibault cited as an example. "Basically what you do is you use that fiber optics network, you send the data here, we process it, then we send it back to you and it costs you half the price of doing it in Frankfurt or Zurich."
When up and running, the campus will require 100 megawatts of power a year, equivalent to the consumption of a small city. Targeting sustainability, QScale engineers have developed a system to capture the heat generated and transmit it 800 metres away to a vast network of greenhouses, the size of 100 football fields.
QScale's first phase has been designed with the flexibility to enable its clients to install processors of different dimensions and needs, from power-intensive liquid-cooled racks of up to 100 kilowatt density to more traditional air-cooled servers.
Mixing the various technologies on the five floors required significant feats of engineering, Thibault said.
"From the structural point of view, if, for example, we use only two floors of immersion cooling, that basically means we're putting pools on two of those floors," he said.
"So the weight requirements and all that stuff goes up tremendously. So we need to build a structure that can handle that."
It requires a tremendous job of integration, Thibault said.
"You have vendors, you have technologies, you need to adapt it and figure out a way to make it all work together."
QScale is managing the construction with Revenco, an electrical contractor, responsible for general contracting, given that 40 to 50 per cent of the costs are electrical, Thibault said.
With construction of the initial phase (12 megawatts of IT capacity) on track for commissioning later this year, the complete project (96 megawatts of IT capacity, almost one million square feet of total building space) is looking to be a realizable vision.
"Sometimes I don't believe it myself," said Thibault.
"It's just an incredible achievement to be able to do that."
Follow the author on Twitter @DonWall_DCN.