With shimmering glass blocks, Moshe Safdie/Habitat-inspired luxury units and cascading vegetation, the mid-rise KING Toronto condo development on King Street West seems destined to become a new city attraction when it is completed in two years.
Currently under construction at 489-539 King St. W., KING Toronto was designed by Bjarke Ingels Group, assisted by Diamond Schmitt, in the form of a series of mountains and valleys. Units will face in every direction with vegetation evolving as ascending tiers lead to custom-designed "mountaintop" penthouses.
Westbank and Allied are the developers. When completed, the development will include 440 residential homes and 150,000 square feet of workspace and retail.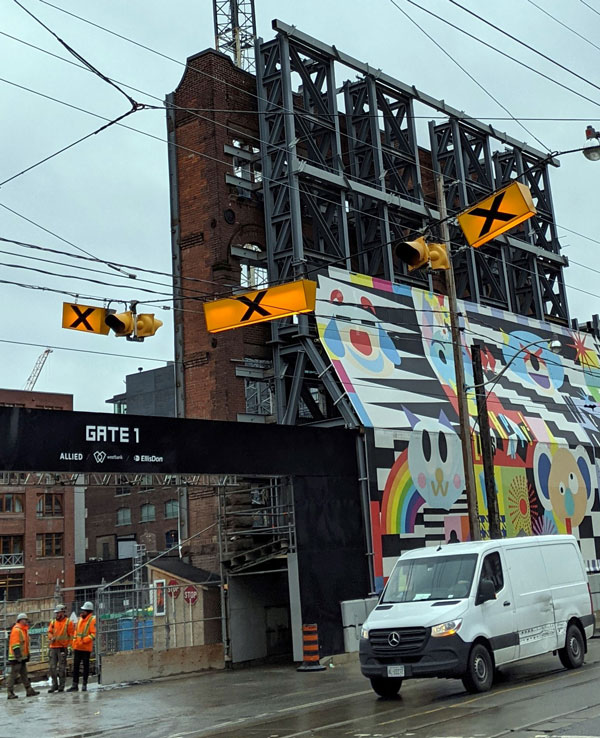 Westbank marketing director Michael Braun, speaking from his Vancouver office, said permitting from the City of Toronto took extra time as planners contemplated a proposal with 16 storeys of cubic units emerging from a set of red-brick heritage buildings.
"The typology of this building looks like nothing else in Toronto," said Braun. "Typically what is being built and what the zoning calls for are these towers on top of podiums, and that's what you're seeing block after block after block.
"So it took a long time to get the design approved, because it's not like anything else."
Software firm Autodesk released an analysis of the project in which it described how the designers, engineers, mechanical consultants and electrical specialists used BIM 360 to collaborate to create the glass-block facades, incorporate vegetation and integrate a giant underground stormwater cistern. The whole package had to meet Toronto Green standards.
The glass blocks could not be piled like building blocks, so the solution was to merge them into a curtain wall system. Blocks are joined into bigger panels with silicone joints for flexibility and installed into an aluminum frame cladding system, Autodesk explained.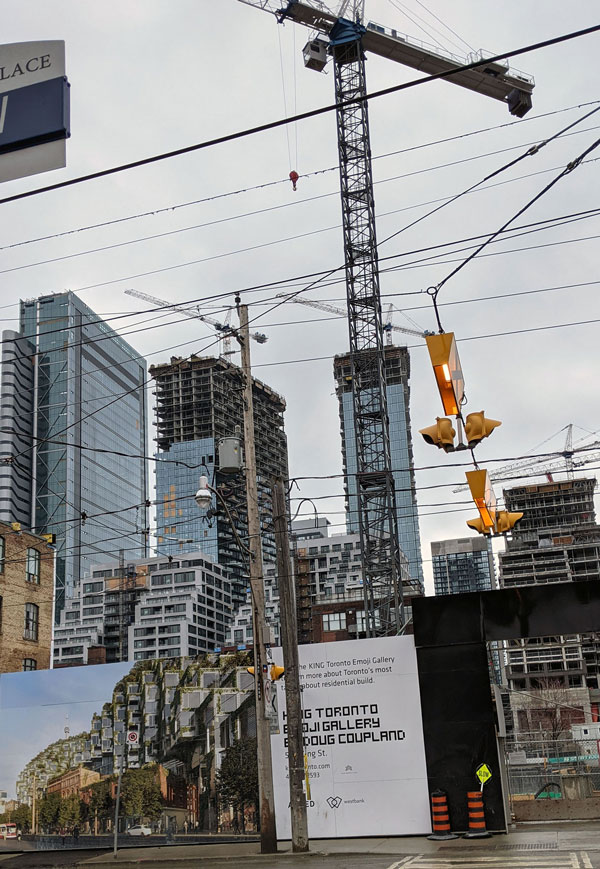 Triple-glazed windows and thermal panels adjacent to the glass blocks were introduced, with the developers targeting LEED Gold.
Braun said the systems simply could not have been achieved 20 years ago.
"The computing power didn't exist to do the structural load calculations," said Braun, comparing KING Toronto to Westbank's Vancouver House project. "What's interesting about some of these buildings is that they're so of-the-moment that, literally, they couldn't have been done before. That what's really cool."
The design technology enabled the team to realize the vision of luminousness for the glass blocks, Braun explained.
"You don't really realize how much it shimmers and how the light comes through the glass blocks, it has this glow to it. And there's no building that will have this kind of soft glow to it, the shimmer effect. That was my 'wow' moment."
The penthouses were given such names as the Teahouse, Greenhouse, Glass House and Sanctuary. One of them, at 5,000 square feet, sold for $16 million in 2020, the highest known condo sale to take place in Toronto during 2020 and 2021.
"They're essentially homes in the sky," said Braun. "When you think about it, if you wanted to hire a designer to design individual homes, to be there would be in the millions. You're getting essentially a home designed by the world's most prominent architects."
ERA Architects is the heritage architect for the project, tasked with preserving the heritage buildings and advising on syncing the development with the industrial heritage of King Street, which now is a thriving entertainment district.
Braun said the "mountains" of homes were designed to weave in and out of the heritage buildings.
"When you walk into the lobby from King on your one side, you'll see the facade of the heritage building in the lobby, with the stained-glass window. So it's really cool how the old and new are brought together."
Beside Moshe Safdie's Habitat development in Montreal, the other inspiration for Bjarke Ingels Group was Pierre Chareau's Maison de Verre (House of Glass) in Paris.
Westbank often incorporates greenery into its developments. Braun said the vegetation is another way the developers were able to differentiate KING Toronto from other projects.
"I think it's a comment on Toronto," he said. "Toronto doesn't have a lot of greenery on its buildings. It's a rare thing.
"You also don't have a lot of terraces. Almost every single home in this building has a terrace because of the way the mountains work."
Follow the author on Twitter @DonWall_DCN.