Lakeview Community Partners is celebrating the unveiling of the first structure at its mammoth Lakeview Village project on Mississauga's waterfront, symbolic, the developer says, of a multi-stakeholder engagement effort that was not derailed even by a pandemic.
The Lakeview Village master plan calls for 1.9 million square feet of office and employment space, 8,000 units of midrise and highrise housing, 200,000 square feet for retail and restaurants, a 20-acre innovation district targeting employment, research and technology developers, and 45 acres of green space.
The anticipated number of residents is between 16,000 and 20,000.
The new Discovery Centre opened last month, set to serve as a community hub, sales centre and gathering place for artists for the next 10 years as the community progresses. Q4 Architects was the architect and incorporated design elements that paid tribute to the site's industrial past, including the Four Sisters chimneys of the demolished Lakeview Generating Station.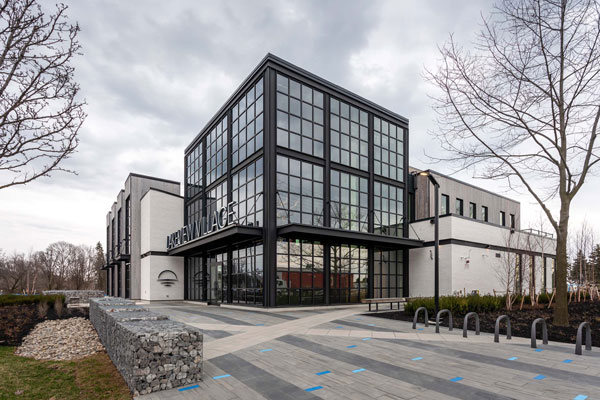 Brian Sutherland, vice-president of development for Argo Development and development lead for Lakeview Village, said the rapid progress on the project is testament to a community-wide consulting process that has led to swift planning approvals by the City of Mississauga.
Permitting continued through the pandemic leading to draft plan, official plan amendment and zoning bylaw approvals last November.
"It's all about partnerships and collaboration," said Sutherland. "We've got great partners within our development partnership. We've got an extensive team of experts helping us along the way. We've got a great community in Lakeview that has been envisioning a better waterfront in their area for decades. We've got an engaged and supportive council, mayor and staff at the city and region.
"We've got great partners at the conservation area.
"It's certainly exciting to see everyone working together and things coming to fruition."
Lakeview Community Partners includes TACC Construction Limited, Greenpark Group, CCI Development Group, Branthaven and Argo Development Corporation.
Phase one homebuilders are all getting into gear at the same time, with five builders each allotted a block to build. Branthaven, Caivan, Greenpark Group, DECO, Opus Homes and Tridel have signed on for the residential work.
Sutherland said the residential builders are currently working on design plans and consulting with the City of Mississauga on site plan applications.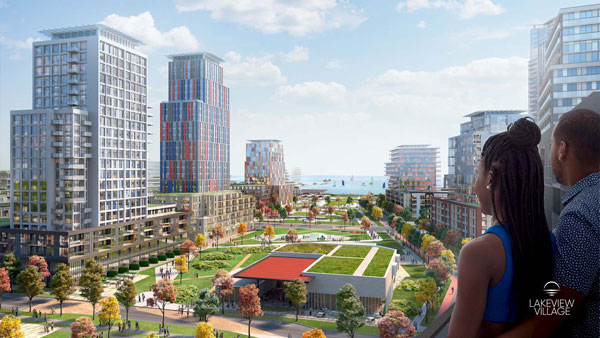 The developer is advancing on engineering and landscape submissions and is aiming to be in a position to start servicing the subdivision in early 2023.
It is hoped that complete servicing of the whole 177 acres will be completed by the end of next year.
The homebuilders should be in a position to pull their first permits to start underground foundations and garages in the latter part of next year, it is hoped, and the target is for initial occupancies in the first five blocks in early 2026.
Meanwhile, major works will transform the waterfront.
The Jim Tovey Lakeview Conservation Area project will reclaim and develop 64 acres of coastal wetlands, trails and naturalized areas for passive waterfront recreation and wildlife migration.
"Everything is working well towards a really exciting reopening of the waterfront," said Sutherland.
Sutherland acknowledged that some developers reevaluated projects during the pandemic as trends such as working from home and the flight to the suburbs took hold.
But the vision for Lakeview Village, with its mix of uses, higher density, ample green spaces and access to public transit, remained valid so there were no second thoughts.
"The last couple of years have really reinforced the right decisions that have been made with regards to the built form and types and mix of residential uses within the community," said Sutherland. "It is envisioned to be a very urban community. We don't have any single family homes projected."
There is very little ground-related townhouse product, he explained, with the mid- and highrise housing providing transit-supportive densities.
"Coming out of the pandemic, it became very apparent, the importance for people to have places to not only live but to get out and be able to have access to public open space in nature and water, and also important social connections and social sustainability aspects."
Follow the author on Twitter @DonWall_DCN.