At a recent Celebration of Excellence gala evening at the Toronto Event Centre, the Ontario Association of Architects (OAA) officially recognized the eight project recipients of its 2022 Design Excellence Awards, as chosen by a design jury earlier this spring.
The association then bestowed additional honours on four of those projects.
There were actually only three award categories, but in a surprise twist and one that has never occurred before in the OAA's history, there was a tie for the Michael V. and Wanda Plachta Award which honours architectural excellence for Ontario projects that cost no more than $8 million.
Joint winners were Lebel & Bouliane Inc. for the Clearview Public Library, Stayner Branch and DTAH Architects Limited for the Tommy Thompson Park Pavilion in Toronto.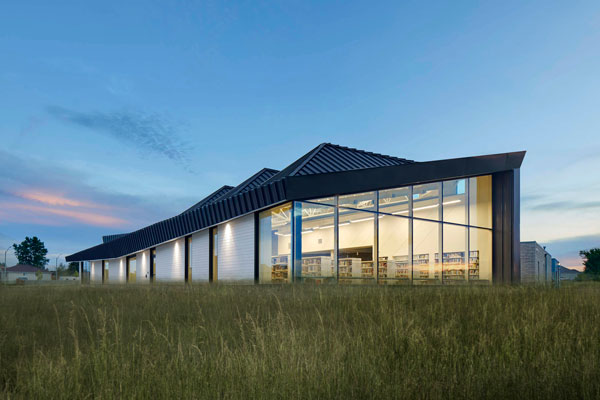 The second award was the Lieutenant Governor's Award for Design Excellence in Architecture. The recipient was RDH Architects Inc. for the Springdale Library and Komagata Maru Park in Brampton, Ont.
Established in 2015, this award is presented biennially to recognize completed projects constructed in Ontario within the preceding six years. The selection of the winner is made by the design excellence jury, but follows criteria laid out by the Lieutenant Governor, which is that the project has to be located in Ontario.
A major highlight of the evening was a pre-recorded video address by the current holder of that office, Elizabeth Dowdeswell.
It was the public that determined the winner of the People's Choice Award and that honour went to Hariri Pontarini Architects for the design the Tom Patterson Theatre in Stratford. In an online poll conducted between April 5 and 19, a majority of the 1,600 people who cast votes named it their favourite project among the eight design excellence winners.
The Celebration of Excellence evening was just one component of the OAA's intensive three-day Inspiring Climate Action Conference held in Toronto in early May. It attracted 700 virtual participants and more than 550 in-person attendees.
Next year's conference, titled Designing for Dignity, will be held in Sudbury and will feature the OAA's SHIFT Challenge program.