With more and more companies bringing employees back to the office and students heading back to class in just over a month, now is the time to look at improving air quality where people need it most.
"As we all know with COVID there were some serious issues both in schools and long-term and short-term health care facilities and businesses," Kevin Lisso, CEO of EnerSavings, told the Daily Commercial News.
"There is a bit of a scare in the industry right now where kids are returning back to school and the businesses are asking people to come back to work again and business patrons to come back. What we are seeing right now is the need to be able to appropriately satisfy air quality concerns out there. There are several different ways to do that."
Konrad Seemann of PL Energy Services said one of the biggest lessons learned since the onset of the pandemic is how important air quality is and how it can affect occupants in a building.
"Something that in the past that was swept under the rug now is forefront and has people wondering what they can do to mitigate the risks associated with poor air quality," said Seemann.
"It quickly became apparent in the long-term care industry that air quality was something that has been overlooked for years…The changes in this industry are a direct result of lessons learned through the pandemic."
There has been an increased demand from schools, offices and health care facilities looking for solutions, he added.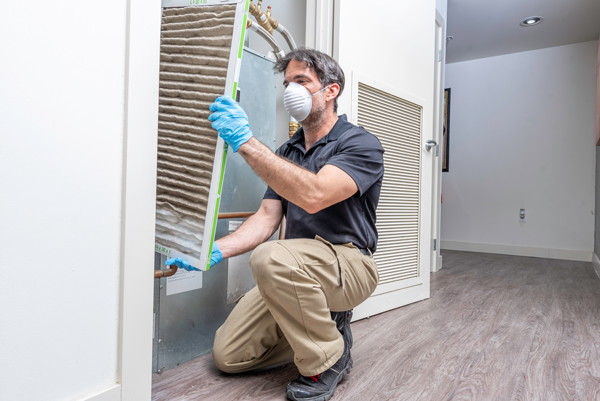 "They're all looking at what technologies can we start to improve on within these buildings to reduce the risk to the occupants," Seemann said. "There is a little bit of reservation from these employees and patrons who are now coming back out into the workforce and into these buildings and they are wondering what is being done to make sure the environment is as safe as possible."
Lisso said EnerSavings looks at a company's sustainable energy initiatives, evaluates certain things such as the age of the equipment, efficiency of the equipment and what type of GH emissions can be reduced.
"We put that into different formulas and different programs and our engineers who work in-house with us they produce a document which then goes off to the province or the federal government for approval," said Lisso.
The team has been able to dramatically improve air quality in schools and workplaces through the three major cornerstones of air quality management: MERV (minimum efficiency reporting value) rated air filtration13 or higher; UV deactivation of bacteria and virus in the air flow; and fresh air control through demand control ventilation. Either one, two or all three are applied depending on requirements and current HVAC equipment conditions.
"Air filtration effectively helps remove various dusts, bacteria and sneeze nuclei from being distributed throughout your air distribution system," explained Seemann.
The companies are seeing at least a 70 to 80 per cent uptick in filter changes in requests and emails and website visits from people looking for better air quality.
"The biggest thing we should hit home here is to look at and understand where we were in air quality and filtration to where we've come and how easy, accessible and affordable it is to do that. If we don't learn our lesson and we don't fix this air quality situation that has occurred in many of these buildings then we're repeating the same mistakes that we made," said Lisso.
The provincial government has stepped in and is mandating these types of systems be put in and is also providing funding to help companies implement solutions.
"There are all kinds of different rebate programs and there are grants and subsidies and there are so many different ways to help you afford it," Lisso said.
"Pre-COVID typically a lot of these buildings have budgets and they're never enough and they're always under-budgeted and under-funded…now they're seeing that there are technologies that aren't expensive they are very reasonably priced where we can guarantee a safe working environment for our kids in school and we can make sure that we have a very safe work environment for our employees."
Follow the author on Twitter @DCN_Angela.