Times are challenging in the Canadian residential development industry with high costs, interest rates and other uncertainty dominating planning discussions, but Canderel COO Ben Rogowski believes it's always the right time to launch a can't-miss project like his firm's new three-tower Foret in Toronto's Forest Hill.
Introduced in June, Canderel hopes to break ground on possibly all three mixed-used residential towers at once next year. Then it will be a three-and-a-half- or four-year build.
The project, designed by BDP Quadrangle with grounds by Site/C Landscape Architecture and interiors by II BY IV DESIGN, is set to become the largest mixed-use community to ever come to Forest Hill.
"It's definitely a challenging time, with lots of headwinds in our industry and around the world," said Rogowski.
"We're not burying our heads in the sand by any means in terms of rising interest rates and rising construction costs and everything else that that's been spoken about quite extensively.
"But we believe that strong real estate and strong locations will always be in demand and we're extremely excited by this project."
The development will open up the historically vacant corner of Bathurst and St. Clair next to the St. Clair West Subway Station. Other uses will include retail and a new city park, and the project is located on a streetcar line next to a Loblaws.
The condo project is large enough, with each tower offering differentiating design features and amenities, that it can be marketed to a broad audience, Rogowski said.
The towers will rise 31, 32 and 36 storeys.
Among unique features, the east building will have a nine-floor "Boutique" that sits at the top of the tower. The customizable section will include access to a private lobby, amenities and suites with 10-foot ceilings and high-end finishes.
"It's really a blank slate and an opportunity for purchasers to say, 'I'd like to buy a whole floor or I'd like to buy a half floor, or I'd like to buy a sixth of a floor,'" Rogowski said.
The project is still 10 to 12 months away from being shovel-ready. Decisions on phasing of sales, committing to groundbreaking and signing deals with subs and trades are fraught with stress these days because of the market and cost volatility, Rogowski said.
"That's what I would say is one of the most challenging parts of our business right now, because everything is moving at hyperspeed, faster than it has moved before," he said.
Decisions on getting pricing from subtrades must align with starting sales, obtaining meaningful deposits from the buyers and giving the bank enough comfort to fund startup construction, Rogowski explained.
It's challenging, he said, but the "beauty" of the Foret project is that there is flexibility in terms of building it all at once or building it one building at a time.
Site/C led the planning for what's called a privately owned public space, which will act as a corridor to a new city park and is intended to become a gathering place with potential programming.
"The intent behind the public space at Foret was to create a dynamic area for people to walk, sit and participate in activity, not just pass through," stated Site/C principal Marvin Cruz in a release.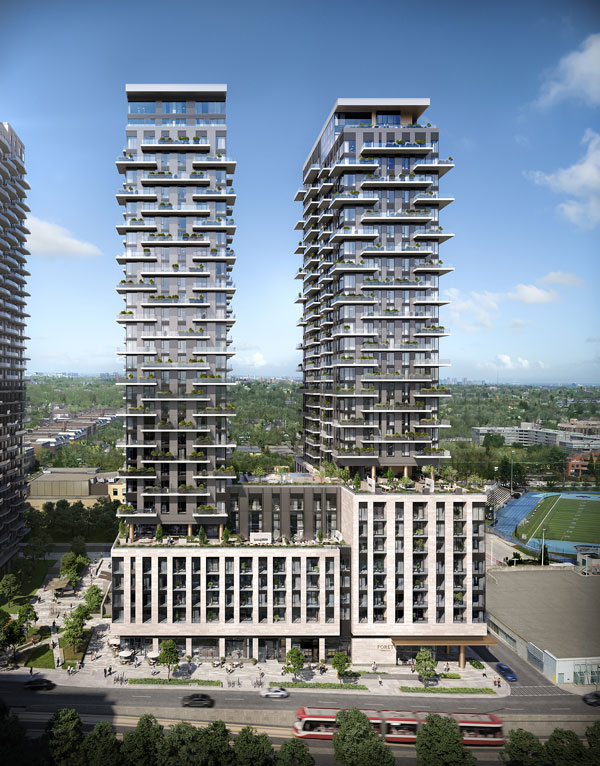 Other amenities include outdoor terraces with communal seating and barbecues, an outdoor pool and an indoor pool overlooking an outdoor patio with cabana, a wine lounge, child care, co-working spaces, games room, kids' indoor playroom connecting to an outdoor movie theatre, a garden and a health and wellness facility.
There will also be a chef's kitchen with dining and seating connected to an outdoor terrace with barbecues, fireplaces and communal seating.
Foret will offer studio to three-bedroom suites from 305 square feet to over 2,000 square feet. Prices will start from the 700,000s. 
Rogowski said the team worked hard to ensure Foret will augment the affluent Forest Hill community.
"It comes with an inherent responsibility for us to build something that will be lasting, that will fit in with the spirit of the community, that will improve the area but not be obnoxious or stick out like a sore thumb."
Follow the author on Twitter @DonWall_DCN