The federal government and other partners have confirmed $19 million in combined support to construct the Awitgati Longhouse and Cultural Centre in Fredericton, N.B.
The facility will be aiming for net-zero carbon use.
The 21,000-square-foot community centre project, to be constructed with mass timber, will enable the expansion of services to off-reserve Indigenous residents of the region.
Mike Crawford, director of projects for project owner Under One Sky, said Indigenous knowledge would combine with the latest industry technical strategies to achieve the net-zero goals.
"It means a lot to the organization and community and the city," said Crawford of the July 14 funding announcement. "We had support from everybody, for the whole work in progress to get to this stage."
Fathom Studio, a Halifax firm with extensive Indigenous project experience, was selected as the lead architect.
"They really started with a head start in terms of understanding our worldview, the philosophies and needs, and they're able to really hit the ground running," said Crawford.
Awitgati, which means a place to gather and find wellness as a community, will be the first net-zero carbon community building in New Brunswick. The building will feature a geothermal heat exchange system with a dozen vertical wells drilled onsite along with a rooftop photovoltaic array system.
Indigenous input included such knowledge as ensuring the doorway faces east, sheltering the structure from excessive sunlight and accounting for the prevailing winds. And there was advocacy for using natural materials such as mass timber.
"Indigenous values and technologies are absolutely aligned to net-zero," said Crawford.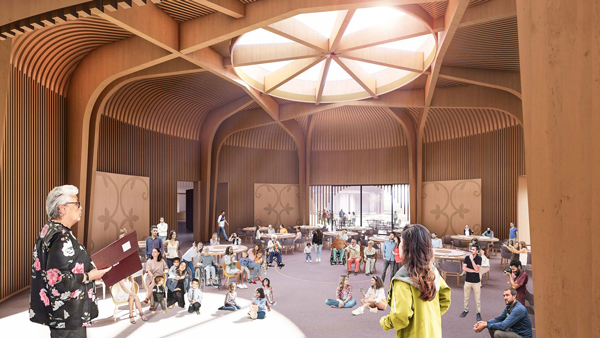 The strategies will allow Under One Sky to provide 50 per cent of its own electricity needs, and 90 per cent of its heating and cooling needs will come from onsite renewable systems.
Longhouses traditionally were places of gathering, nurturing and ceremony.
While the new building is referred to as a longhouse, the building form is not a traditional longhouse but is a modernized interpretation of Wolastoqey and Mi'qmaq principles and values, Crawford explained.
The building will assume the form of a turtle shell, representing Turtle Island.
"This serves the indigenous people, it brings people together to provide services, to help health and gather," said Crawford. "We wanted a modern structure, we weren't constrained to a form or a traditional longhouse structure."
The building is centred around an exterior courtyard with a ceremonial fire.
Programming will be delivered from a collection of pods representing the seven Indigenous sacred teachings, and the pods will be connected by an interior passageway reminiscent of a flowing river.
The building is arranged symmetrically around a circular pavilion, inspired by the medicine wheel.
The exterior courtyard will contain gathering spaces, public art works and a children's play area and transitions into more natural spaces including a medicine garden, private spaces for contemplation and a natural stream.
The new facility will allow Under One Sky to boost its program offerings from 13 to 30, reflecting a full spectrum of Indigenous needs.
The centre will include sections and rooms for early childhood education classes, child care, a health clinic, birthing centre, counselling offices, business incubator spaces, community and commissary kitchen, dining room, cafe, adult education classrooms, arts and culture workshop, gallery and exhibit spaces, catering kitchen and ceremonial hall among other functions.
"The Indigenous perspective of health and community is comprehensive. It's not just siloed into one thing or another," said Crawford.
Detailed design work remains to be done before groundbreaking, targeted for spring 2023. The job will wrap up in the winter of 2024-2025 and the facility is expected to open to the public in spring 2025.
"I think the first thing you'll notice will be the atmosphere, the energy," said Crawford. "This is an Indigenous space that is welcoming and open to everybody."
The Under One Sky Friendship Centre has been in operation since 2004. New Brunswick has 29,000 Indigenous citizens, 74 per cent of whom live off reserve.
The federal government is allocating $18.5 million to the project, Under One Sky will be contributing $400,000 and the Government of New Brunswick donated land valued at $284,000.
Follow the author on Twitter @DonWall_DCN.