TORONTO — Ace Hotel Toronto, a 123-room ground-up project designed by Toronto firm Shim-Sutcliffe Architects, recently opens its doors in the city.
The hotel is the brand's first location in Canada. It's located on Camden Street in the city's historic Garment District, which was once a manufacturing centre that grew into an artistic hub.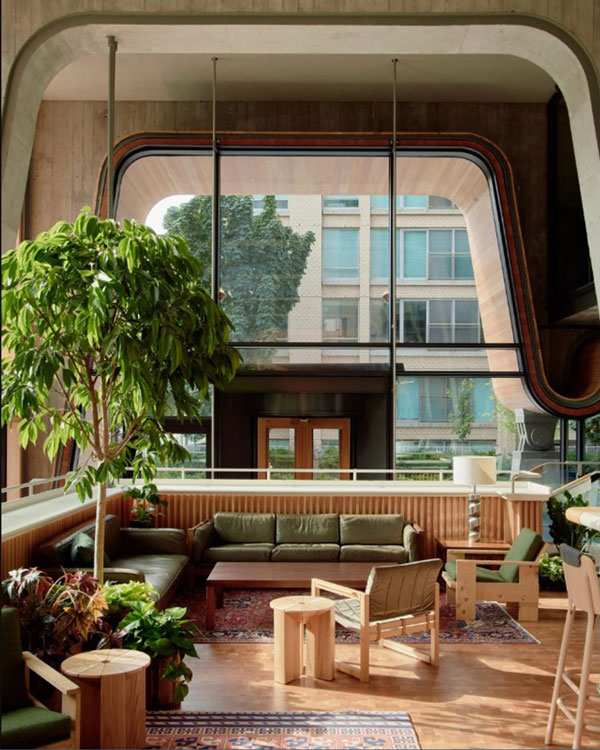 The new building was designed to convey timelessness. Shim-Sutcliffe Architects' inspiration was modesty, honesty and an appreciation of place, evoking a particularly Canadian spirit and feeling.
The building's red brick facade recalls the important role bricks pressed from Don Valley clay played in forming the city's visual identity and guests entering the lobby catch a glimpse of Horizon Line, a three-storey site-specific art installation abstractly representing Lake Ontario's glittering waters, designed by A. Howard Sutcliffe, states a release.
A series of soaring, poured-in-place, concrete structural arches rise from the semi-subterranean restaurant to a level above.
The Lobby, clad in red oak lining and inspired in form by a wooden tray, is suspended by steel rods from massive supports and offers guests a variety of viewpoints and scales within the space.
Designed by Atelier Ace, the hotel's interiors take their cues from the city's legacy of manufacturing and textiles as well as Ontario's landscape of dense forests and looping riverways.
The original art program features pieces by nearly 40 artists, many of which share ties with the city.
Guest suites are designed as restful urban cabins, with Douglas fir panelling, copper accents, custom Shim-Sutcliffe lighting and side tables and deep-set window benches built into the structure offering connection to the city's shifting seasons and light, adds the release.