The team behind the Port Lands Flood Protection Project Cherry and Commissioners Street Bridges in Toronto demonstrated its strength by winning multiple awards at the Canadian Institute of Steel Construction (CISC) awards for excellence.
The theme this year was Showcasing the Resiliency of Steel. The awards were handed out Nov. 10 at Hotel X in Toronto.
"We've all been through a lot, but we've come out strong. The whole construction industry has come out stronger," Bill Munns, part of the regional committee and general manager of M & G Steel, told attendees at the first in-person awards dinner since 2019.
"For us in steel, we've adapted, we've actually been able to innovate and be creative with the way we deliver our products and I think for a lot of us, we feel a lot stronger than we did before.
"We're looking back at the accomplishments that we've achieved. We're going to celebrate them, but for me, I'm looking forward because of the strength we've got as an industry now."
The Port Lands project was named the 2022 Favourite Project and it also won in the Bridge Projects and Erection-Ingenuity-Constructability categories.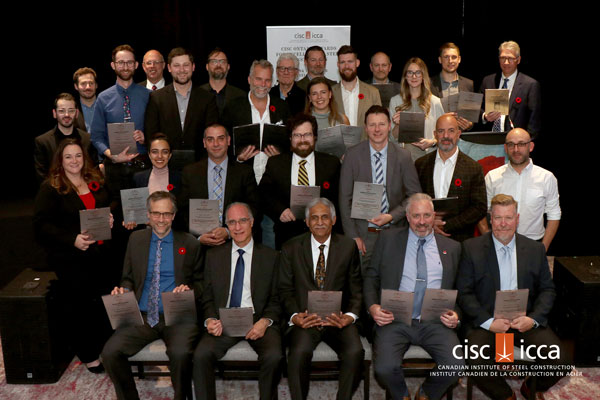 The team includes Cherubini Bridges & Structures; Grimshaw Architects/SBP Schlaich Bergermann Partner; Entuitive Corp.; E.S. Fox Ltd.; EllisDon; Tenca Steel Detailing; and Toronto Waterfront Revitalization Corporation.
The University of Toronto's Robarts Common also won two awards in the renovation-retrofit projects and the industrial-institutional project categories. The team includes C_ORE Metal Inc.; Diamond Schmitt Architects; Blackwell; Harbridge + Cross Ltd.; and the University of Toronto.
The winning projects were selected out of hundreds of nominations by a jury of architects, engineers and stakeholders in the steel industry.
"Resilience is defined as the capacity to recover quickly from difficulties, to show toughness," said Dr. Hellen Christodoulou, director of steel industry and market development. "The steel industry wears this badge of honour and we are proud to say we are resilient."
Ed Whalen, president and CEO of CISC, said the nominated and winning projects showcase the skills, talent and ability of the steel industry and design teams.
In his address, he talked about the Paris Accords and meeting zero carbon targets.
"About 40 per cent of our Paris Accord amount that we've agreed to try to do by 2050 is actually steel-related," said Whalen.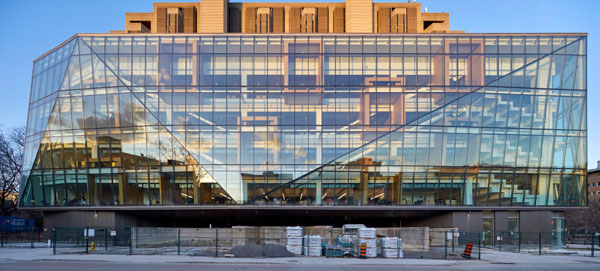 One thing engineers and architects can also do is buy specified North American steel, he said.
"North American steel has the lowest embodied carbon of any of the steel in the world by a factor of anywhere from 1.5 to four times, so if you want to help the environment and do your part, location matters."
The Canadian government is also going to be doing their part, he added.
"In a number of years, not too many, maybe two or three years, they are intending to procure for federal projects based on carbon. That's going to make it very interesting where we're going to source our materials from," he said. "What we are hearing is not that they are going to pit steel against wood or against concrete and other materials, but they are going to make the project, the general contractors and subcontractors procure for their materials from the lowest carbon source. That's going to have a very interesting impact on steel mills in the future, where steel mills are going to be located."
A recent report identified Canada as one of the locations where steel could be made in the future if it had to be low carbon, Whalen said.
"There is a lot of work going on right now to try to meet it (the targets) and it appears that Canada is well situated to be able do that relatively easily if we have the political will and the industry will of all sorts of industries," he pointed out. "We could actually benefit from this."
Other winning projects announced that evening included:
Steel works-Sculptures — Outdoor Pavilions: Stack for Toronto Western Hospital in Toronto. The team includes H.H Angus and Associates Ltd., Milman and Associates Ltd., PCL Construction and First Capital.
Architectural Walkway- Pedestrian Bridges: Breit- haupt Phase 3 Office Building in Kitchener, Ont. The team includes Norak Steel Construction Ltd., Martin Simmons Architects, Stephenson Engineering, Stampa Steel Erectors Ltd., Cooper Construction Ltd., Perimeter Development Corp.
Commercial-Residential: CIBC Square — 81 Bay Street Tower and Pedestrian Bridge. The team includes Walters Inc., Adamson Associates Architects, RJC Engineers, EllisDon and Hines.
Projects Outside Ontario: David Geffen Hall in New York. The team includes Walters Inc., Diamond Schmitt Architects, Thornton Tomasetti, Turner Construction Company and Lincoln Center.
Young Architects-Engineers: Albert Marskamp, P. Eng., director of Engineering, Walters Inc. for the project Canadian Museum of Human Rights
Follow the author on Twitter @DCN_Angela