Given its prominent site not far from Ottawa's Parliament Hill, the designers of Dream LeBreton's Library Parcel highrise residential project knew they would be expected to achieve high scores in sustainability, Indigenous collaboration, social purpose and esthetic boldness.
The challenge was stimulating said Dan McTavish, associate with Perkins&Will and project design lead.
"It's a gigantic project," said McTavish. "And that comes with its challenges. The whole team is really focused on it, but it's really come from Dream and their leadership.
"There's a high degree of affordable housing, a high degree of accessibility, it's a net-zero-carbon building, so it has very aspirational energy and sustainability targets."
Unveiled Oct. 27, the design, consisting of two towers of 31 and 36 storeys clad in red, will create a new gateway into the LeBreton Flats on the western edge of the parliamentary precinct. Of the 601 rental units, 41 per cent will be affordable.
The community will be operationally net-zero carbon, LEED Gold and One Planet Living accredited, with heating and cooling provided by a wastewater heat recovery system. Other energy efficiencies will come from a high-performance building envelope, photovoltaics and natural daylight harvesting.
"We were very fortunate to be located next to a very large sewer," said McTavish. "The project is using the sewer and the heat within that wastewater, or lack thereof, in a temperature differential as a source of heating for the building or as a place to reject heat into."
Sustainability means looking at the design of projects holistically and determining how they can be the least impactful on society and use the least amount of resources, McTavish said.
"Whether that's the guardrails on the building, the amount of concrete that we're using, working with the structural engineers to find efficiencies in the building envelope, making sure that it's high performing, minimizing thermal bridges, all of those types of things, that's every day."
The design was selected through a competition held by the National Capital Commission (NCC).
McTavish said there was intensity and commitment during early planning meetings as a who's who of architects and planners drew up the master plan. No one skipped any of the meetings, he said.
The design is led by Perkins&Will and KPMB Architects and supported by Two Row Architect and Purpose Building. Other collaborators include PFS Studio (landscape architect), EllisDon (construction manager) and Innovation Seven (Indigenous engagement consultant).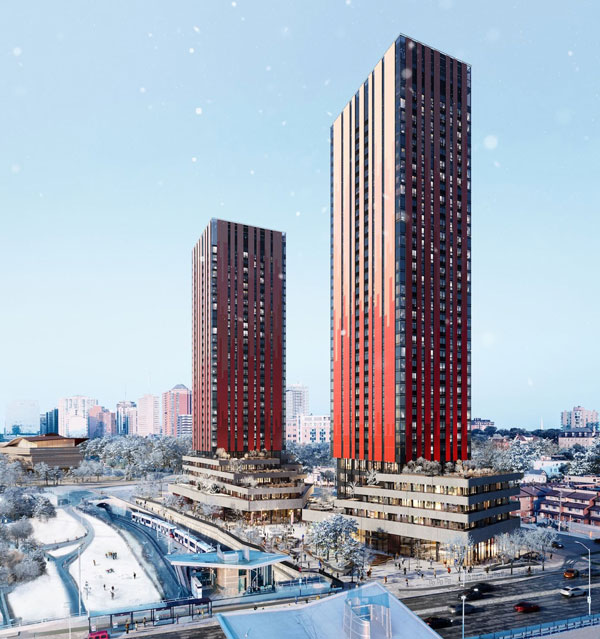 "We were making sure that everyone felt heard and valued, and then tried to find the best solution collectively," said McTavish.
One issue that arose was integrating the significant level of affordable housing. In this, Dream and Perkins&Will were aligned, McTavish said.
"I have a very strong interest in ideas around public space and how public space is created and what function public space plays within our society and how it forms social bonds," said McTavish. "Those sort of ideas really come to bear within the podium and in the tower in some respects, trying to create spaces that are highly communal, that build bonds around coming together."
Perkins&Will worked with Two Row Architect to create a vision that was inspired by and respected Indigenous imperatives, McTavish said. KPMB and Canadian artist Margaret Priest were also involved.
"The whole project has been trying to tell a very complex story of the land, this layered history. The red specifically references the Laurentian hills in Gatineau which are adjacent to the site," explained McTavish. "The history of forests, the history of lumber, the importance of red to many Indigenous cultures in many different ways. It's a loaded colour in many ways, but I think it speaks to the ambition of the project."
The all-season ground level will also offer spaces and programming that are intended to encourage social exchanges including Indigenous engagement.
"The NCC established very aggressive targets. That was the first step," said McTavish. "I think the other part of the story is that Dream as a client is always looking for very high-impact projects, especially through their social responsibility lens."
The project will connect to the Pimisi LRT station as well as nearby cultural destinations. The buildings' streetscape will include commercial retail, parklets and community spaces.
Besides the NCC, other participants and funding agencies were Canada Mortgage and Housing Corporation and the MultiFaith Housing Initiative, which will own and operate 132 of the affordable housing units.
Dream LeBreton is a partnership between real estate companies Dream Asset Management and Dream Impact. Dream is also involved in the 35-acre master-planned Zibi project across the Ottawa River.
Groundbreaking for the Library Parcel is targeted for spring 2023 with occupancy planned for 2026.
Follow the author on Twitter @DonWall_DCN)