CEOs in the consulting engineering sector are being tested like never before, as running a competitive firm post-pandemic is increasingly a contest of who's best at redefining workplace culture and mastering real estate plays.
Delegates attending the recent Association of Consulting Engineering Companies — Canada leadership conference in Ottawa were told of rampant shifts in their sector from top to bottom, with new rivals such as Amazon, McKinsey and Autodesk elbowing their way in and many firms now midnighting as start-ups, creating their own proprietary software and peddling it on the market.
Many firms have adopted a hybrid system of work, the delegates were told, with employees working on projects at home part of the week and regularly coming into the office to meet with team members — often on Wednesdays, as it turns out.
Forget cubicles, executive offices, a lunchroom and a board room — today's engineering offices now have to accommodate hybrid schedules, hotelling, hot-desking, activity-based work, team and whole staff meetings, anti-noise silos, morning huddles and extended onboarding.
Wednesdays can get pretty crazy at Intervia Group, a Montreal-based traffic-management firm with about 45 employees.
"We have open space and they've got 10 engineers on their teams and they're all talking at the same time. I'm realizing the noise level is really disturbing," said Caterina Milioto, Intervia president.
Joining Milioto for the recent panel session billed as Major Shifts in the Consulting Engineering Sector were WSP Canada CEO Marie-Claude Dumas, J.L. Richards & Associates CEO Saverio Parrotta and Richard Bush, CEO at Binnie. The moderator was Allan Russell, CEO of McElhanney.
Post-pandemic, Dumas said, as staff returned on a part-time basis over the past year, colleagues engaged in valuable water-cooler conversations. It's essential to rebuild team relationships as a prelude to dealing with clients face to face.
"If we don't even talk to each other as employees, then how do we connect with the client, how do we really understand what's on their mind and…what's their main challenges coming ahead," said Dumas.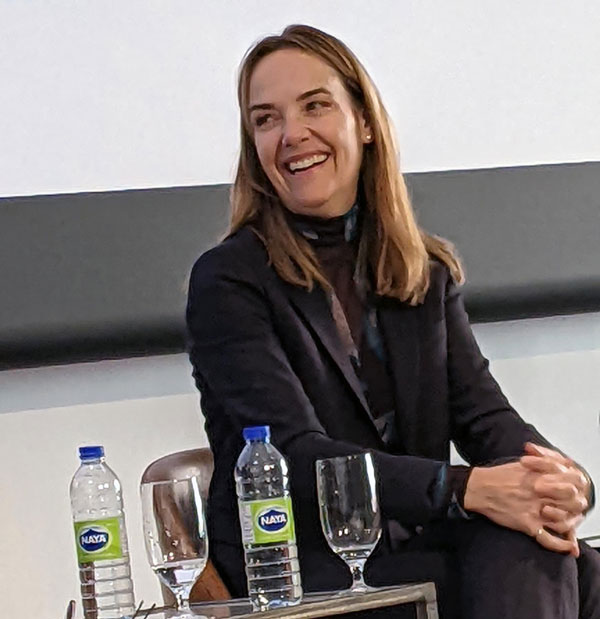 CEOs have to recreate a corporate culture, said Dumas. In some cases, colleagues have never met new employees, given that upon being hired they were just shipped a laptop and started working from home.
"We wanted people back in the office because we needed people in collaboration. All of that is really important, and the mentoring of young people as well," said Bush.
Many firms are reevaluating their office needs. Parrotta said his firm started before the pandemic, when it realized that at any given time 20 to 25 per cent of staff were not on the premises. Combine that with post-pandemic unassigned seating and other disruptions, and it makes sense to downsize and reorganize.
So Richards has reduced its total Ottawa office footprint by 20,000 total square feet and its Timmins space by half.
WSP, meanwhile, with its global team of 62,000 employees, has continued to be active in pursuing M&As in recent years and that makes for continuous reevaluation of real estate needs.
"We're staying agile and looking at how the rest of our competitors are going to be reacting," Dumas said, noting the firm is moving towards unassigned seating and creating collaboration rooms well equipped with new technology.
The new era is also an opportunity to ensure everyone is onside with core corporate values.
"You know, during that exercise, we also promoted employees that aligned with our values and we removed some that didn't," she said.
Each of the executives is facing the same challenge, of recruiting from underrepresented groups. Parrotta said among his firm's professionals, 75 per cent are male and 25 per cent female, but it's clear that the retention rate among women is poor.
Both his firm and the industry need to take a closer look at the balance between careers and engineers' lives away from work, Parrotta said.
Dumas said the profession shies away from the "risk" of promoting women into top jobs.
"I think that we need to take the same risk on females and underrepresented groups as we do every day on male candidates," said Dumas. "Often I'll hear, 'but what if she fails?' You know what, men fail every single day."
The subsequent session at the ACEC conference was also future focused, featuring Rebecca Zofnass, managing partner at Environmental Financial Consulting Group. Among her insights, Zofnass noted the engineering sector is going through a wave of M&As, with some of the new players coming from outside the traditional sector, such as EY and Amazon; and she said firms are embracing new technology not only through acquisitions of tech firms but they are getting into the tech game themselves.
"Twenty per cent of firms that are in the industry today are actively selling technology and generating revenue," said Zofnass.
Follow the author on Twitter @DonWall_DCN