Throughout the construction community this holiday season employers and workers are taking stock of their bounty and finding ways to give back to the communities where they build.
In the GTA, Broccolini employees and management as well as union rep Ivan Dawns of the International Union of Painters and Allied Trades (IUPAT) have announced their charities of choice.
Broccolini staff have committed to assisting crews from Dixon Hall's Meals on Wheels program in Toronto's downtown east district with meal delivery to needy seniors and others, while Dawns and members of his union are preparing to feed 300 on Christmas Day at the Back Door Mission in Oshawa.
Meals from Broccolini
Broccolini is returning for the second year to support the downtown east, where it is active on three projects constructing 1,800 units of housing.
Phil Brennen, vice-president of real estate development for the firm, noted program costs for the Dixon Hall Meals on Wheels program have risen 17 per cent in the past year due to spiralling food and gas prices.
"Broccolini strongly believes in giving back to the communities where we're active," said Brennen. "The residential industry, condominium highrises, takes a significant amount of time and commitment to deliver to a new community. So it's super important that we're active and we want to be a part of that community."
Broccolini staff have committed to delivering meals once a week until the end of January. Brennen said the Dixon Hall volunteer pool drops during the holidays so the help of Broccolini staff is even more valuable.
Teams from both the Broccolini construction and real estate divisions are participating. When it was announced Broccolini would be supporting Dixon Hall again this year, Brennen said, the excitement percolated through the staff.
Brennen himself made the rounds for the first time two weeks ago.
"It's honestly a rewarding feeling to connect with these people. What could be a 30-second drop-off often turns into a 15-minute conversation."
Seniors and others living on a fixed incomes are being disproportionately impacted by rising costs right now, Brennen noted. And often they have limited mobility so connection with others is important.
"Being able to have this regular interaction with people, I think that's a big part of what people get out of the Meals on Wheels program."
Broccolini has issued a challenge to other Toronto developers to get involved with their own communities.
"I will harass my industry peers to say, 'come on, guys, there's something we can do. And it's in your teams' best interest to get involved.'"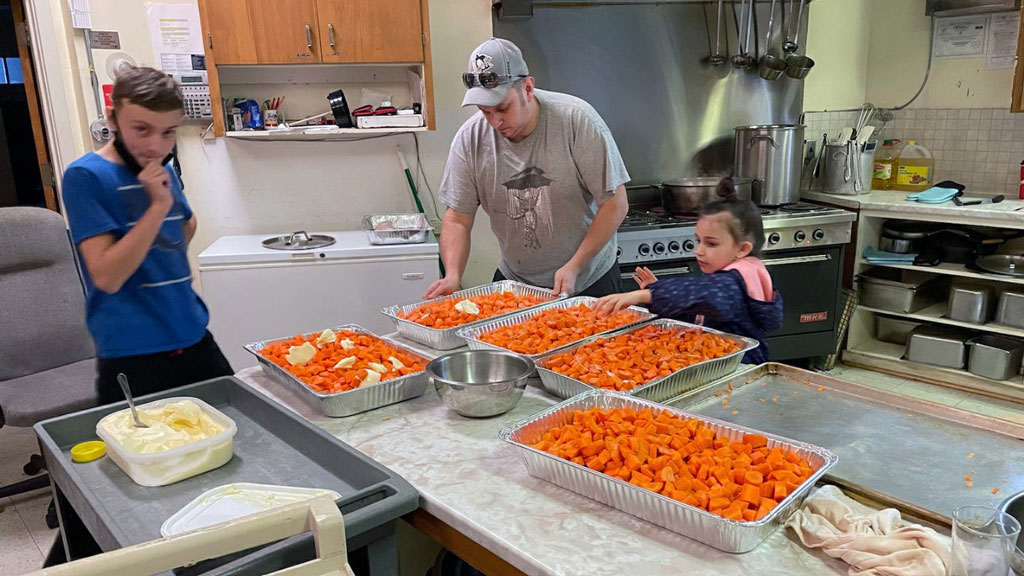 Painters prepare a feast
Ivan Dawns is well known as a charitable volunteer and leader in his community and when he needs help, he knows his colleagues at IUPAT District Council 46 will jump to back him up.
Dawns, who was honoured by the Ontario Black History Society with a High Achievement Award earlier this year for his many charitable endeavours, is embarking on his second Christmas Day feast at the Back Door Mission.
Last year he footed the bill himself for a full Christmas dinner for 250 and this year he has escalated community involvement with sponsorship from his union, more volunteers and the contributions of local MP Ryan Turnbull and MPP Patrice Barnes, who will help serve the food.
The head chef will be Kristi Slade from Hamilton and Dawns said he wants the guests to have the type of meal they would have if they had the resources to enjoy a full meal at their homes: roast turkey, mashed potatoes, trimmings and stuffing, glazed carrots, mixed vegetables, dinner rolls, cake and juice.
"Everybody looks forward to spending time with their family at Christmas but some of these people don't have that luxury," said Dawns.
"Some people have been unlucky or had misfortune. It's best to give them a hand up because you never know, just that little help may change their life."
Dawns knows what he speaks of when he talks about people needing a break. In 1997, newly arrived in Canada from Jamaica, Dawns found himself in dire circumstances and ate sardines for Christmas dinner. But he got a good job in construction and the support he needed from the painters' union and now makes it a practice to spread the benefits to others.
"We need to look around in our community and see the need and assist those with needs," said Dawns.
"It is the duty of the union to address the needs of the community, because the union is a community and the community is a union."
Follow the author on Twitter @DonWall_DCN