TORONTO — Toronto developers Dream and Great Gulf Group, working in a joint venture called Quayside Impact, have released early designs for their 12-acre Quayside project to Waterfront Toronto's Design Review Panel.
The project on Toronto's waterfront at Queens Quay East will feature five residential towers and one mass timber structure, with a mix of market-rate and affordable units and including commercial, institutional and retail space.
Quayside Impact introduced its master plan concept and early-stage designs to Waterfront Toronto's Design Review Panel late last month.
More than 800 of the units at Quayside will be affordable. There will also be 3.5 acres of public space, including two acres of a car-free urban forest, states a Waterfront Toronto blog.
A community care hub will offer community resources, services and programming such as day care, seniors services and medical services.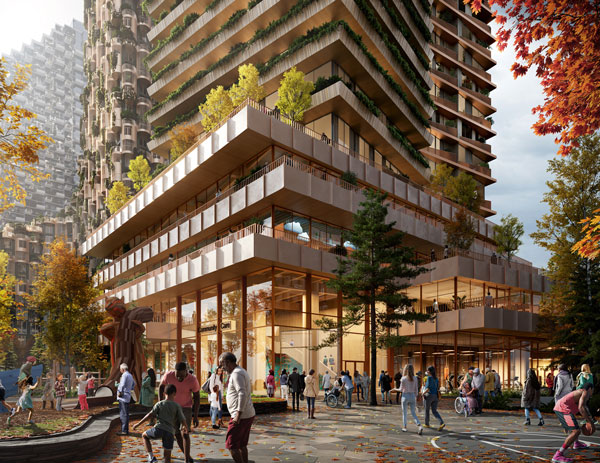 Quayside will be all-electrically powered and zero-carbon. A one-acre urban farm will be sited on the rooftop of the mass-timber building and will be accessible to residents and the public, creating an opportunity for community gardens.
Quayside Impact was selected through an international competition as Waterfront Toronto's development partner for Quayside in February 2022, and a project agreement was completed in December.
Quayside will be developed in phases, beginning with three buildings designed by architects Adjaye Associates, Alison Brooks Architects and Henning Larsen.
One of the development principles is to connect the city to the waterfront including Keating Channel and the future Villiers Island.
The plan replaces that of Sidewalk Labs, a Google-affiliated company, which announced in 2020 it was abandoning its plan to build a high-tech neighbourhood on the Quayside property, citing economic uncertainty.