It's called The District Detroit.
And it would reshape a massive area just north of downtown Detroit, connecting the city centre to the emerging midtown Detroit neighbourhood now occupied by Little Caesars Arena, home of the Detroit Red Wings and Detroit Pistons.
It is that same Red Wings ownership, the Ilitch family, who is partly behind the $1.5-billion, 50-block redevelopment of what used to be an urban wasteland. In recent years, however, it has seen incremental growth with infill apartments and small retail.
Now the development, also backed by Related Companies owner Stephen Ross, which developed New York City's Hudson Yards, would see 10 major buildings constructed or redeveloped.
Ross has local ties being a University of Michigan alumnus. He's already teaming with the Ilitch family on U of M's Detroit Center for Innovation, a $250 million satellite campus in the same neighborhood.
The development would be a combination of office, retail and hotels, connecting with the Ilitches' Olympia Development's existing Little Caesars Arena, Comerica Park – home of the Detroit Tigers which the Ilitch family also owns – and the more than 5,000 seat Fox Theatre and office building, the developer's business headquarters.
Much of it would be examples of adaptive reuse of some of the city's 100-year-old aged and decrepit housing stock but with remaining strong architectural features, including six buildings on a single block. Among the new towers would be ones built in what is now a parking lot in front of Comerica Park on Woodward Avenue.
When the project is complete there would be 695 mixed-income residential units, 1.2 million square feet of commercial office space, 100,000 square feet of retail and 467 hotel rooms. Some of the work has already been completed such as the conversion of the 1924-era, 13-storey, 92-unit Eddystone Residences.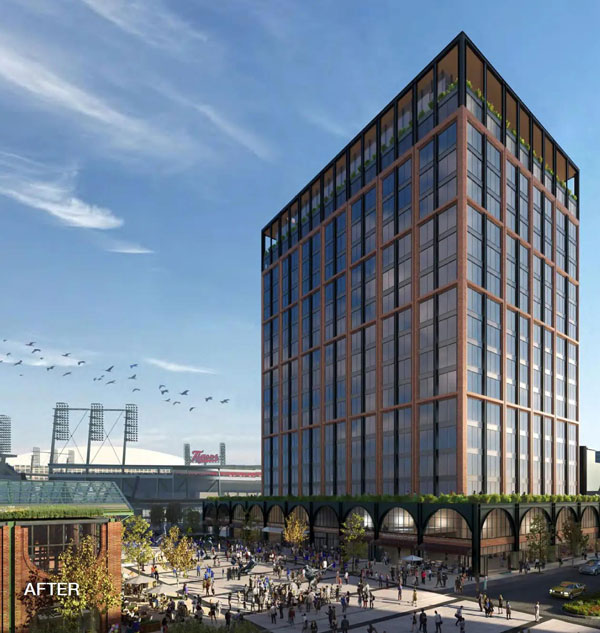 The developers say altogether the project will create more than 12,000 construction jobs, generating more than $800 million in wages.
When complete it would support more than 6,000 jobs and pay more than $500 million in wages. As well, underperforming properties generating just $250,000 in tax revenue would yield $751 million over 35 years.
But the continuing development relies on substantial tax incentives and therein lies an ongoing controversy. The developers are seeking as much as $800 million in public funds or more than half the project's costs.
In January the city's Downtown Development Authority approved $50 million in low-interest loans and grants, about half of which would support 139 affordable housing units.
Developers and supporters say the public money is required to spark "transformational" developments in an impoverished and underdeveloped city.
Yet opponents see the money going to already wealthy developers with the construction benefits accruing to a mostly white suburban clientele.
Theo Pride, an activist with the Detroit People's Platform, a group highly critical of such development incentives, suggests The District Detroit will mirror other recent near downtown megaprojects such as Little Caesars Arena, opened in 2017.
"That benefit and value stays trapped up in that very affluent area and it doesn't help the city at large," he says.
Moreover, Pride says, the development has the effect of displacing existing residents as new development grows around the site, attracting people who are better off and non-Detroiters. "They create luxury spaces in terms of housing, retail, entertainment that the average Detroiter simply cannot access because they don't have the finances to do so," he says.
Pride also questions the affordable housing component.
"They haven't clearly defined the size and the types of the units," Pride says. "So essentially it could be studios, it could be one-bedroom apartments," and not necessarily for families.
Developers say more than 50 per cent of constriction jobs will go to Detroiters but that didn't happen with the Little Caesars Arena project, critics say.
But Kenyetta Bridges of the Detroit Economic Growth Corp., one of the funding agencies, says no incentives will be paid unless the developers meet their objectives.
"The developers will not receive the benefit of the incentives unless and until they deliver the developments," he says. "By approving the incentives, the city is not risking an up-front public investment on projects that won't materialize."