Construction is scheduled to get underway soon on a $420 million window manufacturing plant in Locust Grove, Ga., about an hour's drive south of Atlanta, that will create approximately 900 jobs.
Renewal by Andersen, the full-service window replacement division of Bayport, Minn.-based Andersen Corp. which operates manufacturing sites across North America and Europe, is building the facility.
The structure will be located at The Cubes, a 79-acre site about a mile from Interstate 75, and a new interchange at Bethlehem Road that will provide access to transportation routes, local and regional distribution as well as amenities and a labour force.
It will be the company's first manufacturing facility in Georgia.
The company has a logistics distribution centre in Douglasville and a windows and doors office in Marietta.
Construction on the manufacturing facility will begin later this year, with full operations expected to begin in 2025.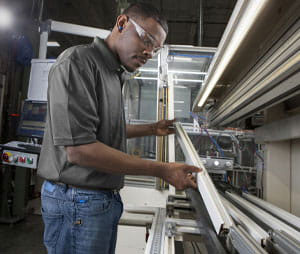 "With a strong labour force, favourable business environment, and accessible transportation, the State of Georgia, Henry County and the City of Locust Grove in particular, is a great place to do business," said Andersen Corp. president and chief executive officer Chris Galvin.
Privately-held Andersen Corp. and its subsidiaries operate more than 20 manufacturing and distribution facilities in North America, providing window and door products for new residential, light commercial, home improvement, and remodelling segments.
"This facility will bring a significant amount of advanced manufacturing positions and represents the largest economic development project in our city and county's history," said Locust Grove Mayor Robert Price.
Georgia Gov. Brian Kemp said in a statement: "Thanks to our robust infrastructure network, companies are able to reach 80 per cent of the U.S. market within a two-day drive or two-hour flight from the Peach State.
"This manufacturing facility will be just the latest to benefit from this unique advantage of our number one state for business."
Henry County Board of Commissioners chair Carlotta Harrell said the project benefits the community in many ways.
"This project not only represents the largest single investment by a company in our community's history, but also opportunities for our citizens who are interested in advanced manufacturing positions.
"The company will be an outstanding anchor for our new I-75/Bethlehem Rd. interchange, with our partnership consisting of Locust Grove, state and federal partners on this critical transportation project already paying dividends for our community."
GDEcD commissioner Pat Wilson said while it is Renewal by Andersen's first manufacturing facility in Georgia, Andersen's products have been in the state for years, including in the stores of the largest Georgia-based home improvement company.