Alberici Constructors president Greg Brokenshire played it close to the vest during a recent presentation on the fast-tracked NextStar EV battery plant currently under construction in Windsor, Ont. citing confidentiality.
But the details of the $5-billion project he was able to release offered every indication the battery project, a joint venture of automobile manufacturer Stellantis N.V. and lithium-ion battery manufacturer LG Energy Solutions, will represent a milestone in speedy megaproject delivery.
Brokenshire outlined the project to delegates attending the Ontario Construction Secretariat (OCS) conference earlier this month in Toronto.
The project, supported with funding from all three levels of government, was introduced a year ago. Production operations are targeted for launch in 2024 with full operations to be in place by 2025, according to government statements. The 4.5-million-square-foot manufacturing facility will have an annual production capacity in excess of 45 gigawatt hours.
The site on Banwell Road in Windsor was the subject of a Minister's Zoning Order issued last summer to expedite planning approvals.
Alberici is working in joint venture with Barton Malow on the build; the team is called ABM. Ground was broken in June.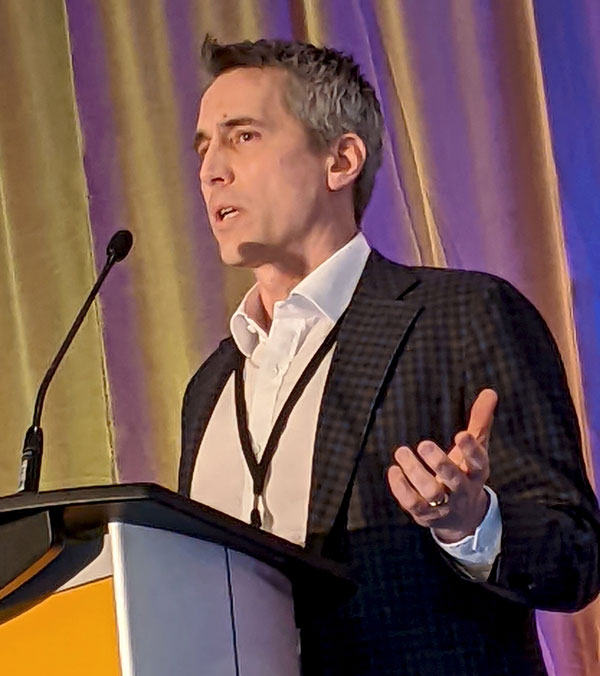 "What Alberici brought to this program really was automotive experience, auto industry experience in Ontario, especially in Windsor," said Brokenshire. "Historically, it's been a really strong area for us."
"Barton Malow is much more experienced in terms of battery manufacturing construction projects. It's really brought the expertise that was necessary to move this project at a speed that it needs to have."
Early works included drainage and grading. The Port of Windsor tweeted it was prepared for the delivery of more than one million tonnes of aggregate to the site.
"We've certainly overcome some logistical challenges," Brokenshire said.
Subcontractors have included Hillsdale Fabricators, an Alberici company. The construction workforce has reached about 900 to 1,000 workers on average, with a peak of 1,400 planned for the coming months.
"It ramps up very quickly, peaks later this year," said Brokenshire. "This is very much a team effort."
Referring to the significant representation of ICI unions at the OCS conference, Brokenshire said, "Obviously the folks in this room…are all on the same page when it comes to trying to deliver what is a really, really important program for Ontario's economy.
"The workforce requirements, scale and speed necessitate a real hand-in-glove relationship between obviously Alberici-Barton Malow as the prime contractor and our trade partners and key subs."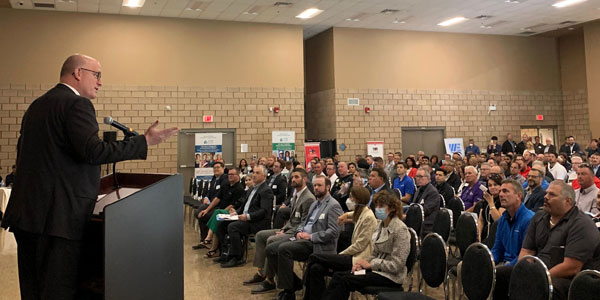 In July 2022, Classic FLS was named as the fire protection partner for the plant, signed to install the sprinkler system, fire pumps and special hazard suppression systems. Onsite work for Classic FLS is expected to start in April. The firm held a job fair in February.
Details of the plant specs or the technology being incorporated were not revealed but Brokenshire noted the plant is going to produce batteries for future product line vehicles and they have to be the "most cutting edge. Anything that happens today that needs to be incorporated into the process has to be built in."
EV battery plant manufacturing is a unique process with unique considerations, Brokenshire said. 
"It has relatively high energy usage, and much of it is extremely sensitive to moisture, humidity and temperature," he said. "Electrical grounding aspects are very important to the process. The design and construction of the building core and shell must address these key concerns."
Brokenshire noted Ontario has potential strength all along the EV supply chain. He also discussed how plants like the NextStar facility will no doubt have significant economic spinoffs, with a cluster of other businesses expected to settle in the vicinity of the plant in future.
"Analysis showed they're talking more like 250,000 jobs ultimately from this market and supply chain overall in Ontario. And I think this is a really, really important project to get that rolling," he said.
"In terms of it being the anchor project, we're already seeing it, certainly talking to the folks in Windsor. They're already working on what's going on around this plant, what is going to be added to it, I should say, in support."
Follow the author on Twitter @DonWall_DCN.