The Gupta Group has unveiled the first major highrise condo development in Toronto's Hoggs Hollow neighbourhood in over 20 years — but it didn't come easy.
"We feel this is a great location, one-of-a-kind," said the firm's chairman Steve Gupta. "It's a resort-style lifestyle in the middle of the city.
"People who are stepping down and also live in Hoggs Hollow, they want to live in the same area. Everything is perfect, overlooking the ravines, the greens, the golf course."
Located at Yonge Street and York Mills Road on the Yonge-University subway line, the new Yonge City Square project will feature two residential towers of 28 and 14 storeys with 704 suites ranging from approximately 350 to 1,000 square feet. There will also be retail outlets on the ground floor below commercial office space.
The site backs onto the Don Valley Golf Course and Gupta will incorporate resort-style amenities, relying on the in-house expertise of Gupta's sister company, Easton's Group of Hotels. Easton's has a national portfolio that includes 19 hotels, with six currently under development.
Gupta's daughter Reetu Gupta serves as the chairwoman and ambassadress of both the Gupta Group and Easton's and other family members also hold key roles.
Gupta admitted the vision for the project took a while to develop.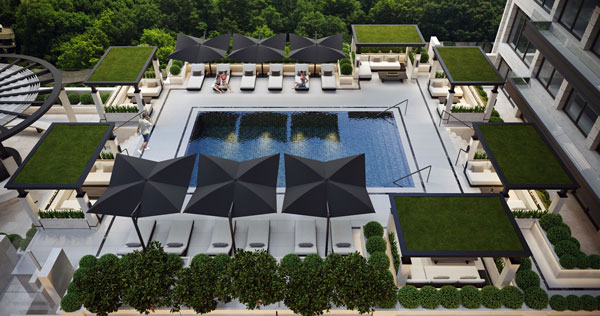 For many years neither the original owner, the City of Toronto, nor Gupta could figure out what to do with the prime spot. The city considered a few uses but gave up and sold it to Gupta eight years ago. Gupta worked with the city on a mixed-use office concept but that didn't add up either, the chairman said.
"It's been dark. Looking at it, I have parked there many times," said Gupta, recalling numerous conversations he had with local professionals in the affluent Hoggs Hollow neighbourhood.
Finally, the firm struck a deal with the city for residential. Zoning has been obtained and the first shovels will go in the ground later this year with a mid-2027 completion targeted. The official launch was Feb. 22.
The property will feature 30,000 square feet of amenities including a ninth-floor terrace with an outdoor pool, private cabanas, barbecue stations, outdoor prep kitchen, firepit and dining lounge; entertainment lounges with a golf simulator and bar overlooking the golf course; and a fitness centre with a yoga studio, dance studio, private training, infrared sauna and salt treatment room.
In addition, Gupta Group has agreed with the city to completely rebuild the York Mills subway station.
Exteriors are by IBI Architects and interiors are by Studio Munge. Gupta said a final decision has not been reached on a project management firm.
Gupta arrived in Canada from his native India in 1973 and by 1978 he had opened his first truck stop in Port Hope, east of Toronto. Soon a hotel and restaurant were added and the Gupta empire was launched.
Asked about supply chain issues, rising costs and high interest rates as possible challenges to building in 2023, Gupta responded that he has seen it all, including the high interest rates of the 1980s and recessions, and persevered.
"In hard times it's survival of the fittest," he said. "I'm a true entrepreneur. And I'm optimistic.
"To achieve success or achieve something is not easy, it's hard work and a lot of teamwork. A lot of good team members. I'm proud and I'm very happy about what we are able to accomplish and also contribute back to the country that I adopted."
The housing market will remain healthy in Ontario for the foreseeable future with hundreds of thousands of immigrants moving into the GTA each year, he said. Materials costs are coming down and his firm is confident.
"We work with the large contractors who are the top three or four in the city doing highrise buildings. We have worked with them the last 30 years and we have great relationships with them."
Follow the author on Twitter @DonWall_DCN.