TORONTO — CreateTO and TO Live have announced a team led by Hariri Pontarini Architects as the winner of the St. Lawrence Centre for the Arts Design Competition.
The winning team also includes LMN Architects, Tawaw Architecture Collective, Smoke Architecture and SLA.
Their design to redevelop the facility is called Transparence and features a transparent facade that wraps around the existing structure, a main stage theatre, acoustic hall, rehearsal and multi-purpose rooms, artist-in-residence studios, media studios and outdoor spaces, stated a release.
The facility is located on Front Street East in downtown Toronto.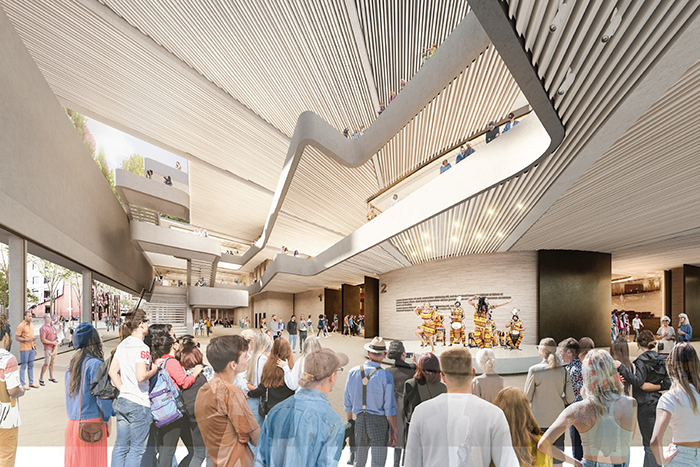 The five shortlisted design teams publicly presented their designs at the St. Lawrence Centre on March 7. The design submissions were judged by a seven-member jury on March 8.
The design also incorporates several Indigenous elements, including the exterior which was inspired by the role of Wampum belts in storytelling, artistry and craft and the inclusion of a circular ceremonial fire at Front and Scott streets.
CreateTO was formed in 2018 as the City of Toronto's real estate agency. TO Live operates three venues: Meridian Hall, St. Lawrence Centre for the Arts and Meridian Arts Centre.
The winning submission will be presented to Toronto City Council in Q3.
"International competitions like this showcase design excellence and the range of ideas and concepts presented by the shortlisted teams demonstrate a passion and commitment to city building and highlight the potential to create exciting civic spaces," stated CreateTO CEO Vic Gupta in a statement. "The proposal led by Hariri Pontarini Architects is an innovative design for the heart of the St. Lawrence neighbourhood that envisions new state-of-the-art spaces where artists and the community can come together to create, perform and share ideas."