Construction of the largest gold mine in Yukon history has passed the halfway mark and, if all goes as planned as crews push through the cold northern winter, production of the first dore is expected in the second half of 2019.
Project proponent Victoria Gold reported in early December that its Eagle Gold mine is 60 per cent complete with earthworks substantively wrapped up and concrete works 93 per cent done with 8,500 square metres poured to date. Most of the mine fleet has been delivered to the site, including massive German-made shovels nicknamed Beauty and the Beast from CAT that were shipped across the Atlantic then transported on 16 trucks each from Halifax all the way to the Dublin Gulch site, home of Eagle Gold, located six hours by road north of Whitehorse.
The build is a huge logistical challenge, with a budget of $442 million, but the payoff is equally big — it's expected the mine will produce 200,000 ounces annually at a cost of about $550 per ounce at a time when the market for gold remains strong, with current prices around $1,680 per ounce.
Victoria Gold president and CEO John McConnell is a veteran of mining operations in all three Canadian territories and has been on board with the firm's Eagle Gold project since the northern Yukon property was first acquired by the junior miner in 2009. With the finish line in sight, he said it will be a major accomplishment for a firm as small as Victoria Gold.
"It's not many mining discoveries that come to fruition, particularly by a company the size of Victoria, so I consider myself very fortunate to be involved," said McConnell.
Preliminary construction work began in August 2017 with $40-million spent on phase one site preparation, leading to the launch of the project proper last April. From the beginning, McConnell said, local Yukon involvement has been significant, with almost half of the 400 workers onsite recently from the Yukon and one quarter from First Nations. The First Nation of Na-cho Nyak Dun Development Corp. was involved in meaningful early works including surveying, earthworks, access road and bridge upgrades, site services and camp facilities and continues to play a role during the main construction phase.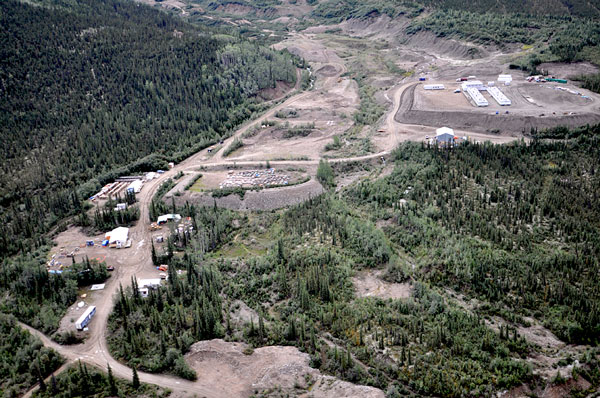 "That has been a real pleasant surprise, the availability of both Yukoners and First Nations," McConnell said. "It certainly far surpassed my expectations."
Construction management is under JDS and Hatch. The project will involve open pit mining using a three-stage crushing process, heap leaching and a carbon adsorption, desorption and recovery system.
Other mine infrastructure will include a 450-person camp complex with administration and mine offices, a modular assay laboratory, a mine truck shop and truck scale, a substation, laydown areas, warehouses, workshops, a water treatment plant, a water control pond and incinerator and a guardhouse. Support components will include fuel and explosive storage facilities and an access road into the mine site.
Power now comes from diesel but completion of a 45-kilometre, 69-kilovolt transmission line linking the camp to the Yukon Energy will provide "reasonable-cost energy" said McConnell.
Current activities onsite are focused on preparing the crushing, heap leach and gold recovery facilities. With temperatures reaching -40 C, the strategy is to move to indoor projects as much as possible, said McConnell.
"The key is to get the buildings up and in the case of the gold recovery plant, that building is fully up and the lights on and the heat on, and the crews are working inside," he said. "Similarly, with the secondary crusher, once the crusher is in place crews will be inside doing electrical work and mechanical work."
Construction of an overland conveyor to take the crushed ore 1.4 kilometres across the valley to the heap leach facility will start in the first quarter of 2019.
McConnell said the gold recovery plant will be commissioned in May or June next year, with June targeted for the end of major construction and the first gold pour targeted for September.
McConnell admits the cold and isolation are harrowing but he's had it tougher — working on Baffin Island, supplies came via an annual sea lift, while at Dublin Gulch at least there are all-season roads.
"Climate is always a challenge, I don't care who you are, at -40 you have lower productivity," he said.
"What can be a minor issue in Arizona is a major issue in -40. You can mine in Canada's north but it takes absolutely rigorous planning and you have to execute diligently."