Element5 is out to break stereotypes about mass timber, including the one that the material is too pricey for buildings under six storeys.
"That may have been the case when we were bringing our materials and other components from long distances, but because we are vertically integrated now" the balance has shifted, says Patrick Chouinard, the company's founder and vice-president of business development.
Element5 recently opened Ontario's first and only certified cross-laminated timber (CLT) manufacturing facility. The plant in St. Thomas, near London, also has the capability of making glued laminated timber, known as glulam.
The manufacturer has developed a modifiable CLT design for a range of multi-unit buildings. It is working with Edge Architects and other partners on various projects where CLT is used for floors, roofs and exterior wall panels.
Chouinard is keen on prefabricated CLT designs as part of the solution to the affordable housing crisis that is growing in Ontario and elsewhere. Not only is its design less expensive to build than traditional housing models, it can be erected quickly and provides "a healthier environment" for its occupants.
"The prefabricated, modular mass timber system simplifies and accelerates the construction process, saving time and money."
Earlier this year, the consortium was selected for a contract for a four-storey, 41-unit YWCA project in Kitchener-Waterloo over about six competitors, including experienced affordable housing teams employing different materials in volumetric construction modules finished in factories.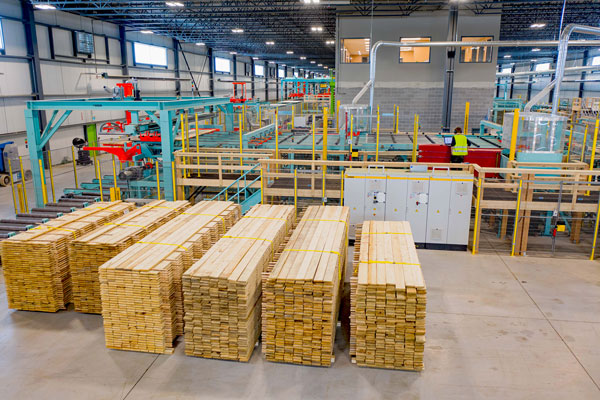 Speed of construction was one of the factors for the Element5's award, Chouinard says, noting the building is scheduled to be occupied by the end of the year.
Flatpack CLT panels are being employed at the YWCA project, with solid CLT slabs and demising walls between each unit. While the project has an engineer of record, Element5 is designing the timber structure and connections in-house.
The building's cost savings don't come at the expense of interior finishes, he says, noting that exposed wood interior finishes on ceiling and interior walls wherever possible are maintained.
The secret to cutting costs is in keeping the demising walls between the units to a maximum of 6.5 metres apart, which reduces the volume of wood required for the CLT floor slab, he says.
Another reason to choose mass timber on a project, Chouinard points out, is that studies indicate wood interiors contribute to "healthier, nurturing environments" for occupants.
While the company's CLT design could be a game-changer for affordable housing, it also has practical applications for other multi-unit buildings, including hotels, seniors housing and market rate residential, he says.
The pandemic didn't impact the construction of the new facility, nor has is slowed Element5's production line.
"This plant is huge (137,000 square feet) and it doesn't take a lot of people to operate, so there is a tremendous opportunity for social distancing," he says.
Chouinard says the list of contractors who understand how to build mass timber structures is growing. The company works with about half a dozen contractors with mass timber experience but there "are dozens of other contractors, architects and engineers" lining up to get into the field.
Currently, the industry consists of component suppliers (manufacturers of glulam and CLT), but Chouinard sees opportunities for the use of these core materials in the predesign of buildings prefabricated in factories.
"We're going to be seeing the same designs…same kit of parts used over and over again."
That shift may well start in the affordable housing sector, which Chouinard calls "a sweet spot" for mass timber.
"We've now productized an affordable housing solution and while you can tweak and customize them, essentially the structure is the same.
"We'll see dozens and dozens of these buildings."
The mass timber trend is expected to spread to other building types, such as banks, gas stations and medical arts buildings, ranging in size from a few hundred square feet to 650,000 square feet, he says.
"I think that is where our industry is headed."