Addressing Canada's housing crisis through programs such as the federal government's Rapid Housing Initiative is opening the door to more widespread use of mass timber, say the project partners of a recently completed and occupied women's shelter in Kitchener-Waterloo, Ont.
Built on City of Kitchener-donated property, the YW Block Line Road Supportive Housing complex is a 2,130-square-metre, 41-one bedroom unit, four-storey building built entirely with cross laminated timber (CLT), including the stair and elevator shafts. Some glulam beams and columns were used on the ground floor entrance area, with some Douglas fir support the CLT entrance canopy.
The cladding and building envelope consists of a high performance six-inch exterior insulation finishing system (EIFS).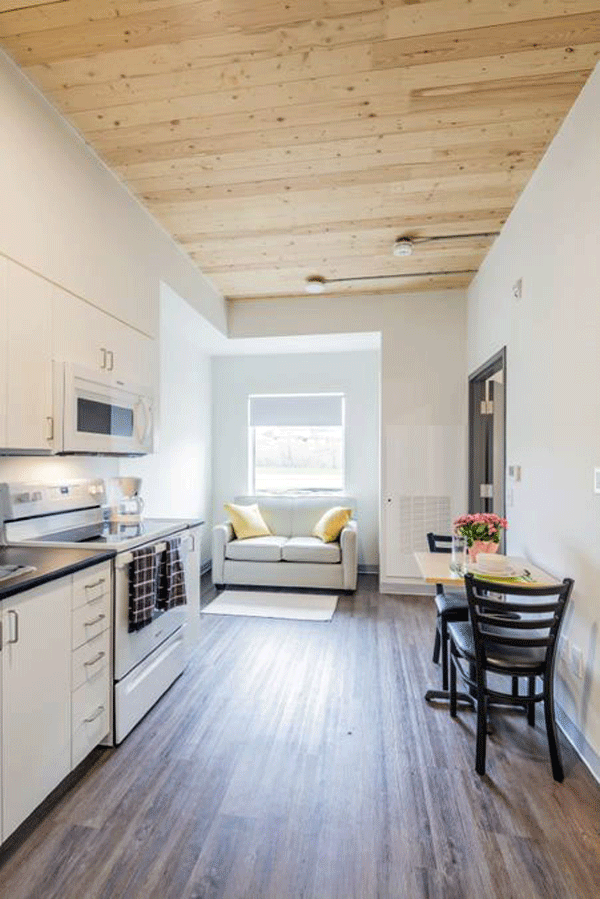 It was delivered under Canada Mortgage and Housing Corporation's Rapid Housing Initiative program, which requires that design and construction be completed within a tight 12-month window, as well as being prefabricated modular construction.
Design builder Melloul Blamey partnered with Edge Architects Ltd. and Cross Laminated Timber manufacturer Element5 and submitted a successful design build proposal in the spring of 2021.
The timber is supplied from the manufacturer's 11,612-square-metre facility in St. Thomas Ont., which just opened in December 2020.
"Our office had been working on some non-specific design profiles late in 2020 and early 2021," says Matthew Bolen, principal of Edge Architects.
Even before the partnership had been created, his firm and Element5 had been in discussions on how mass timber could be applied to social housing projects.
Mass timber can be utilized to build affordable, attractive, sustainable, and healthy housing projects and, in the process, avoid the "stigma" often associated with social housing, especially modular ones, says Bolen.
Once the bid was approved, the design and construction proceed quickly to meet CMHC requirements. Having Element5 on board at the outset was the key to meeting both the modular and time challenges, he says.
The detailed designed, engineering and fabrication level drawings were prepared leading up to construction. But there were design, construction, and material prices challenges along the way.
In particular, acoustic design was also a challenge given the lack of testing data available for the proposed exposed mass timber assemblies.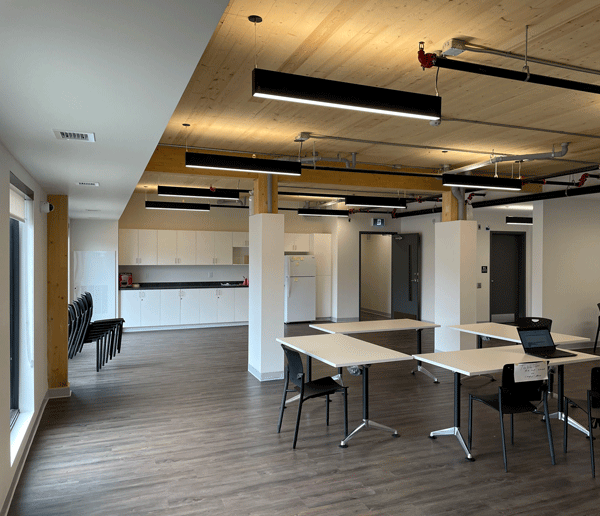 "But we were able to successfully design and install assemblies that have been since tested and confirmed and we will be able to apply that data to future projects."
Like many construction projects, the rapid increase in lumber prices also had an impact. But the project stakeholders were all committee to the successful execution of the project, adds Bolen.
"Our framing trade was very important to the successful and speedy erection of the mass timber," says Melloul-Blamey's vice president of business development, Jeff Heimpel, adding those framers had to wrestle with periods of wet weather and a sudden cold snap.
"No specialized trades were required, but we did have consultants specifically for fire, acoustics and building envelope that all had related experience with mass timber structures," says Heimpel.
Prior to the opening of Block Line Road Supportive Housing in early May, there were some 140 women in Waterloo Region who had been homeless for at least six months, and often for many years, and who were on the waitlist for supportive housing, says Elizabeth Clark, executive officer for the YW Kitchener-Waterloo.
To finance the project, the YW sold its administration building and successfully applied for $6.8 million Rapid Housing Initiative funding. The YW built, owns and will operate the building. The City of Kitchener donated the land for the project, in the form of a 50-year lease for $1 per year, while Waterloo Region administered the CHMC RHI funding, and will be providing the ongoing operating funding for the program, says Clarke.
Focusing on the success of this project, Edge Architects' Matt Bolen says mass timber has potential for other Rapid Housing Initiative projects
Plans and designs are underway for a second building on the same site. It will use the same system, but has been adapted to provide larger units for women and children compared to the small bedroom units for women only in first building, he says.