When the City of Edmonton's new $153.4 Coronation Park and Recreation Centre begins roofing up this fall, it will use mass ply panels (MPP) and open a new dimension of mass timber usage in the Canadian market.
Unlike mass timber panels (dowel, glulam, cross-laminated, or dowel) that use lumber, mass ply panels (also known as mass plywood panels) use veneer in glued layers and the veneer grain can be manipulated to increase strength.
"There will be 60,000 square feet installed," said Clark Builders senior project manager Dustin Suuphoff, and it is an application that is being viewed with interest.
Clark Builders is the contractor building the fitness centre, walking-running track, gymnasiums, multi-purpose and program rooms, an indoor play space, and an indoor cycling track. The centre also has a high performance-training centre for cycling and triathlon in the city with an indoor cycling track to host competitions. The architect is Dub Architects, in association, Faulkner Browns Architects.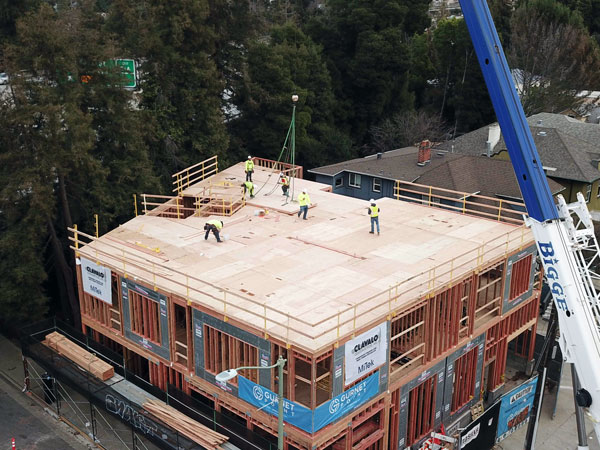 Freres, along with Metsa in Finland which produces an LVL produced used in prefabriction, are the only two companies currently making MPP.  MPP has been used more extensively in the U.S. market but is known in Canada. MPP is acknowledged in FPInnovations updated 2022 Technical Guide for the Design and Construction of Tall Wood Buildings in Canada. "Applications are similar to those for CLT, and MPP can be used in multi-storey and large building applications," the guide said.The MPP install will begin in fall 2022 and carry into 2023 and be the largest installation of its kind in Canada and the largest shipment north to Canada from supplier Freres Lumber Co. Inc. in Oregon. 
Vice-president of sales Tyler Freres, a member of the family owned U.S. business, said the company shipped its first MPP product, a panel for a single family house, into the B.C. market in 2018 and has only done smaller projects to date.    
Freres said he not been actively promoting the product in the Canadian market but with the growing popularity of mass timber construction he is seeing more Canadian construction companies knocking on his door asking for cost-competitive quotes. 
"There is a limited supply of cross-laminated timber (CLT) and most people are getting multiple quotes," said Freres, whose company has developed its own proprietary means of producing MPP at its site and also operates a veneer and plywood plants. "We are often all bidding on the same projects," he said.
Frere's largest MPP panels measure up to 11 feet in width, 48 feet in length and are two to 12 inches in thickness. MPP is designed for use in flooring, walls and roofs.  
The Coronation MPP panels will measure 36 feet in length and have a two-inch thickness. "We are shipping the raw material only," said Freres and the material will then be cut on site to fit the application.  
MPP joins other engineered wood products using veneer such as structural laminated veneer lumber (LVL) that has been produced in Canadian mills since 1970 and used in the formation of composite lumber products such as headers, beams and columns where strength is needed. As LVL uses kiln-dried veneer it is less susceptible to warping or shrinkage.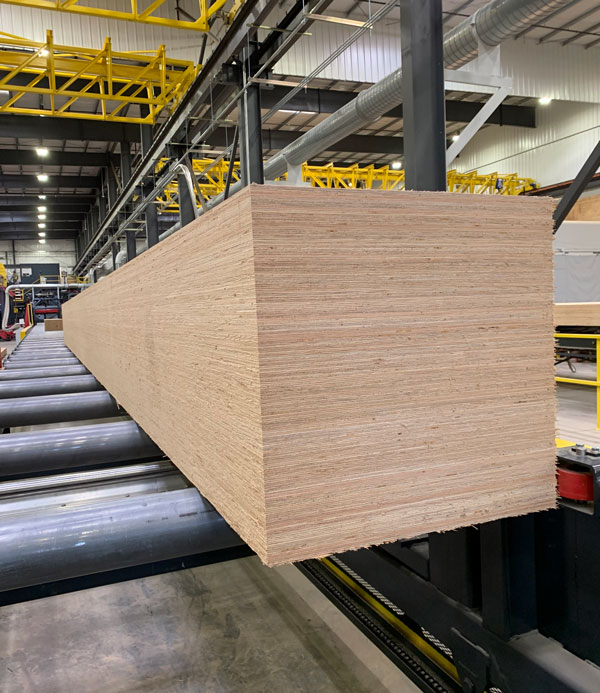 According to Freres, MPP panels are finding favour in the market place for a number of reasons, not just their competitive edge on CLT panels as MPP are lighter and stronger than CLT panels of comparable size.
The MPP strikes a chord with architects, engineers and contractors looking for a more sustainable wood building material.  Veneer is generated from placing peeler logs onto a rotary lathe which peels thin layers of wood from the log increasing the amount of wood that can be sent into higher valued product such as MPP. "You are not trying to make a square out of something that is round," he said as when a log is sawn. Lumber mills traditionally take a log, make side cuts or chip the sides away, to form a cant or square that can be cut into dimensional lumber.   
There is also the option of using wood from burned areas where the flames have not affected the inner wood. "About 75% of what we used last year was salvaged wood," he said, as the rotary lathe can shave off any charred areas after debarking.  
MPP is a product that combines attributes of both LVL and plywood, said Freres.
LVL is a structural composite lumber product that is formed by layering kiln-dried graded veneers together with the grain in line and formed with resistant glue into billets which are then re-sawn into lumber. Plywood is formed by kiln-dried veneers as well but has the veneered cross-grained for strength.
The Freres manufactured MPP consists of nine layers of density-graded one-eight inch Douglas Fir veneer which are glued and pressed in a several combinations of strand orientation and finally joined to create one-inch layers called lamellas which can be used joined and layered to create the desired size of a panel. Actual thickness of each lamella is 1.02″.  The panels, like plywood, can be cut to fit the job site.