The solutions to today's critical built-environment challenges are not always developed in construction planning rooms or architectural huddles.
In what may well have been the first exposure of many to the concept of biomimicry, delegates attending the June 7 Land and Development Conference held in Toronto learned from panellist Jamie Miller that many of today's problems can be addressed through a framework of solutions taken directly from the natural world.
Miller is the director of biomimicry with Toronto's B+H Architects.
"The more energy we put into separating built environments from natural environments, the more we're disrupting the natural environment, the more we're perpetuating climate change," said Miller, one of three experts assembled for a session billed as Innovation in Project Design, Delivery and Building Operations.
Instead, he said, consider that "maybe humans don't have the best ideas right now. What if we looked at the other millions of species on the planet who have been around a lot longer to teach us how to do something?"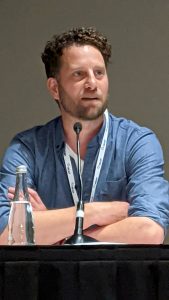 The other panellists were Arie Barendrecht, CEO of WiredScore, which is a digital connectivity rating system for real estate, and Hugh Clark, executive vice-president for development with Allied Properties REIT. The moderator was Brandon Donnelly, managing director of development for Slate Asset Management.
Some of the solutions derived from biomimicry that Miller has been involved in are relatively familiar, such as creating ecologically sensitive zones, returning properties to wetlands or building a wastewater garden, all proposals to counter flooding offered to a Metis nation client in Alberta.
And some proposals are more far out, such as when he was involved in a project that attempted to develop a material that mimicked the properties of elephant hides for a client in India.
That client, a landowner in Bengaluru, wanted to have his new home immersed in nature. Miller harnessed biomimicry, permaculture and ecological engineering to create a rammed earth primary structure and also copied termite mounds and forest canopies in addition to the elephant skins to create passive cooling for the home.
"It's not a new idea, but it's an idea whose time seems to be coming as we advance technologies, as we learn more about the genius of nature and as we figure out how to creatively apply that genius to the built environment," explained Miller.
With many owners aiming to achieve high wellness scores to differentiate their projects from an earlier generation, biomimicry and biophilia are two solutions, Miller said.
"We're trying to figure out what the tangible economic benefits are when you work in harmony with the land," he said. "With biophilic design, which is really about bringing nature into the space, we know there's benefits to your body and to your mind, you're more productive. You have a slower heart rate.
"So you build a condo with biophilic design, you may have a happier tenant space, you may have a more productive tenant space."
Barendrecht suggested proptech and smart buildings form a sector that is not only growing in relevance now but will become an imperative for owners over the next 10 years. Its value to owners is now beyond dispute.
"It's become clear that some of the biggest challenges facing developers and landlords, whether it's access to great connectivity, or the climate crisis, or health and wellness, these are all challenges that can be addressed and solved by technology in our buildings," said Barendrecht.
Uptake is still uneven but more and more, owners are becoming familiar with the four outcomes of constructing smart buildings, he said: a sustainable building, an operationally efficient building, an inspirational experience delivered in the building, and a future-ready building.
"You're delivering a place that will evolve, it's dynamic and as it learns more about its users, it gets better," said Barendrecht.
Clark, meanwhile, offered a take on why the development sector is not as innovative and productive as other sectors are – segmentation.
"Each trade is thinking, I'm just going to perfect what I do," he explained, with one after another undertaking its assignment in a project without assuming a larger responsibility.
"I'd love to say we're there, we figured it out," said Clark. "But we're not and really the question is how do we get there?"
Later he pointed to government mandates as one path towards greater efficiency, with Vancouver's new building codes one example.
"They're really stringent," said Clark. "All of a sudden you have to upgrade all of your systems, otherwise, you will lose money. And so the rationale is there."