Polyurethane spray foam insulation can be the "perfect, continuous vapour/thermal barrier" in the right application but when specified in flat roof assemblies for commercial or large residential buildings it can conceal moisture damage and present challenges to future roof repairs.
That's the word from Stephen MacDougall of Brown & Beattie Ltd., a building science structural and forensic engineering firm. He has investigated a number of roof leakage cases where spray foam applied to the underside of roof decks has resulted in hidden leaks that, when left unchecked for extended periods, resulted in serious damage to roof assemblies.
MacDougall, who presented a seminar on the subject at the 16th Canadian Conference on Building Science and Technology (CCBST) recently in Woodbridge, Ont., advised builders and owners of new construction to question the reparability of their designs before proceeding.
"No matter how tight you think your roof assembly is, you need to have some method of allowing moisture back out of it."
In the case of flat roof assemblies, he said many property owners don't conduct periodic roof investigations unless they see a sign of leakage such as water stains on interior ceilings.
That is a common red flag for roof failure in conventional flat deck roof assemblies but not so in designs specified with spray foam insulation underside the deck, he said.
MacDougall pointed to the cross section of a roof deck with moisture problems that consisted of a single-ply waterproofing membrane over a two-inch layer of conventional insulation board atop oriented strand board sheathing supported on prefabricated wood trusses.
The spray foam insulation — the primary thermal barrier — was applied to the deck's underside with the drywall ceiling assembly below.
Closed cell medium density polyurethane spray foam does a lot of things well.
It has high thermal resistance properties, if coverage by the applicator is continuous, and "it is a great vapour and air barrier" and it does not absorb water.
The downside?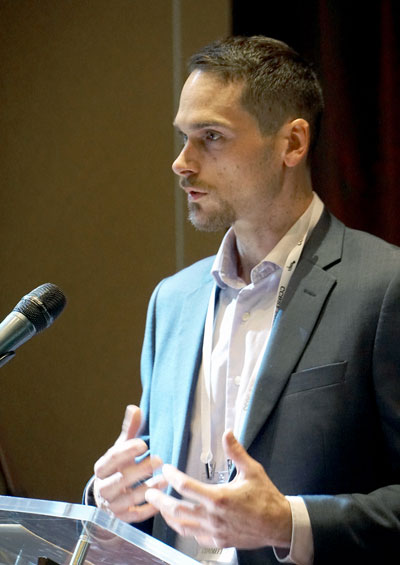 "It won't let water that leaks through the membrane pass through to the interior," MacDougall told the seminar audience. "Over the long term the water will rot out the roof sheathing or whatever the structure is."
Along with destroying the plywood sheathing, that water can wreak havoc on I-joists, he told the seminar audience, noting such spray foam installations can hide leakage "for a long time."
He adds because it is adhered to the underside of the roof deck, it hampers repairs and often damages sheathing.
Also, if the spray foam barrier is damaged during renovations it can be difficult to achieve the specified continuous barrier of protection again, leading to condensation forming in areas of the assembly.
"That can be just as destructive over the long-term as the original leakage was."
Extensive repairs to damaged spray foam can be "super labour intensive," he adds, noting they have to be done from the building's interior which requires the removal of the ceiling finishes.
"It is messy work…not an easy ask of the building occupants."
For small repairs (voids to the foam barrier) installers might simply fill the voids with canned spray foam but that can expand and "push up" the sheathing.
"It is a lot of guesswork."
The CCBST conference was hosted by the Ontario Building Envelope Council.