Net-zero energy (NZE) entered the lexicon of residential and commercial construction several years ago. In simple terms, NZE means successfully designing and constructing a building that creates at least as much renewable energy as it consumes.
NZE ultimately means reducing GHG emissions, including carbon. It also assumes building operations are mostly electrified to reduce or eliminate dependence on fossil fuels like natural gas.
Energy efficiency efforts such as NZE are important but are only part of the full carbon story. As outlined in a recent column, decarbonizing the built environment also means addressing the carbons associated with the building process itself from construction through to demolition and beyond.
It's a matter of the changing balance between operational and embodied carbons in terms of the total emissions associated with a building over its whole life. As operational energy emissions are reduced, the proportion of the embodied carbons, represented by everything that went into creating it, increases.
Structures built with this understanding in mind are referred to as carbon neutral.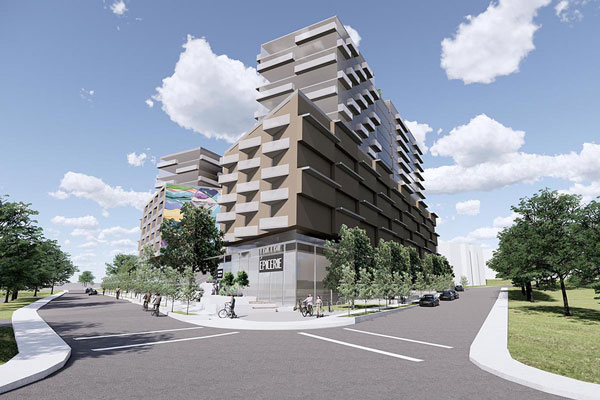 An accepted definition for a carbon neutral building is offered by Swedish-based international design firm White Arkitekter.
"Greenhouse gas emissions are minimized at all stages, including the manufacturing processes, during construction and during use. The emissions that occur are balanced by climate-positive initiatives so that the net carbon footprint over time is zero," the firm states.  
Realization of carbon-neutrality can take different forms that go beyond mere aspirations, illustrated by two breakthrough projects, one in Québec City and one in Toronto.
A private sector consortium consisting of designers Salem Architecture and Régis Côté et associés, structural engineering firm Groupe Statera, and construction project managers Alaroy, have announced their intention to build Québec's first large-scale carbon neutral building beginning later this year. When completed, the La Forest-Québec project will include over 300 rental units, a hotel, shops and restaurants in a complex of towers from seven to 15-storeys.
Nicolas Constantin, formerly of Québec construction firm Pomerleau and now president of Statera, told La Presse La Forest will bring today's available technical and analysis tools together.
"We want to improve the process and bring it, thanks to the synergy between different technologies, to be deployed in industry, so that carbon-neutral buildings will be the norm in 15 to 20 years."
He stressed the cost premium of building to high certification standards is now near-negligible.
This determination is echoed by Josée Lupien, president of sustainable building consultancy Vertima, who joins the team to help with various certification processes.
"During the design, the operational carbon will also be examined, in relation to the energy performance of the building," she told La Presse. "The performance of the envelope, solar gains, natural ventilation will, for example, be evaluated, while considering the viability of the project in order to establish a strategy. We don't want to pretend to do things. We cannot make a building without carbon. You have to operate it, you have to build it."
At the University of Toronto's downtown St. George campus, a very different project called Landmark is already underway, but one that shares the same goal of carbon neutrality.
A large asphalt parking lot is being removed to be replaced with a new green space. But what lies underneath is truly significant.
Yes, there will be some new underground parking available. However, it's a small trade-off. More importantly, the project has presented the opportunity to decarbonize the heating and cooling systems of the university's surrounding buildings using the Earth's below-ground natural heat, an engineering practice known as geo-exchange.
"We are excavating over 350 boreholes, 240-metres deep," said Ron Saporta, the University's CEO of property services and sustainability. "With the help of heat pumps, we can use these to store excess heat underground in the summer and retrieve it in the winter."
It's estimated Landmark will eliminate 15,000 tonnes of CO2 from the campus' footprint while providing pathways and gardens to encourage conversation, study and relaxation.
John Bleasby is a Coldwater, Ont.-based freelance writer. Send comments and Climate and Construction column ideas to editor@dailycommercialnews.com.