Achieving near-zero emissions on construction sites will require several solutions, one of which involves diesel power. After all, 98 per cent of the industry's machinery and equipment runs on diesel fuel, a heavy emitter of carbon.
Diesel equipment also has a lifespan of 10 years or more. That makes outright replacement of existing diesel-powered machinery with electric power far too expensive for most companies. From a practical standpoint, battery-electric equipment is challenged by the complexity of recharging on remote sites. Hydrogen power is very promising but may be years away from commercial availability across a full range of equipment.
However, diesel technology is changing dramatically. The latest engines are engineered to reduce tailpipe emissions significantly.
Leading manufacturer Cummins has announced the industry's "first unified, fuel-agnostic engines" that "use engine blocks and core components that share common architectures and will be optimized for different low-carbon fuel types."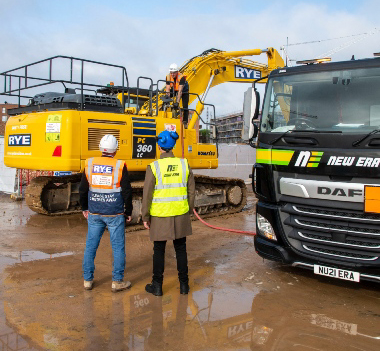 For owners of existing equipment, there are ways to reduce emissions immediately by using diesel fuel alternatives.
Green diesel, biodiesel, biofuel and renewable diesel are some the terms given to these alternates. It can make for a confusing landscape when attempting to determine which ones can be used in existing diesel engines as a direct substitute or as a blend with conventional diesel fuel.
In simple terms, there are basically two types of diesel fuel alternatives; first and second generation.
Biodiesel, also known as FAME (Fatty Acid Methyl Ester), is a first generation alternate fuel. It is derived from crops sourced directly from fields, such as cereals, maize, sugar beet, cane and rapeseed, and processed by transesterification. Biodiesel is typically blended with conventional diesel in ratios from five to 20 per cent (hence B5 to B20).
Renewable diesel, on the other hand, is a second generation fuel, and is sometimes referred to as "next generation diesel."
It is produced from non-food materials, including residual and waste products from industry and households. That makes it more complex to produce than biodiesel, but it can be used as a direct substitute for conventional diesel.
HVO is the best known renewable diesel fuel. It is made from hydrotreated vegetable oil and fats and supplemented with an organic additive. It can be used as a direct substitute for regular diesel either in standby or prime applications.
The environmental benefits of biodiesel and renewable diesels are several. They are non-toxic, biodegradable, have a higher flash point, are almost odourless and reduce GHG emissions by up to 90 per cent depending on the blend.
The positive impact of using diesel fuel alternatives has been demonstrated by the ground-level experience of the Rye Group, a leading U.K. demolition and remediation firm.
Rye committed to reducing their fuel emissions with the objective of inspiring change within the construction industry. The company began substituting standard red diesel with HVO in all its site equipment and machinery in August 2021.
Simon Barlow, managing director of Rye Group, said at the time, "We are hugely excited to have taken such a significant step to reducing our environmental impact. As an organization we are heavily focused on making a positive difference."
By January 2023, Rye's transition to HVO was complete. Annual carbon emissions were reduced from 3,065 tonnes to 135 tonnes within 12 months, a reduction of over 92 per cent in one year.
"The results of our latest carbon audit are just excellent and showcase what can be achieved with decisive and impactful changes, like the replacement of diesel with HVO fuel," said Barlow.
Sadly, the availability of first and second generation diesel fuel is limited in Canada and largely concentrated in southern Ontario. Canada produced and imported a modest total of one million litres of biodiesel in 2021, consuming about half of that and exporting the rest. The country has no reported domestic renewable diesel production.
Canadian construction companies could be part of the alternate diesel fuel revolution. However, it requires more investment in production and more outlets at the wholesale and retail level.
John Bleasby is a Coldwater, Ont.-based freelance writer. Send comments and Climate and Construction column ideas to editor@dailycommercialnews.com.