Most of the attention concerning Passive House focuses on homes and buildings in cold climates. However, the Triana House, a hotel in Seville, Spain, demonstrates how innovative strategies based on Passive House principles can also be applied with great success in hot climates in order to mitigate high ambient temperatures and improve interior comfort with minimal energy.
Triana House is a small boutique hotel on four levels with only 2,700 square feet of interior space. Juan Manuel Castaño, principal of Castaño y Asociados Construccion Sostenible SL, described it as combining a "family house-sized envelope with the complexities of a hotel."
In a recent Passive House Accelerator online presentation, Castaño outlined his firm's work as Passive House consultants for the owners of Triana House. They provided energy advice on construction solutions, use of materials and energy use simulations, while respecting the city's Andalusian architectural heritage.
Triana's environmentally-conscious owners had multiple objectives. They wanted a hotel that would offer a quiet and comfortable guest experience in combination with low energy costs, particularly in terms of air conditioning.  
Seville temperatures vary by season. In summer, average daytime highs are 28 C, with occasional extremes of 46 C. In winter, highs average 11 C but can drop as low as -5 C. Being such a far cry from Canadian climates and Passive House norms demanded innovative solutions in order to achieve certification.
The envelope itself consists of traditional perforated brick masonry. There is two centimetres of exterior insulating mortar, a two-centimetre plaster and hermetic barrier, and mineral wool insulation varying from 15 centimetres to 25 centimetres in thickness. The interior has a double sheathing of plasterboard.
Light colours on the façade, traditional blinds on exterior windows and shading from overhanging galleries in the hotel's interior courtyard patio all contribute to the heat mitigation efforts. The result is R45 in the walls and R54 in the roof. Wooden framed triple glazed windows, with R5.7 on the frames and R7 in the glazing, complete the envelope.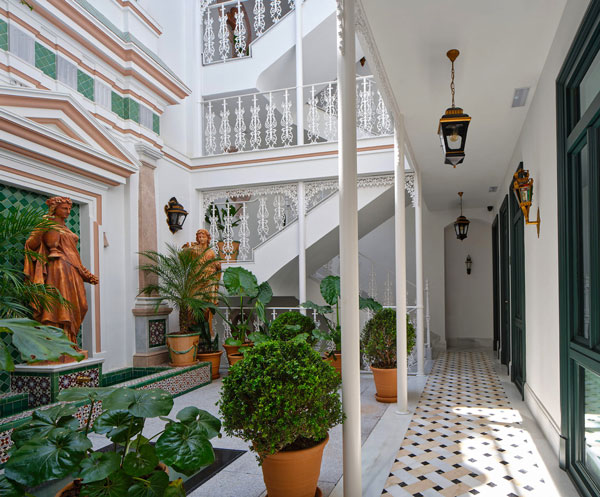 Of course, the building must be airtight to meet Passive House certification. Seven blower door tests were conducted during the construction process. The final result was an airtightness measure of 0.6ACH.
However, it is the hotel's cooling system that is notable. The objective was to reduce energy demands by 90 per cent over usual cooling methods, while offering guests a comfortable and quiet environment, particularly during the hottest periods of the year.
The Passive House standards call for interior summertime temperatures of no more than 26 C. However, the owners set a target of 21C.
"This is below normal Passive House standards," said Castaño. "But in the case of some buildings like hotels you have different kinds of users. The owners want all the users to be satisfied."
The answer was to install a floor cooling system using 22-millimetre-thick floor panels with integral pipes. In summer, water cooled to 16 C flows through those pipes.
This alone would have provided sufficient cooling to meet Passive House standards. To provide more cooling as the owners directed, ventilated cool air circulating over water-filled coils was added to supplement the floor cooling. That cold water is the result of an air-to-water heat pump and a cooling battery – a self-contained coil loop that uses water rather than a refrigerant like ethylene glycol.
The combination of air and floor cooling works well in practice. Air cooling can bring temperatures down faster than floor cooling when guests first arrive. System balance is monitored and automated and adjusts when the room is uninhabited, for example.
Guests can adjust the controls, but in order to preserve energy, the system shuts off when windows are opened. Unlike traditional hotel rooms with noisy, breezy mechanical air conditioners, Castaña says guests hear and feel nothing at all.
Ultimately, Triana House's owners hope to lever its Passive House certification for marketing purposes. In fact, globally there are only four Passive House-certified hotels in hot climates. As much of the world begins to experience extreme heat on a more regular basis, there is much to be learned from projects like Triana House.
John Bleasby is a Coldwater, Ont.-based freelance writer. Send comments and Climate and Construction column ideas to editor@dailycommercialnews.com.