There has been a global embrace of mass timber construction (MTC) in recent years.
As Liam Bryant, associate at U.K.-based Webb Yates Engineers, explains in pbctoday.com, much is due to the pressure to reduce embodied carbon in all building types.
"All consultants are being challenged to lower overall environmental impact whilst facing supply chain and cost pressures. This is a particular challenge for the structural frame of a building."
However, Bryant adds, "Optimizing steel and concrete structures cannot deliver the impact needed to hit current climate targets."
As understanding of wood's structural and safety characteristics grows, so have codes also evolved to allow its use in larger and taller buildings.
Inevitably, cities have begun competing for boasting rights concerning the world's tallest MTC structure, something timber architect Hermann Kaufmann told dezeen.com was, "a little childish."
At the moment, The Ascent, a 25-storey apartment building in Milwaukee, Wisc., is the tallest completed MTC structure. But taller MTC buildings are on the horizon.
Not all designers, even MTC advocates, feel taller is the best direction for wood to go.
"Above certain heights and spans, the size of (timber) elements are so large it becomes uneconomical," said Florence Browning, senior structural engineer at Webb Yates.
Ironically, as wood buildings get taller, more steel and concrete is needed to stabilize the structure. This negates some of wood's embodied carbon advantages and reduces the exposure of many natural surfaces, reducing visual impact and appeal.
Architects like Kristina Rogers, senior associate with Thornton Tomasetti, the design firm behind The Ascent, believes MTC is best used where the wood is left uncovered. That means shorter buildings, not taller.
The premise repeatedly put forward is that wood captures and stores carbon naturally and therefore is preferable to steel or concrete.
This has become the subject of discussion in recent years. In fact, the carbons associated with logging, transportation to mills and then factories, fabrication of MTC components, followed by the transportation of components to sites, vary greatly from project to project, making precise calculations and conclusions extremely difficult.
Many millennials destined to occupy buildings of the future are unsure about the wood industry's overall environmental conduct.
Kassandra Stout and Dr. Iris Montague writing in Building-Products.com, point to research that reveals two-thirds or more of millennials surveyed have a negative view of the forestry industry and its effects.
Yet, at the same time, more than three-quarters "believe wood products are beautiful and have an important place in the consumer market."
Stout and Montague conclude this might reveal a critical educational gap that needs to be addressed, since the millennial cohort represents, "the biggest generation in the United States' workforce and consumer market and, thus, a major driving force of the economy."
To some degree, the MTC argument has shifted. Some designers, like Tye Farrow of Farrow Partners Architects, actively promotes the positive psychological impact of exposed natural wood buildings on occupants.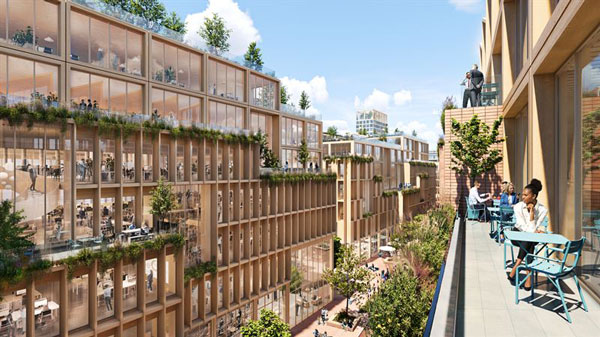 "Experiencing nature — in ways as simple as a stroll in the woods — is proven to improve physical and mental health in myriad ways," his firm's website says. "Architecture and design that is inspired by nature and the natural world can bring these health-promoting advantages to visitors. The natural experience lowers blood pressure, reduces heart rate and muscle tension. It reduces anxiety, increases emotional resiliency and boosts the sense of well-being."
"Wood is very different than steel or glass or concrete," Farrow told Treehugger magazine. "But I think the piece is that perception in your mind's eye; (it's that) you are perceiving it to be warmer than the other material."
A large MTC project does not mean it has to be tall. Construction will begin in 2025 for the 250,000-square-metre Stockholm Wood City in a former industrial area of the Swedish capital that will include 7,000 offices and 2,000 new housing units.
None of the proposed MTC buildings are taller than seven storeys, demonstrating that building taller is not always the way to make an impact.
John Bleasby is a Coldwater, Ont.-based freelance writer. Send comments and Climate and Construction column ideas to editor@dailycommercialnews.com.