This is the first "Carbon Corner" we are publishing, so for this segment I will focus on some high-level concepts; future columns will tackle many topics one by one, with the objective to provide clarity and share the truth about steel's true carbon footprint!
To understand the carbon footprint of steel is to appreciate the objective of a circular economy, whose goal is to keep materials out of the waste stream by influencing the upstream behaviours of the various actors in the construction supply chain. This philosophy aims to influence the design and manufacture of products and the design and optimization of buildings in a way that reduces the overall carbon footprint.
The term 'embodied carbon' of construction materials and products has become synonymous with the term 'carbon footprint but there is a distinction: the complete lifecycle carbon footprint of the building, includes the embodied carbon and the in-use carbon emissions from the operation of the building (operational carbon) — the embodied carbon is a subset of most lifecycle assessment studies as an environmental impact category.
Nearly 200 members of the United Nations Framework Convention on Climate change are parties to the Paris Agreement, a treaty adopted in 2015 with the goal of mitigating global temperature rises through reductions in emissions. Canada signed the treaty in its first year and passed the Canadian Net-Zero Emissions Accountability Act into law in 2021, committing to a 40% to 45% reduction in greenhouse gas (GHG) emissions by 2030 and net-zero GHG emissions by 2050. Canada has set goals with an ultimate objective to reduce the amount of waste generated through improved efficiency in design and construction, to decrease the amount of waste that is disposed through improved reuse, recycling, retrofitting and find end value for "waste" materials that can then re-enter the economy and reduce upstream impacts of producing new products.
To achieve these goals, the design community must understand how they use and how to consider the accurate and transparent reporting and how it can be appropriately used to compare materials. So, in the analysis of environmental impact, whether steel, concrete or wood, or any other material, it important to consider certain elements which are based on facts and not fiction! In weighing the options of selecting a material of choice for a project, factors to consider include project location, scale, design optimization, expected service life, reuse potential, etc., in other words, there should be an awareness of how to analyze the carbon footprint at various segments. Unfortunately, industries are angling to make their products more appealing and often rather than stating facts, as the steel industry does, they instigate hype with fiction and false extrapolations.
The steel story is straight forward, produced structural steel, which comes from electric arc furnace (EAF) mills, has a recycled content of 93%, because EAF mills run on electricity, they largely are as green as their power source and different from the blast furnace as they produce steel by using an electrical current to melt scrap steel, direct reduced iron, and/or pig iron, to produce molten steel; the process is therefore approximately 4x less carbon intensive than a Basic Oxygen Furnace . So, as the energy footprint for EAF becomes neutral, steel can boast of its part in a fully circular economy, since scrap plays a key role in reducing industry emissions and resource consumption. As a result, it should be kept in mind that the majority of North American EAF mills have the lowest global warming potential values (GWP). So t hat is an eye opener for proponents of offshore steel.
So here is the challenge that the concrete and wood industry have. They push the use of EPD's (Environmental Product declarations) to Architects and Engineers, failing to be transparent about the fact that material EPDS are just not comparable.
Yes, the CISC has produced 4 verified & registered industry average EPDs to represent the steel sector with data averaged from our participating Members across Canada for both hot rolled structural steels and cold formed steel and detailed EPD'S can be obtained from mills or manufacturers. (Information is available on our website www.cisc-icca.ca). That is just NOT enough! Why?? Because we can not compare the incomparable.
The International Organization for Standardization (ISO) 14025:2006, defines an EPD as a Type III declaration that "quantifies environmental information on the life cycle of a product," from raw material extraction and manufacturing through installation, use and maintenance to disposal. All these stages illustrated below, contribute to the total embodied carbon impact of a building. Why does WOOD or CONCRETE fail to declare past the production stage A1 to A3 ("Cradle to Gate")? STEEL declares from A1 to D ("Cradle to Grave").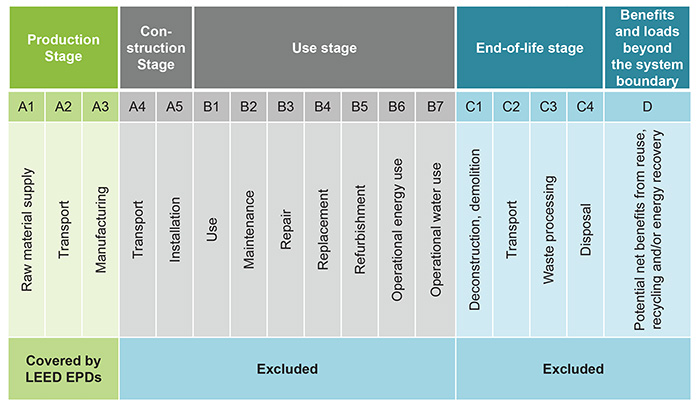 Significant critical variations exist between Cradle to Gate and Cradle to Grave (only considered by steel) boundary conditions and inconsistencies in the varying materials PCR's (Product Category Rule (PCR) when preparing an Environmental Product Declarations (EPD's). Many building sector professionals were first introduced to industry-wide and product-specific EPDs through the LEED v4 Materials and Resources credit Building product disclosure and optimization. It's now time to move on!!
Comparison between EPDs should only be made if (1) their impacts were calculated using the same methodologies and (2) the products being compared are functionally equivalent. 3) For the equivalent stages – The environmental performance of two different materials cannot be compared using EPDs. "Materials cannot be compared", this contention is in fact confirmed in small print in the EDP's of other materials.
In view of these inconsistencies, the CISC has published its Global Warming Potential Summaries for a full "Cradle to Grave" Summary A to D, for Fabricated Hot-Rolled Structural Steel Sections; Fabricated Steel Plate; and Fabricated Hollow Structural Sections. Also, for Cold Formed Steel Panels and Cold Formed Steel Sections. Again, why?? Steel does it because it CAN!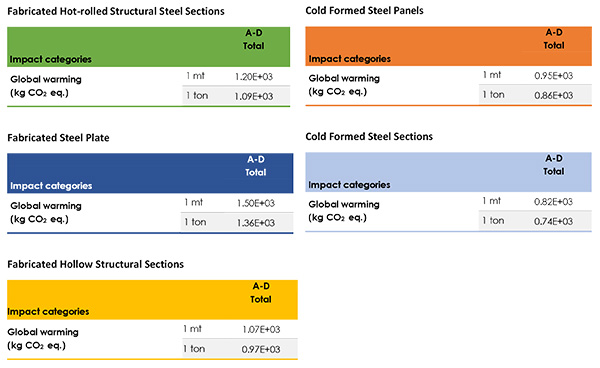 So, you need to ask the right questions. What data are we looking at that will accurately reflect the carbon footprint of a material during its full life cycle? Many claims fostered by special interest do not clearly define the assumptions and contain nuggets of spun truth and hype used to develop their environmental statements and rely on false equivalencies when comparing competing systems; the sheer volume of often contradictory claims is overwhelming. We need to however compare Apples with Apples!
For an analysis of environmental impacts, it's important to consider: The assumptions, the considerations, comparisons, boundaries, and methodology to be better unformed and best consider the impacts both short and long term effects. Steel's inherent durability and recyclability make it an ideal fit for the circular economy.
This article is republished from the CISC publication of Advantage Steel.