The affordable housing crisis isn't about to go away, but there are some strategies municipalities can take to get more non-profit housing to market sooner and within a tight budget.
When tackling design-build non-profit housing projects, cities need to get "an aligned group" of consultants and key contractors to the pre-design table.
It is not how many municipalities operate, however.
Cities are "designing a building, getting it entitled with an architect and consultant, tendering it and then building it and getting killed on their costs," Leith Moore, principal and co-founder R-Hauz, said at a panel seminar held at the Mass Timber Seminar Conference at George Brown College in Toronto recently.
"It is an inefficient way of doing things and a barrier to lowering costs for non-profit housing."
The conference was held at George Brown College's waterfront campus adjacent to the college's 10-storey Limberlost Place, Ontario's first mass-timber, net-zero carbon emissions institutional building scheduled for completion next year.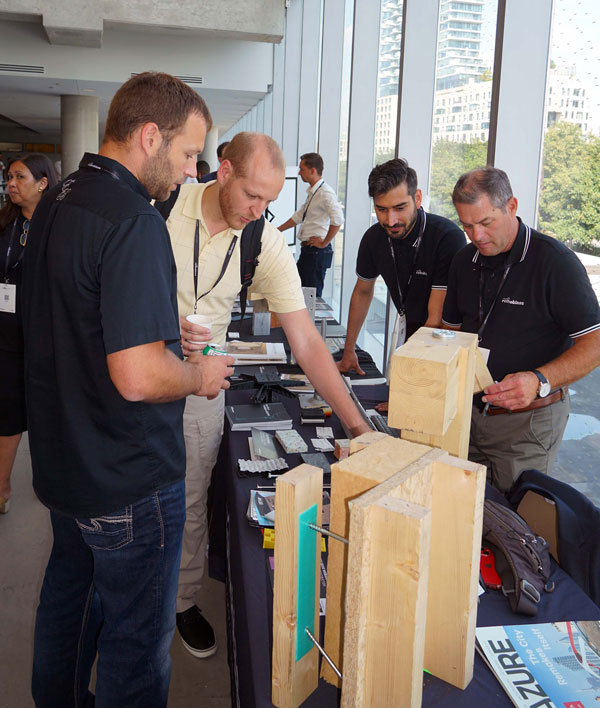 Moore told the seminar audience by prequalifying a small pool of panelized and modular housing builders, the City of Toronto has shortened the period to deliver a project which helps to lower overall costs of non-profit housing.
Panellist Eli Miller, vice-president, project manager at Hullmark added mass timber construction "has a big part to play in drawing from manufacturing principles such as lean delivery…limiting the time of production to insulation, modular construction. It's all part of a collective solution."
Hullmark's 80 Atlantic Ave. development is the first six-storey mass timber building approved under the revised 2015 building code.
The commercial project is in Toronto's Liberty Village neighbourhood.
Panel moderator Hannes Blaas, Rothoblaas USA, said most mass timber structures in Europe are covered with drywall or other panel products.
"Mass timber is viewed as an efficient, sustainable, prefabricated structural material. It is not there for its beauty."
In developer Alexandra Khazzam's experience, it can be advantageous to expose mass timber whereever possible.
The director of Hines told the audience tenants are willing to pay "a tiny bit more" for their space when the interior features mass timber.
That benefit and the fact timber structures erect faster than concrete are reasons Hines is taking mass timber seriously, even though it typically costs 10 to 15 per cent more than conventional buildings.
Hines has done 27 T3 (timber, transit, technology) projects around the globe. It is nearing completion of T3 Bayside, a 10-storey mass timber office building on Toronto's downtown waterfront, and it has other mass timber projects on the go in the city's Junction neighbourhood.
She said cities such as Toronto and Vancouver offer alternative solutions for developers who prove through testing that mass timber can be exposed without fire concerns or other issues.
To ensure experience from completed T3 projects carry over to future commercial projects around the world, Hines assigns one experienced person from its centralized mass timber construction group to each new project.
It enables the developer to keep costs down and build faster, Khazzam said.
One of the big issues during construction can be moisture.
A T3 project in Atlanta by Hines experienced an unexpected "crazy rain storm," resulting in unprotected timber bleaching and expanding.
In Toronto, the developer has learned to take preventive measures against moisture-related expansion woes by "leaving certain gaps" in the timber, she said.
Having the structural engineer, architect and timber applicator on the project from day one is critical to eliminating those hurdles during construction, Khazzam added.
Miller said mass timber designs can be more complex than some consultants might think.
For example, every penetration ranging from conduits to sprinkler lines must be pre-designed "because you can't just bore a hole through a glulam beam" for mechanical/electrical services as if it was concrete.
He said when 80 Atlantic Ave. was underway there was a lack of data on mass timber construction which got engineers thinking about using expensive steel in a structural application instead.
But Hullmark proved through a series of live-load tests during construction that a full-size CLT panel would meet the structural requirements.
"It allowed us to reduce a $1 million extra (from steel costs) to about $150,000."