Amendments to Ontario's On-Site and Excess Soil Management Regulation under the Environmental Protection Act were announced by the province's Ministry of Environment over nine months ago in December 2022.
As described at the time by Talia Gordner, Annik Forristal, partners at McMillan LLP, and associate Patrick Pinho, "The amendments narrow the application of the planning, assessment and soil characterization requirements for the reuse of excess soil from certain types of projects under Phase Two of the Regulation scheduled to come into force on Jan. 1, 2023."
It seemed only fitting that the seventh annual Excess Soil Symposium in Toronto last month would be an opportunity to learn how industry and government have each adapted to Ontario Regulation 406/19. Of particular interest to the more than 300 attendees were the matters of industry compliance, regulation enforcement and landfill capacity.
Jeff Goldman, principal at leading soil management software firm SoilFLO, told the Daily Commercial News that mixed reactions were expressed during the one-day event. Goldman is in a position to comment on the state of excess soil regulations, as SoilFLO was just selected by Metrolinx to optimize its soil management processes and further enhance its ecological initiatives.
Goldman said clarifications concerning significant areas of the regulation are still required. In addition, he said, "combined sentiments of optimism about improvements in the sector were tempered by frustrations with slow adaptation of new methodologies and ignorance/avoidance of the new regulatory regime by a significant number of stakeholders."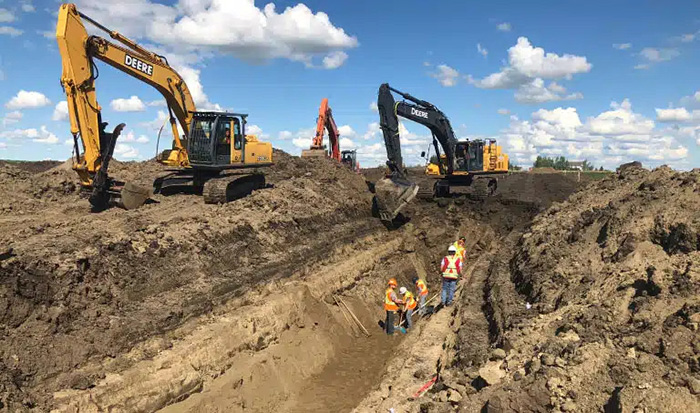 For example, there are well over 400 municipalities alone that should be part of the registry of excess soil generating and reuse sites under the regulations, he said, not to mention hundreds of ongoing commercial and residential developments. Yet by Goldman's count, compliance registration is less than 50 per cent across the entire province.
Goldman used the term "rampant disregard" to describe the attitude of some soil industry members. While some transgressions might see follow-up on a local level by township law enforcement, at the larger scale, the province has not been effectively enforcing its own regulations.
"There have been more than ample opportunities for those who care to learn to learn," he said. "We need to have case law. We need to have prosecutions. You get a couple of those and people will sit up and start to take notice. They'll say, 'You know, it's not worth it anymore. I got to do something different.'"
Goldman believes insufficient government resources have been directed to the matter.
"I say, 'If you're really behind us, give us appropriate staffing and resources. You're going to make sure that when there are egregious transgressions, you're going to be there.'  Otherwise, people will start to feel like, 'Are you really in this?'
"In the meantime," he continued, "others aren't complying. That's to the detriment of those who say, 'We have legitimate sites that receive soils for rehabilitation but we know some excess is going to places where it shouldn't go.' It frustrates our efforts to do things that are eventually going to be for the greater benefit."
Goldman points out that ultimately, failure of the province to act and enforce their own regulations will only push up costs at legitimate sites and slow construction.
The City of Orillia is an example. City council was forced to approve additional funding for a local road reconstruction project in order to meet the new excess soil regulations, like additional soil condition studies and assessment of past uses amongst other matters. It's adding 15 per cent, or $50,000, to the overall cost.
Shortly after the symposium, provincial Environment Minister David Piccini, a keynote speaker at the event, was transferred to the labour portfolio in the Doug Ford cabinet. Goldman is not particularly concerned, given that new Environment Minister Andrea Khanjin is familiar with the excess soil file. In fact, there may even be what Goldman called "an opportunity" to revisit the matter from a government viewpoint with her fresh eyes.
John Bleasby is a Coldwater, Ont.-based freelance writer. Send comments and Climate and Construction column ideas to editor@dailycommercialnews.com.