Although literally an ocean apart, Scotland and the State of Massachusetts are each adopting Passivhaus standards as the foundation for their respective building codes in order to meet their net-zero targets.
"I'm pleased to confirm to Parliament that we will be bringing forward changes to building standards that will deliver a further step-change in energy performance of new buildings in Scotland," Patrick Harvie, minister for zero carbon buildings, active travel and tenants' rights  announced last January.
Scotland will enact new minimum environmental design standards for all new-build housing by December 2024, effectively a Scottish equivalent to the Passivhaus standard, to improve energy efficiency and thermal performance.
Massachusetts is taking a different route but with the same end goal.
The state will update its "net-zero stretch code" for those participating municipalities who opted into the code after enactment in 2021. The Specialized Opt-In Code  is "a municipal opt-in code similar to the stretch code process."
It will require Passivhaus certification for multifamily buildings over 12,000 square feet and as a pathway for all other types.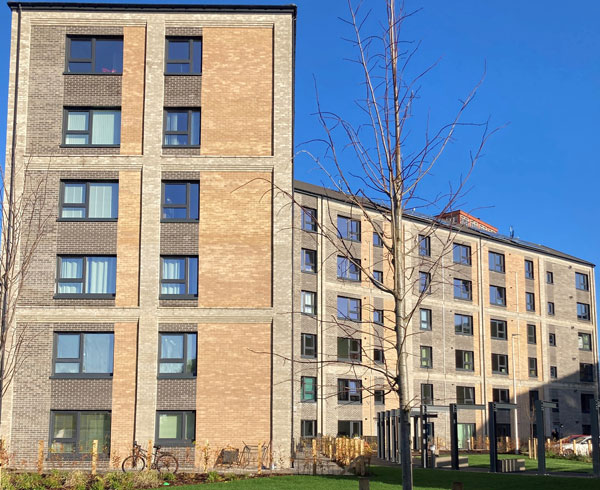 Sarah Lewis, research and policy director at UK Passivhaus Trust, told attendees at the 2023 Passive House Network Conference in Denver Colo., that social housing providers and local authorities in Scotland have undertaken Passivhaus projects for a number of years, laying the foundation for more decisive action.
"We are not talking about the slow gentle incremental improvements in building codes. We are talking about really urgent dramatic action and it needs to happen not by 2045, which is the Scottish net-zero target, or 2050 which is the more commonly cited one," she said. "It doesn't even need to happen in 2025. It needs to happen today. And we've got the tools already at our disposal through Passivhaus."
Lewis explained the UK Passivhaus Trust has a big job ahead, upskilling the building industry, working with the Scottish building standards team and running educational events. Training and awareness is being achieved in co-operation with the Royal Institute of British Architects and the Royal Incorporation of Architects in Scotland.
"What is really key is not just having some passive metrics plucked out and popped into the building standards as a kind of business-as-usual approach. We need to have a different approach to the science to make sure that we actually deliver what the government's looking for."
Building form, orientation and pre-building calculations are foundational to this approach, Lewis explained.
"Traditionally, people would do their building standards compliance calculations at the end. We need to change that whole methodology for designers and start the calculation process much earlier."Tom Chase, senior program manager, high performance buildings at the Massachusetts Clean Energy Center, told conference attendees onsite fossil fuel emissions from Massachusetts buildings represent approximately 27 per cent of the state's emissions, second only to transportation and larger than emissions from electricity generation.
About half a million buildings are expected to be built between now and 2050, making a reduction of greenhouse gas emissions and developing healthier indoor living environments a state priority.
Both Lewis and Chase spoke of resistance from their respective building industries, particularly the oft-repeated allegations regarding cost premiums when building to Passivhaus standards.
However, several studies have debunked these concerns. Although components like triple-glazed windows cost more, much of Passivhaus simply involves planning and executing construction with care, which can result in lower HVAC mechanical costs.
Chase estimates a three per cent average premium for Passivhaus. Massachusetts is stepping up with various incentives totalling several thousands of dollars as an offset. He said the net result could add up to $2,500 per unit, well over $100,000 for a 30-unit, three-storey residential building.
Passivhaus premiums in Scotland for one-off homes are estimated around eight per cent and less for production homes. The government may offer incentives through land and building transaction tax relief.
The Scottish/Massachusetts adoption of the globally-recognized Passivhaus standards cuts to the chase of energy efficiency, leaving Canada's multi-year piecemeal code development process languishing.
John Bleasby is a Coldwater, Ont.-based freelance writer. Send comments and Climate and Construction column ideas to editor@dailycommercialnews.com.