All infrastructure needs to be inspected and tracked so that asset owners can make informed decisions about maintenance, repairs and replacements.
The millions of kilometres of pipe underground in Canada is no different, however, the measures taken to achieve it are.
Chris Manners, director of trenchless rehabilitation with Sewer Technologies, uses Envirosight Rovvers to perform inspection of about one million metres of pipe each year. These remote-control vehicles resemble flashlights on wheels but are highly advanced inspection and locating devices.
The company's latest Rovver is the Rovver X, which uses CANbus, the same control architecture found in modern automobiles. The Rovver X allows the operator to control inspections, view and record digital video, log observations, generate reports and link directly to asset-management software as well as view data from onboard sensors, automate tasks with macros, and measure defects onscreen.
Side-scanning and laser profiling are optional features, while the machine's architecture allows for the easy integration of other attachments. Self-diagnostic capabilities and access to operating history aid in quick troubleshooting and better maintenance understanding, explains Manners.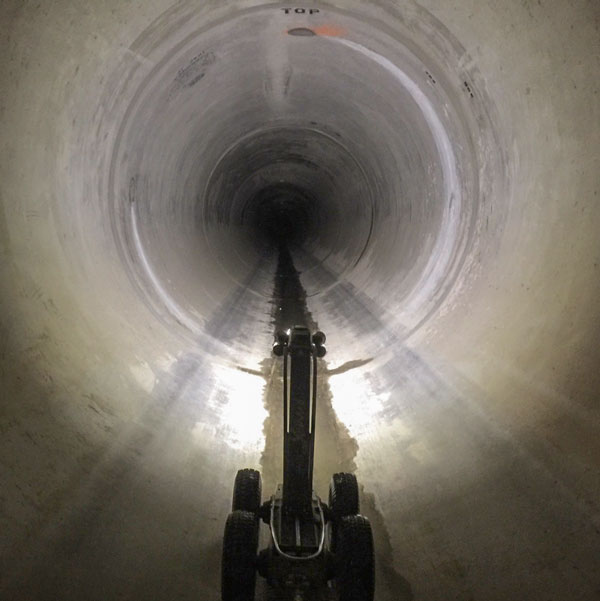 "Rovver X also has a lot of different capabilities," says Manners. "We have their original Rovver System. We have been using Envirosight since I started the company 16 years ago. We now have four Rovver Xs and are slowly changing over our camera inspection fleet into Rovver Xs."
Based out of Port Perry, Ont., Sewer Technologies provides CCTV (closed circuit television), cleaning and flushing, trenchless repairs and manhole rehabilitation services. Manners purchases all of his camera inspection from local Envirosight representative Joe Johnson Equipment.
To handle the variety of sewer terrain, Envirosight provides 12 wheel options. Skid steer control helps manoeuvre around objects while overlapping wheels climb offsets better than tracks, claims the company.
"We use Rovvers every single day on all of our trucks," says Manners. "We camera a certain part of the city or region that they want videoed and that information is uploaded to the truck."
Envirosight's DigiSewer III camera for Rovver X can capture superior resolution at triple the speed of CCTV, claims the company. With it, operators get visual detail from every inch of pipe wall and can inspect at fast speeds without stopping to pan, tilt or zoom.
"The trucks are equipped with WinCan software so, as the operator is recording the sewer, he will type in all of the coding to create a report and that report gets sent to the customer," says Manners. "We create a spreadsheet on what is wrong with the pipes. This gives the customer information about the structure of their pipes."
With this information, the asset owner, which is frequently cities and municipalities, can intervene right away if any pipe needs attention and make more informed decisions about how much maintenance is required.
"Some sections of a city are older than other parts and they will have more pipe with cracks and defects," says Manners. "Customers tend to maintain these areas every year instead of every five years to make sure they know exactly what is going on."
If a pipe needs intervention, the Envirosight Rovver X can be used to locate the clog, crack or hole by travelling through the pipes to its location. The Rovver X then sends a signal that can be detected by the truck driving above.
Then the company marks on the surface the location of the Rovver X. From there, the company daylights it using a hydro excavation vacuum truck so the pipe can be replaced or unclogged.