A smartphone is something most Canadians carry in their pocket each and every day. It's used for phone calls, sending texts and emails, taking photographs, playing video games, even keeping track of how many steps you take or how may kilometres you cycle each day
But what if smartphones could help your local transportation department figure out the quality of the roads you drive on?
A pair of researchers at the University of Missouri (MU) have developed smartphone-based technology that can monitor civil infrastructure systems such as crumbing roads and aging bridges — and much more rapidly and more cost efficiently than current methods.
The technology uses sensors such as gyroscopes, accelerometers and cameras that already exist in smartphones to interface with tiny external sensors and infrared devices to gather data that will enable scientists to determine the specific makeup and surface deterioration of roadways in real-time.
Current surface appraisal methods involve shutting down traffic, taking a core sample from the surface and comparing it to a baseline, which can be time-consuming and costly to do on a regular basis, not to mention straining manpower resources since workers must be trained.
However, the researchers say smartphone applications can change all that. With the sensors, they can detect bumpiness and conditions that cause a driver to slow down. The data can then be uploaded to a cloud-hosted database with relative ease, enabling scientists to determine the specific makeup and deterioration of a road's surface in real-time.
"People are looking for smart, cost effective, scalable and user-centred approaches," said Amir Alavi, one of the researchers and an assistant professor of civil and environmental engineering in the MU College of Engineering. "With current advances in technology, people can help monitor or detect problems using their own devices, and smartphone technology allows us to do that with civil infrastructure."
Alavi partnered with Bill Buttlar, the Glen Barton Chair of Flexible Pavement Technology at the university's civil and environmental engineering department, to develop the innovative solution to monitor roads and bridges.
Their study, titled "An overview of smartphone technology for citizen-centered, real-time and scalable civil infrastructure monitoring," was funded by the Missouri Department of Transportation.
"Assessing roads, bridges and airfields with affordable sensors, such as those found in smartphones, really works," said Buttlar. "With a smartphone, we can stitch together many inexpensive measurements to accurately assess things like the roughness or deterioration of a road surface."
Their study outlines how sensors in the smartphones can be used to estimate the quality of a given road, bridge or airport runway surface. Once the sensor is plugged into a smartphone, any person will be able to effortlessly transmit the data wirelessly to a database while riding on a road. As such, the data can be used to make critical decisions on repair in heavily trafficked areas.
"These sensors are potentially useful tools for various civil infrastructure condition assessment purposes in a cost-efficient way with large spatial coverage," said Alavi. "In addition, they provide an opportunity for frequent, comprehensive, and quantitative monitoring of pavement infrastructure."
Alavi said the recent research has demonstrated that the technology can be used to determine the road roughness potentially cost-free.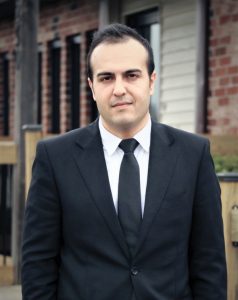 Recently, in collaboration with a company in Illinois, an Android-based application was deployed to capture the acceleration data and it was then fed into a mechanical model to estimate road roughness in terms of a well-known index called International Roughness Index, or IRI.
An excellent match was obtained with the results from a fully-instrumented, million-dollar van that was used at test sites in Illinois and Missouri, said Alavi.
"This is merely the smartphone accelerometer and there are plenty of other built-in or portable sensors that can be deployed for other monitoring purposes."
The acceleration and GPS data can be collected and stored in a text file using an app and then transferred to a server for further data processing.
Alavi said the technology is important because transportation infrastructure systems are seriously threatened by age-related degradation, deferred maintenance, natural disaster and man-made hazards.
"Day-to-day collection of information on such public assets using existing technologies is extremely costly and requires significant effort," said Alavi.
Moreover, he noted, existing infrastructure assessment technologies are not user-centred, not widely shared, and do not directly solicit and process inputs from users or directly consider human health, comfort and safety.
"Smartphones are clearly a viable tool to tackle these issues and can be feasibly relied upon as centerpiece mobile sensing units for smart transportation infrastructure monitoring," he said.
"Such a technology can lead to an intelligent and connected civil infrastructure system through mobile crowdsourcing where people sense the environment automatically for the agencies."
While the technology is almost free, Alavi said previous research shows that simply providing a software measurement application for individuals to download is not sufficient enough and incentives have to be provided to get signed-up smartphone owners to participate.
While nearly all previous existing studies in the area have used the GPS and accelerometer sensors, Alavi said adding a combination of built-in and external sensors may serve to improve future infrastructure sensing systems.
"Smartphone measurements are affected by many factors, which can be addressed by developing robust calibration procedures and through mobile crowdsourcing platforms," he said.
"Much research is still necessary to explore the power of crowdsourced smartphone-based measurements, and to branch out into new application domains."