Picture it.
A grader scrapes at the granular surface of what will soon be a new roadway. In the cab, an operator watches a screen, checking the grade and material compaction. He doesn't bother to get out of the cab. Doesn't have to. The machine uses satellite network data and sensors to assess the work.
Nearby, an excavator is clawing at the ground. In the distance, an operator is directing the operation via remote control. In another area, a construction worker wearing a powered exoskeleton suit, which increases strength and endurance, is moving heavy rocks and debris out of the way.
Welcome to the roadbuilding site of the future.
Machine-control systems, autonomous vehicles, robots, augmented and virtual reality, and drones will be the new norm down the road, according to representatives of firms that provide construction technology solutions and machine control systems to the roadbuilding and other industries.
"Technology is growing by leaps and bounds," says Jamal Mohammed, director of sales and professional services at SITECH Mid-Canada which offers a variety of specialized technology, software and machine-control systems to the construction sector. "It's taken some time but machine-control and guidance technology are now becoming the new norm along with GPS positioning."
Machine-control systems use GPS and sensors to determine geographic co-ordinates. Functions of the equipment can also be automated and link to online networks to share information with engineers.
The systems were initially installed on graders, but it's now becoming more common to see them used on other construction equipment like bulldozers, excavators and rollers. It's estimated that 10 per cent of earthmoving equipment in use in Canada has machine control and it's expected to go up.
"The GPS tells you where you are, no different than the GPS in your car, and we put computers in the heavy equipment and it tells the machine or the blade, the cutting edge of the machine that touches the ground, where to go," explains Mohammed.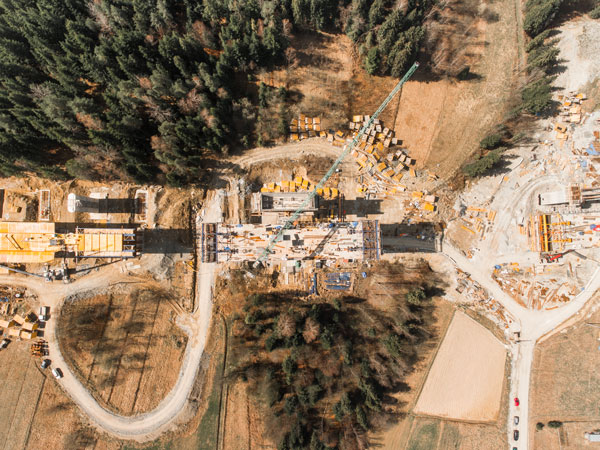 The technology has been adapted over the years and can now be hooked up to the hydraulics on a piece of heavy equipment. A computer then controls such things as the elevation and tilt of a blade.
Kyle Birch, machine control sales manager for Canada at Leica Geosystems, which provides guiding, control and positioning solutions for road construction and other projects, says 3D technology is also now used in machine-control systems to give operators a more accurate view of terrain.
Designs can also be loaded directly onto the cloud by an engineer and sent directly to the heavy equipment.
"With having everything connected, it allows companies to be more efficient because they don't have to have somebody running around on a site with a USB stick to load the designs onto different machines," said Birch. "You create a design and it's sent out to all the machines simultaneously."
If an operator encounters a problem, a technician can also log into the machine remotely and trouble-shoot the problem.
"We can take over the controls on the machine or system with the exception of putting it into or out of automatics. That's something that belongs to the guy in the machine. But we can trouble-shoot everything.
"It's made us more efficient because it's cut down on the number of site visits. So instead of us trying to work through something over the phone with somebody we can go into the machine and trouble-shoot it right away. And, if we do have to go out to the site, it's usually because it's been determined there's a hardware issue and we know exactly what we're getting into before we go."
While fully autonomous vehicles have been tested at oilsands operations and mining sites, they're not yet commonplace on roadbuilding projects. Birch says autonomous vehicles will eventually be used on roadbuilding sites, but the concern just now is how to ensure workers are safe.
Workers on a roadbuilding site could be outfitted with sensors so they're detected by the vehicles, he notes, but the problem is that such sites are busy places and people often wander onto them.
"You've got third-party trucking companies that are trucking in material. It's also not in the middle of nowhere so you can't keep the general public out. You try to keep them out, but on a highway project, for example, you can't be sure that someone's not going to walk onto the site somewhere."
While drones are already in use on roadbuilding sites to provide engineers with an overview of a project, Birch envisions the day when robots, along with augmented and virtual reality, become common tools.
Sometime in the future, he says, an architect will be able to hold up a smartphone and use augmented reality technology to get an image of what a building might look like on a site before it's built.
"If you go on a site you could hold up your phone and say, 'Oh, that's where that building is going.' "
Exoskeletons for workers are also in the cards, he says.
"You'll be able to put on this exoskeleton and lift 50 pounds with one finger. That's the technologies that are being used in the industry these days and that's where the puck is going to."
Mohammed, meanwhile, figures that telematics — whereby computers and sensors in the heavy equipment receive and send information that can be used to improve operations — is destined to expand.
Data from an excavator, for example, could provide information on how many loads were transferred and number of kilometres that were driven which could lead to a larger bucket being installed so the machine can carry a bigger load and make fewer trips, or take a shorter route to save fuel.
"At one time, we would collect information and all these data points from how the cycle times occurred for hauling and dumping and we analyzed that manually, but now the computers can do all that for us."