To manually survey large earthworks projects, hefty investments often have to be made in equipment and manpower. In the case of buildings, workers must be lowered from rooftops to get a visual of a facade.
However, today, contractors, architects and consultants are increasingly turning to aerial intelligence platforms, more commonly known as drones or unmanned aerial vehicles, to get eyes on a building or renovation project.
Goldman Sachs forecasts that flying robots will be a $100-billion market by 2020. While $70 billion of that is expected to be drones for making war, the construction industry worldwide is expected to lead the commercial sector with $11.2 billion of that figure.
"Drone adoption has been rapid, and many construction companies are deploying drones on a daily or weekly basis for capturing site condition, creating progress reports, and general monitoring or situational awareness," said Tristan Randall, strategic projects executive, business development at Autodesk.
"Helicopters and airplanes were never cost-effective for regular, frequent intervals, so this is a fundamentally new capability for construction companies that allows them to understand site conditions in a way that was not possible before."
Randall figures that adoption of drones in construction will continue to increase as technology improves and people get used to dealing with them and the information that the drones capture from fly-overs.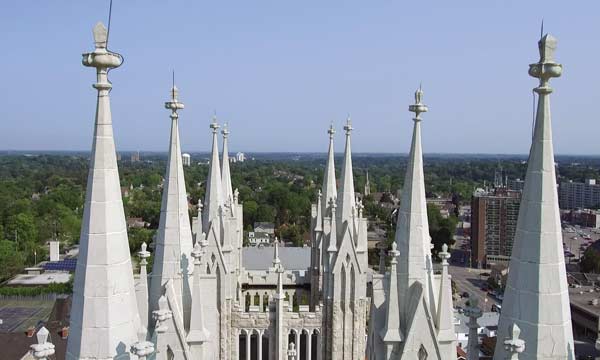 "Fully autonomous systems will come online eventually, which will make it very easy to leverage high-quality data with very little additional work or cost;" said Randall. "Artificial intelligence will advance the field significantly by extracting features and identifying hazards automatically, reducing the manual work needed."
Paul Jeffs, president of PJ Materials Consultants Ltd. in Guelph, Ont., a company that does building and heritage restorations, said use of drones is expanding because they are relatively simple to use and cheaper than having to fork out wages for workers to inspect roofs and shingles in hard-to-reach places.
"I find it's been invaluable because I can obviously eliminate the use of boom trucks, cranes and man-lifts and so on which would be limiting, expensive and sometimes impossible to use," he said.
"I find a drone does everything that I need and it allows me to get up close and personal to the upper elevations."
Jeffs said sensors and cameras on drones have improved significantly, allowing high-definition digital images and close-ups of specific areas to be taken.
Specialized software programs, meantime, allow videos and photos to be stitched together into 3-D models and 2-D maps and also provide infrared thermographic imaging which can detect heat pattern changes for consultants with an outline of colours that indicate where heat loss may be occurring.
"It's been used in roofing inspections for quite some while," said Jeffs. "It can measure areas where energy loss is taking place. I haven't had them fitted on a drone yet but that's an area that I want to go towards."
Randall, meanwhile, said drones are cheap to deploy compared to most equipment on a construction site and offer a wide range of benefits such as they are safe to use and can provide high-resolution photos.
"This will give the technology much more staying power because of its low cost, easy implementation and wide applicability."
Randall said drones can be used for surveying, monitoring the progress of work on a site as well as for other tasks like providing updates to owners, and can also map places that are inaccessible, unsafe or difficult to reach such as undersides of high bridges or wind turbines.
"Measuring material quantities using volume calculation is another popular one," noted Randall, "because it is nearly as accurate as laser scanning with much less effort and time. In the surveying and mapping space, many companies are using drones to map sites, corridors and natural features."
With a drone, he said, a contractor can map a normal building site in less than half an hour, which is a huge benefit.
Drones can also be used to help manage a construction site, Randall said, which helps with safety and quality improvements.
"If you have situational awareness, you make better decisions — it's as simple as that. Many construction issues result from poor communication or incomplete information," he said.
While the benefits of drone use are many, there are some negatives, said Randall, as drones generate huge amounts of data and someone has to be licensed to fly the drone.
Contractors often add the responsibility of piloting the drones to project or field engineers, as it commonly takes a few minutes a day.
Fines for failing to comply with licensing rules can range from $5,000 for individuals and $25,000 for corporations. Some project sites are also in no-fly zones for drones or there is a limit on the height they are allowed to fly which restricts their use, said Randall.
According to Jeffs, it has been somewhat difficult for contractors to keep track of the licensing requirements because the rules have been constantly changed by Transport Canada as the technology has evolved.
Other issues contractors need to consider when using a drone include trespassing and privacy laws, as legal experts say it could become a sticky issue if drones are used to collect and store data. Cybersecurity is also an issue since there is increased connectivity on project sites, as is insurance coverage for property and third-party liability as accidents do happen.