Airtightness testing on buildings has moved beyond the realm of sole technicians conducting blower tests in houses and into the commercial sector.
Legislative changes, notably in Vancouver and Toronto, and proactive developers who recognize the benefits are some of the reasons, according to the founding principles of airtightness testing consultant CoEfficient Building Science.
"We've probably worked on 20 to 30 Part 3 buildings," says Vancouver-based Deva Veylan, referring to large complex structures higher than three storeys and larger than 557 square metres (6,000 square feet) as defined by that particular section of the National Building Code.
Veylan's performed more than 1,000 residential blower door tests delivering the EnerGuide rating scale, while his Toronto-based partner Austin Todd previously worked with a small building science consulting firm in Toronto, gaining experience with testing large buildings.
They met while pursuing a Master of Building Science program at Ryerson University where they became friends and participated in a research project as part of the program.
"After networking and discussing large building with industry professionals, we recognized that airtightness testing isn't happening to the degree that it should be in the commercial sector," says Todd, on some of the factors leading to the formal launch of the company in the spring of 2019.
Since then the two building scientists have acquired a number of clients and the company has also become a tester for the National Research Council (NRC). As part of a nationwide research study NRC has been conducting on high performance buildings, they conducted airtightness testing at the retrofitted Ontario Association of Architects' Toronto headquarters last year.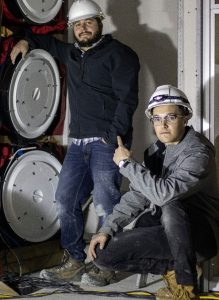 What makes CoEfficient different from sole proprietors who show up at people's homes is that it's a full range consulting firm often involved right from the start in the design phase and on an equal footing with other consultants, says Todd.
It has conducted tests on several different types of buildings for purposes which include data collection, post-construction verification, and construction phase quality control.
"We're currently working with a variety of clients to incorporate airtightness testing on upcoming projects as well as pursuing research opportunities," says Todd.
To achieve that objective, the company works with construction teams to incorporate the testing in a way that allows the owner/contractor/consultant to benefit from that process and use the data in creating a higher performance building.
"Our role has been to educate the industry on integrating airtightness testing into their existing process and optimize its benefits."
Of course, they emphasize that airtightness testing on commercial buildings is a more complicated procedure than on residential structures. Ideally, the whole building should be vacant to allow the entire envelope to be sealed. Exits and/or entries could jeopardize the results or prolong the testing duration, says Todd.
"We often work at night and on the weekends to avoid interfering with the trades," says Todd.
In active construction markets that is not always feasible with many occupants living or working on lower floors even before high rise towers have been topped off. In those situations, guarded blower testing can be applied to the quantify air leakage through exterior walls on a floor or a set of floors isolated from the rest of the building, he says.
While there is still some commercial industry resistance to airtightness testing, that is changing, partly because of Vancouver and Toronto's leadership, they point out.
Under the voluntary adoption of the British Columbia's Energy Step Code, airtightness testing is required on all Part 3 buildings in Vancouver. The Step Code allows local governments to incentivize or require a level of energy efficiency in new construction that exceeds the requirements of the provincial building code.
In Toronto, whole-building airtightness is required on Part 3 buildings under Tier 2 of the city's Green Standard, which sets sustainable design requirements for new private and city-owned developments under four different tiers (1 to 4).
In 2022, it is planned that Tier 2 will become Tier 1. What that means is that air-testing for all buildings will become mandatory.
"Toronto and Vancouver are on the leading edge (of testing)" says Todd, explaining that's the reason they respectively live and work in those two cities.
That is not as complex as it might seem. Real-time information such as architectural reviews can be uploaded to a central platform, allowing each partner to track what the other is doing.
"Most of our work is done on the computer," says Veylan, who estimates their business is comprised of approximately 25 to 40 per cent of field work and onsite, with computer entry and analysis making up the balance—although that percentage ratio can vary.