Researchers at Northwestern University have developed a Martian concrete made from materials found in abundance on the Red Planet.
The process of making and 3D printing structures could lead to astronauts living on Mars for up to a year and there's hope their findings could impact construction on Earth.
PhD student Matthew Troemner, who is working with Gianluca Cusatis, a Northwestern University professor who pioneered the research, says NASA has been the inspiration behind the development of Marscrete.
NASA's Mars One strategy is to robotically construct a human settlement on Mars starting in 2025 with humans arriving five years later.
There are challenges, clearly. The Apollo Lunar Module sustained astronauts on the moon for only 75 hours, but the Martian habitat must last a full year. Marscrete combines regolith (Martian soil) and sulphur liquefied by heating to 120 C to 140 C and the viscous slurry is then mixed via a screw extruder.
According to documents submitted to NASA, the design calls for a "3D-printable inner spherical shell and outer parabolic dome and an interior layout with separate wet rooms (lab, kitchen, bathroom) and dry rooms (bedrooms, workstations) to limit the resources needed for construction. Two hatch openings directly across from each other allow habitat units to easily connect and foster community."
The layout was inspired by the NASA-funded HI-SEAS (Hawaii Space Exploration Analog and Simulation) project, a Mars flight crew training simulator.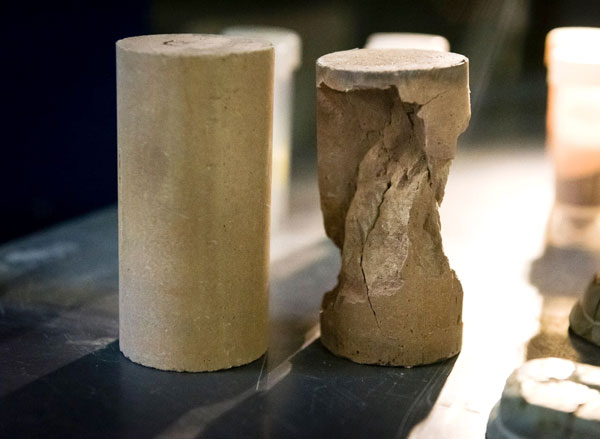 Cusatis announced in 2016 that they had come up with a solution for creating a concrete-like construction material on Mars in response to NASA's call for entrants.
The initial formula used a simulated form of Martian soil created from Hawaiian volcanic ash by NASA for experimental purposes. Liquid molten sulphur, found in abundance on Mars, substitutes for water.
Sulphur concrete is already used on terra firm here on Earth and is a highly corrosion-resistant mix for nonstructural application but not so resilient to heat.
However, the initial testing found Marscrete is twice as strong as Earth sulphur-concrete mixes and, given the lower gravity on Mars, is more than suitable for sustainable structures while it also reacts to bond with the Martial sand.
"There's no snow load on Mars of course," says Troemner. "But there are intensive winds. However, the atmosphere is such that they are actually of lower intensity than here on Earth."
One of the challenges, he says, has been to stiffen the mix so that it lays down with minimal slump, liquid enough to be 3D printed but stable enough to cure without shape shifting.
The idea is for a robotic arm, controlled by programming, to lay down a 2.5-by-2-inch tube of material, layer by layer, like toothpaste, allowing for details like access ports, until the structure is fully formed. While the external pressures aren't overly problematic the interior pressure needs to be robust so the structure must be sound.
Since 2016, he says, the team has upped its game on the project and expanded their scope into a new formulation and is now designing the IT systems and remote robotic arm to effect 3D printing. Machines and materials would be sent first to remotely create structures and then humans would follow and test and use the structures.
After garnering interest from NASA the research slowed for lack of sponsorship and industry partnership, says Troemner. But around 2018 NASA launched more design challenges and the Northwestern team entered a virtual design for a structure and finished fifth out of a global field and a share of the $100,000 prize, the highest place of any other university.
"We were also competing against private companies with funds so we were thrilled," he says.
With more interest came more partners and sponsors, he says, and soon Oracle, a massive IT company, was on board as were Chicago architects Skidmore Owings Merrill and others followed.
"Unfortunately, we were unable to produce a physical construction of a one-by-three-metre foundation because we'd been late getting started with the 3D," he says, adding interest has also grown at the university with the team growing to two dozen students and faculty from several disciplines.
However, the concept and path to execution now have considerable traction while the mix is also advancing, now using material made from crushed Mohave desert boulders better approximating Martian sand which is primarily silica with aluminum oxide and other oxides.
Automation giant ABB is also on board now as the system required to 3D print structures on Mars takes shape.
To keep things safe, they've built a controlled environment where the prototype 1:3 scale robotics can operate remotely, sealed from humans because of the hot sulphur component. They're pumping the molten sulphur and sand material separately and then mixing them at the nozzle for better mechanical logistics. They are now looking at adding one to three per cent polyethylene to the mix to provide more strength.
"NASA says that parts of the spacecraft can be repurposed on site," says Troemner, adding that parts that may have foam packing materials or shields in the spacecraft can be shredded into fibres on site and added into the mix.
Shooting for the stars sounds esoteric, admits Troemner, but the immediate benefits of the learning from the research and investment could pay off on Earth first, making it a win-win.
"The backbone of all this research is for it being applicable on Earth," he says, noting that large scale 3D printing of buildings has many applications and resolving issues such as the optimal size of aggregates that can be pumped and printed and how to insert conduits and rebar resolves many challenges.
"Sulphur concrete isn't necessarily cost effective or environmentally friendly but for structures you need quickly, like for disaster relief or for the military to build temporary barracks, there are lots of options. It's a matter of finding the right market."