The developer of a contact tracing app supported by LIUNA has expressed confidence that a solution can be found to integrate his firm's wearable app with the national tracing app supported by the governments of Canada and Ontario.
But an official speaking for the Public Health Agency of Canada was non-committal when asked if he foresaw a breakthrough that would allow the two apps to mesh.
The national app, called COVID Alert, is installed on smartphones. It was unveiled by both governments on July 31. Members of the Construction and Design Alliance of Ontario and the Construction Employers Coalition then came out with statements supporting the app and urging construction workers to download it.
But most LIUNA (Labourers' International Union of North America) members can't use COVID Alert, laments LIUNA international vice-president Joseph Mancinelli, because they are unable to carry smartphones on the job due to safety protocols aimed in part to prevent distractions.
The prohibition is found in many collective agreements. That leaves out not only most of LIUNA's 130,000 national members but also many manufacturing and health care workers, Mancinelli said.
"Unfortunately, with the app the federal government came up with, it does not have any wearables, it's only on the phone," said Mancinelli recently. "So you are disenfranchising a huge proportion of the workforce.
"If they do not have any other method of contact tracing other than using the app on your phone, it's just going to be illegitimate."
LIUNA has been consulting with a Toronto firm, Facedrive, since spring on development of the wearable device, called TraceScan. All workers on a site would wear the app in a wristband and the device would register contacts of closer than two metres. An LED light blinks every two seconds when the user is within close proximity of another user so TraceScan not only records contact information but also warns of lack of social distancing.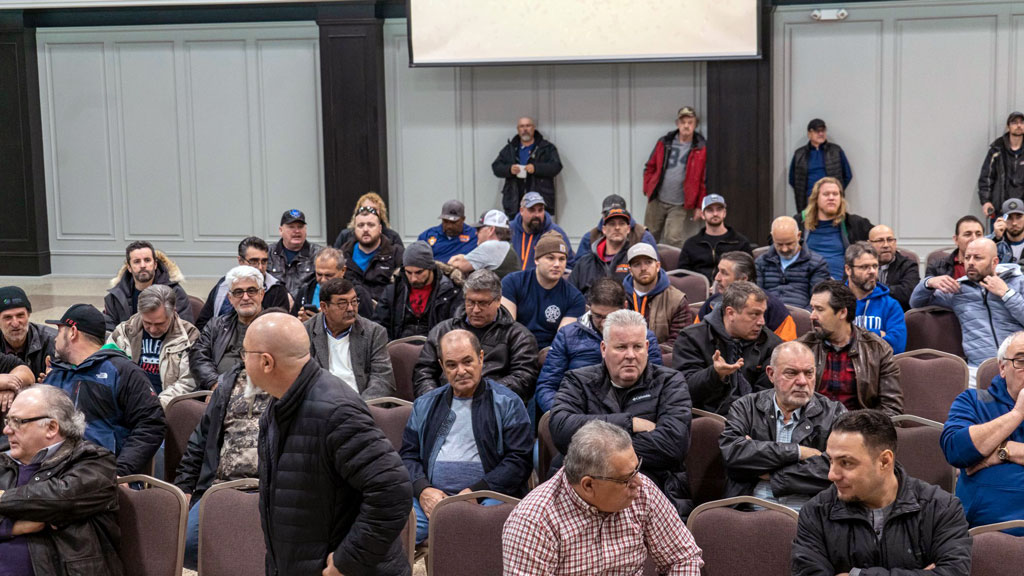 Facedrive is already working with manufacturers and other clients using TraceScan, which was developed with researchers at the University of Waterloo.
LIUNA launched a two-week pilot project with TraceScan using two paving crews working in Hamilton the week of Aug. 17. Mancinelli said he has been in contact with the Provincial Building Trades coalition and will be reporting back on the pilot project.
Mancinelli said the federal government was late to the game with its app and when it introduced COVID Alert, following the advice of its COVID-19 Exposure Notification App Advisory Council, it effectively blocked other technologies such as TraceScan from hubbing on.
The obvious solution would be for the two technologies to mesh, Mancinelli said, and that could well be in the works said Suman Pushparajah, COO and project lead with Facedrive.
"From day one we have been working with the provincial and federal governments to figure out a way to integrate this, if there is an opportunity with COVID Alert," said Pushparajah.
"I think everything is going in the right direction and in a short time we'll know where things are going to be."
Referring to the technical feasibility of an integration, Pushparajah said, "We are hoping that integration can be done. I think if we all work together we will find a solution to ensure that it can be integrated."
Public Health Agency of Canada spokesperson Eric Morrissette wrote in an email that the government met with numerous tech companies to review apps before proceeding with COVID Alert.
"We continue to work with our partners across Canada, including other orders of government, non-profits and the private sector as we explore possible improvements to the app, as well as additional opportunities and tools to help keep Canadians safe," he stated.
"As the technology currently requires a smartphone, we understand that certain workers may not be able to use the app in designated areas of their workplaces (for example, workers on construction sites). However, the app will continue to bring value to these workers in their day-to-day lives, like when they are in public settings…As a result, this will benefit all of their co-workers."
Asked if the agency has ruled out possible integration with the LIUNA app, Morrissette said his initial statement stands.
Construction stakeholders stressed that integration of the apps is much preferable to having two separate streams of contact information.
"We are going to be in favour of an app with the largest breadth and width because we all need to be on the same page," said Giovanni Cautillo, president of the Ontario General Contractors Association. "You can't have multiple apps and hope to get the same outcome."
"We would 100 per cent encourage more co-operation between the national app and the LIUNA one," said Andrew Pariser, vice-president at the Residential Construction Council of Ontario. "One app is better than two apps, so if they were able to integrate and share information, we would be very supportive of that."
Ontario Ministry of Labour Monte McNaughton noted in a statement that it's the exclusive role of the federal government to review contact tracing applications.
"Facedrive's wearable contact tracing technologies could fill a gap for workers who, by law, cannot have a cellphone on their person while at work," McNaughton said.
"We continue to encourage the federal government to engage companies like Facedrive who are coming forward with made-in-Ontario/Canada solutions to keep all workers safe."
Follow the author on Twitter @DonWall_DCN.