The magic of mushrooms and some innovative technology could divert construction and demolition (C&D) waste from landfills, create building blocks, sustain and house an impoverished African nation and, maybe, bring housing to Mars.
The way Cleveland architect Christopher Maurer sees it there has to be a better way to dispose of C&D waste than just throwing it into a hole in the ground and his vision has led to a hook up with NASA and MIT.
Maurer, principal architect at Redhouse Studio is now working to scale up the Biocycler, a mobile technology which grinds construction waste and then processes it into blocks using mycelium fungi and calcite-producing microbes as the cement to bind it into a durable and formed material.
It's one of three projects which are gaining traction for his team which includes a process to grow mushrooms in the poorest part of Namibia and an ambitious scheme to grow construction materials biologically "in a bag" on Mars for humans to later harvest and use.
The Biocycler, however, is the project concept closest to home since C&D waste and the perilous future of landfill sites are pressing problems across major North American cities.
Despite efforts to separate and recycle metals and masonry, C&D is about one fifth of the waste stream waste and most of it still ends up in landfill.
The Ontario Waste Management Association is warning the province needs to find more landfill immediately since planning and construction take a decade or more and time is fast running out. Still, Ontario produces about 15 million tonnes of construction, renovation and demolition waste
Despite efforts to separate and recycle metals and masonry C&D is about one fifth of the waste stream waste and most of it still ends up in landfill.
Maurer sees the carbon in that waste stream as a resource and wants to reclaim it and reduce the footprints of both demolition and new construction.
"We want to take waste from construction sites, wood, ceiling tiles, anything with a cellulose base and then make it into a substrate and add micro-organisms and reconstitute it into a sustainable material which does not give off VOC or formaldehyde," says Maurer who says there are three proposed strategies for deployment. "The first we call the Show, which is a shipping container at a site to process material into blocks," he says. "It's called the Show because you see the process, the waste and then the blocks.
The second is called the Business which involves a factory where we prefab the material in to shapes or glued boards and then ship them to construction sites to be assembled. The third is called the Mission and it would be going to disaster sites such as hurricanes where you have a lot of debris and you then process it into materials for construction."
Some of the challenges to be resolved including ensuring that once the lifecycle of the blocks are reached they can be recycled again.
"When you look at the blocks or touch them they have the same feel, consistency and density of oak," he says.
His work in the area of biomimicry has led to some fascinating collaborations and it started with a project to create housing in Namibia.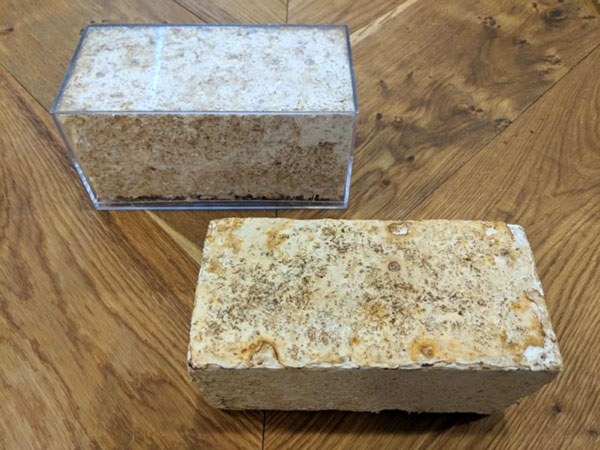 "We wanted create low income sustainable housing for the homeless in Namibia," he says. "And we found they had a problem with the blackthorn encroacher bush (acacia mellifera) choking the aquifer and preventing the grass lands from growing back and the animals couldn't graze."
The bush could be harvested and processed, creating animal feed, charcoal for fuel and, by using the small twigs, a medium to commercially grow mushrooms.
But they weren't finished yet. Once the mushrooms were harvested the remaining medium is processed with micro organism and fungi to create building materials to create the homes.
BioHab became a joint project with The Standard Bank Group, MIT's Centre for Bits and Atoms and Redhouse Studio to harvest the bush, process it into substrate which turned out to be perfect for growing gourmet mushrooms which became a local source of food and an export community.
"The bank even set up booths and people could buy mushrooms and the funds would go to buy the bricks to build homes," he says.
The work there led to connections with MIT and NASA's NIAC (NASA Innovative Advance Concepts) group which gave him a grant to explore the concept of growing mushrooms on Mars in a self contained "bag."
It is intriguing because NASA plans to have some kind of mechanical working presence on the red plant by 2025 with human arriving in 2030. Robots — Mars Rovers — would be deployed initially to ready shelter and NASA is looking at various construction concepts such as sulphur based concrete.
Maurer's idea to is ship mushroom spores and a dehydrated medium weighing just a few grams. The plan would be to add water which the Rover has previously sourced and stored to trigger algae growth and then when it starts to percolate, add the spores which would then grown and fill the pre-shaped form of the dome on Mars creating a structure much like a pop-up tent.
Maurer and the team think they can also grow furniture in the same way.
Meanwhile, the first big project for the Biocycler is coming up for Maurer and he admits it's a little different.
"It's not the biggest structure I've designed but it will be the one with the most occupancy," he laughs. "We're building a bee barn as a prototype building and it will house 500,000 bees."