A Toronto architect sees a bright future for a strong but lightweight "intelligent structural panel" (ISP) that can be used in place of traditional structural elements such as reinforced concrete and steel decking.
The panel, which combines the Internet of Things (IoT) and a prefabricated sandwich steel plate panel, contains an "intelligent layer" with plug-in ports for everything from HVAC and lighting to security systems and elevators which respond via sensors to changes in movement, touch, sound, sunlight, temperature and even occupant flow, says Zenon Radewych, a principal at WZMH Architects.
In a brochure produced by the firm, it is described as a combination of all the components that go into a floor and shearwall, "but with a brain."
It makes a building envelope smart "doing more than just blocking the wind, rain and snow," explains Radewych.
In research and development for several years, the ISP has been fine tuned for practical installation and is poised for its first application on a university building in Toronto in the next year or so. Other installations are in the works.
"As you build your building and you drop these panels down you are installing a good portion of the IT and low-voltage highway.
"There are no junction boxes. It is a true plug and play system, very safe, very fast and very efficient."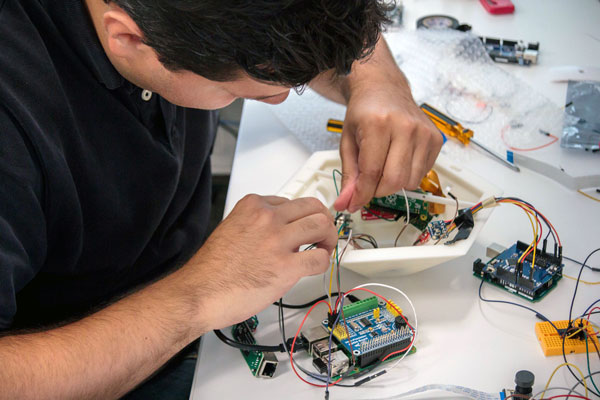 Radewych, who notes that Microsoft supported WZMH's initiative in the early stages of engineering and it provided some funding, says the novel panel system is one of 20 to 30 inventions that WZMH has developed around building prefab, IoT and low-voltage systems at its Toronto lab.
Some initiatives are conducted with engineering partners and while many may never reach the marketplace, the architect sees research value in understanding "where the potential future lies."
Among its research projects are tiny wind turbines built into curtainwall mullions to generate power from the wind and solar panels on motorized systems that move up and down a building with the sun's rays.
While Radewych says innovation is vital to the building industry's success, over the past century the field has lagged behind almost every other industry in the adoption of new ideas.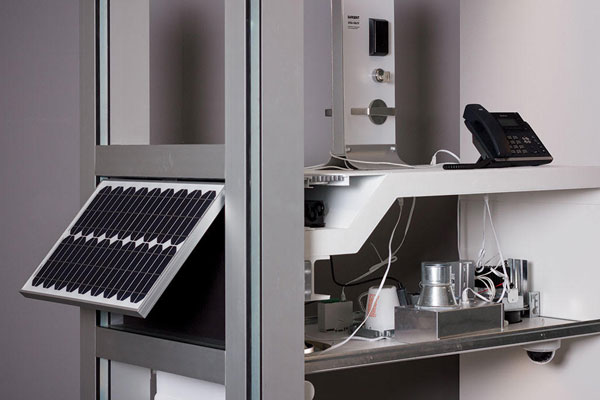 Structural materials and construction methods have, at best, taken baby steps forward.
"We are still building buildings with hammers, nails and screws," he says, noting one of the few significant material innovations over the 20th century was gypsum board which gained commercial success in the 1950s and '60s as a replacement for lath and plaster.
While prefabrication and modularization could spur innovation, he says if buildings are assembled with the same combination of materials as onsite construction but in a factory, "that's not innovative."
Today's building systems, envelopes, for instance, require a number of different materials and mini-systems, any of which can fail, causing the whole system to underperform or falter.
"Our idea is to combine building components into one, then you are going to have a lot of innovation happening."
While breakthroughs like WZMH's ISP spell "exciting times" to come, Radewych says building industry innovation is hampered in part by economic times.
Toronto has the design and development talent to bring forward new technologies but developers — particularly in the highrise condo world — haven't needed to change how they have built residential because of the city's perennial hot development market.
"They have a formula that works. It is low risk so there is no reason for them to change."
Design innovation will occur when product demand slows or "when one developer decides to change and everyone else sees its value and follows suit."
Another driver of change is the growing green movement for sustainable and carbon neutral buildings. To meet that end goal, however, Radewych doesn't think the solution lies in glazing ratio reductions because it can result in "less friendly" interior spaces.
"We have to look at the building envelope as something living that can create green energy and integrate it from a smart perspective."