Robots in construction are traditionally thought to be suitable for menial tasks – "dull, dirty and dangerous" – but these days architects are employing robotics and ever-more sophisticated software to push the boundaries of design customization further every day.
University of Toronto associate professor Brady Peters was invited to discuss new horizons for robotics in architecture July 14 as the Canadian Construction Association hosted a virtual R&D Showcase. Peters is a designer and researcher with special expertise in the development of design technology for integrative construction and digital fabrication.
As directed by architects, Peters said, robotics is not about the substitution of labour, rather it's about finding new processes and creating new products.
"This mass customization of architecture is enabling architecture to be customized for clients for different situations," he said. "The key is this linking of digital information to physical making."
One Peters project from a few years back illustrated how designers could develop new models of acoustics using advanced computational simulation, geometric generation and robotic fabrication. It was called Sustainable Sonic Environments: The Robotic Fabrication of Mass Timber Acoustic Surfaces.
"We were looking at the acoustics of meeting rooms and looking at this particular phenomenon of flutter echoes," he said, noting a more diffused sound field would produce less of the distinct flutter echoes.
"So we came up with this concept of this wall that would have this continuous surface which would then become a little bit more modulating in the middle.
"The algorithm was essentially this central point, this linking point for ideas about geometry, simulation and fabrication together."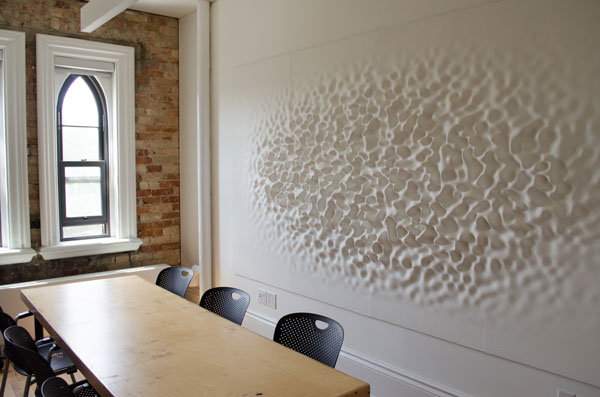 Peters walked his audience through a history of architectural representations, from 2D hand-drawn images that enabled the creation of the profession to the first Sketchpad system introduced by Ivan Sutherland in 1963 and AutoCAD's debut in 1981.
By 2001 Peters was working in London, England and becoming influenced by the parametric design applications being developed by Hugh Whitehead. Parametric design applies mathematics and geometry to the built form. Peters went to work with Whitehead at Foster + Partners and became involved in the early days of the Smartgeometry movement, an international body that explores creative computational methods for the design of buildings.
"The problem was that the parametric system didn't scale," said Peters. "We needed to invent some new tools.
"And this is where I found computer programming, i.e. scripting, which enabled me to create the huge amounts of elements that are necessary for this.
"So, this was part of this stage in architectural research that we were developing computational design software for architecture. And a big part of this was the Smartgeometry community."
In this next phase, Peters and his colleagues continued to add multiple representations of data.
"We could include things about structural performance, or we could include things about environmental performance. We were able to connect different disciplines through this data that we were developing."
Digital fabrication brought these specialists into the current era. Architects could go directly from the computer to develop digital instructions which then created the built form. It was especially welcome for designers like Peters who were immersed in digital technology. His office had the first 3D printer in the U.K. in 2005.
"As Whitehead said, the use of rapid prototyping closes the loop in a digital design process," Peters said.
Why was 3D printing so successful in architecture? Peters said architects were already working in 3D; it was faster than hand-building; it was relatively low cost; and the limitations of construction disappeared.
Peters credits the work of Swiss professors Fabio Gramazio and Matthias Kohler of Gramazio Kohler Research with showing how the future will unfold, with multiple types of robots programmed to produce customized designs and materials – even custom bricks of any shape – to enable architects to offer owners unlimited design options for their projects.
And the progress continues, especially with design software innovation.
"What's happening is we're getting this whole ecosystem of new design tools that are able to plug into Grasshopper, which plugs into Rhino, which is a CAD software. We're getting all of this new software that can simulate performance in different ways, energy performance, lighting performance, acoustic performance."
Follow the author on Twitter @DonWall_DCN.