Tracking critical certifications just became a lot easier thanks to new features developed for Bridgit Bench.
The workforce management software now allows general contractors to proactively ensure certifications across their workforce are up to date.
GCs can create a master list of certifications in Bridgit Bench and set warning date ranges. They can then add a certification to a person's profile and set the expiration date.
As a certification approaches expiration, they'll be notified that it's time for renewal. The platform also allows proof to be attached directly to a person's profile, so contractors can keep all relevant information in one central location.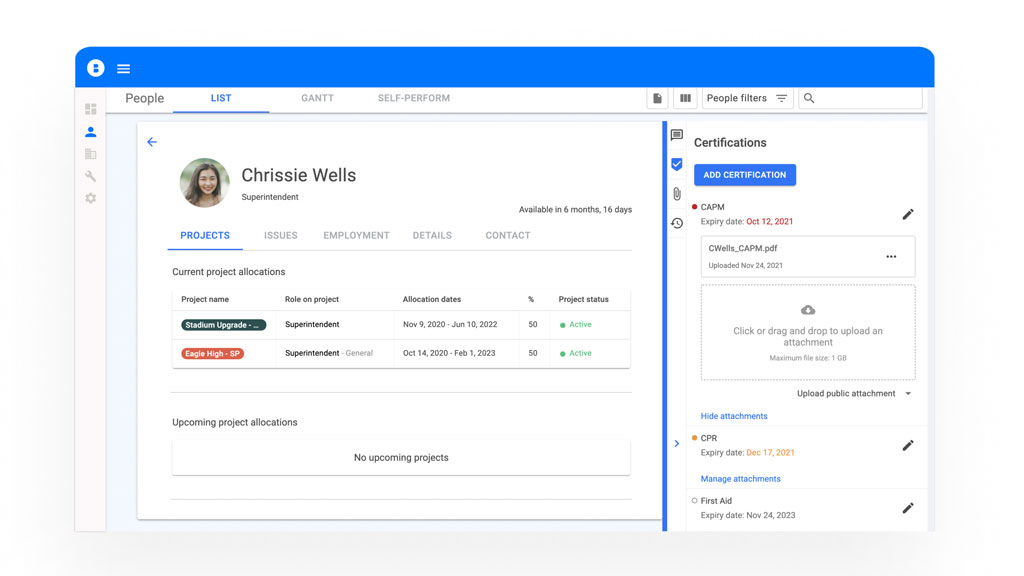 Mallorie Brodie, Bridgit CEO, explained the platform was designed to be flexible and highly configurable. Customers were already using it to keep track of certifications and the Bridgit team decided to enhance that experience.
"Our customers could essentially set up anything that they would like to track in regards to a person or project," said Brodie. "One of the fields we saw being filled out frequently across the board that our customers would talk about a lot was certifications. They were adding them to an individual's profile so they could have a better sense of who actually had the proper certifications."
The new features allow users to set expiry dates, assign certifications to individuals, warn users and attach images of certifications.
"It was a clear opportunity to serve our customers by building out a more robust feature set around certifications," said Brodie.
She added having the platform use highly configurable fields allows customers to be creative it what they track and allows the Bridgit team to analyze how the platform is being used so it can be optimized.
"It's a great way to see what the trends are across all our customers and ultimately build features that are even better suited to enhance those workflows. This is a great example of that happening."
Bridgit's data shows the top certifications being tracked on the platform are all related to health and safety. Brodie explained health and safety is not only a top priority for most companies, but not having proper health and safety certifications can result in severe penalties.
She said customers welcomed the changes, but more broadly, have welcomed the agility of Bridgit's team in developing new features. She noted this gives customers the confidence that if a feature doesn't exist now, it can be rapidly developed in months rather than years.
"In the last quarter we launched 17 feature releases," said Brodie. "We are moving really, really quickly on the product front."
What does the future of the platform look like? Brodie said Bridgit's team is currently looking at enhancing its workforce intelligence and analytics.
"I think that's an area where our customers will really see the product continue to advance over the next six months," said Brodie.
For example, she said the team is working on an algorithm that recommends who the best fit is for a project based off all their historical assignments.
"It's both an art and a science when it comes to assigning people to a project, but we hope to be a data point that a VP of operations for a construction company could take into account," said Brodie.
Follow the author on Twitter @RussellReports.