For Emma Kirwin, co-founder of DirtMarket, the best part about being recognized as one of DMZ's Women of the Year for 2022 was setting an example for others to follow.
"The messages I got from other women once they saw it, they were like, 'I want to be in construction' or 'I want to be in tech, but I wasn't sure how to get started,' Kirwin told the Daily Commercial News.
"Seeing me being in that role and being part of the construction industry and tech industry, people have said that it means a lot to them. It's inspired them to take a step in that direction. That's the most meaningful part of it for me, is people being able to see someone who looks like them succeed in the field that they're interested in."
The DMZ, an incubator that helps tech startups around the world build and scale their businesses by connecting them with customers, capital, experts and a community of entrepreneurs and influencers, celebrated International Women's Day by putting a spotlight on influential women in tech.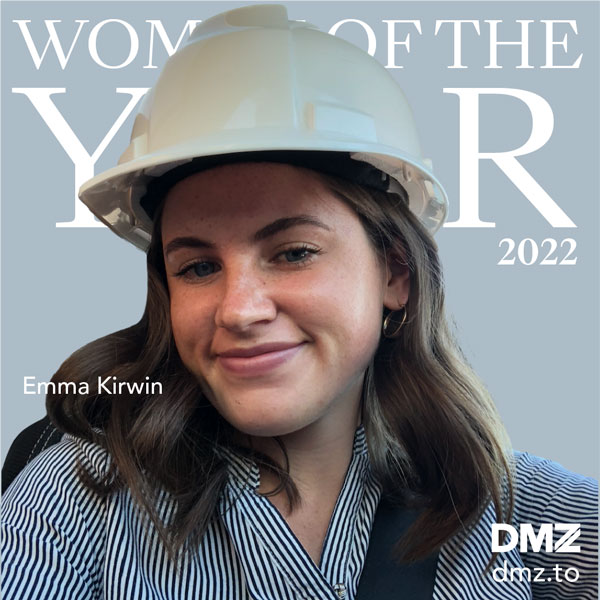 This is the inaugural year for the DMZ's Women of the Year award. The list is curated by the tech community "to honour inspirational women within the Canadian tech ecosystem for their outstanding accomplishments and contributions to creating impact."
Almost 600 nominations were received from across Canada and 46 women received the award.
"If you look at the women who received the award you can see that it's…people with different backgrounds, experiences, ages," Kirwin said. "I think my story was attractive for this award because it's not only women in tech but women in construction tech is even more niche.
"It required a lot of barriers to break through to get to where we are today with DirtMarket."
Kirwin was nominated by Asad Jalib, co-founder of DirtMarket, a company that offers a marketplace for construction teams to beneficially reuse each other's excess soil. Kirwin found out she was receiving the award a few weeks ago.
"I was surprised when I got the email because as a company who functioned primarily during the pandemic, a lot of it is just sitting in your home and doing work and it's hard to see the results of the work you're doing because we're not going to in-person conferences. We're not seeing the impact we're making first-hand as often as I think you would be. It's easy to get lost in the repetitiveness of working online most days but to have this highlighted and have it be like 'you are making an impact' even though it might be harder to see because we live in this digital world."
DirtMarket was launched last January by Kirwin and Jalib who were students at Brock University in St. Catharines at the time. Since then, it has grown to have over 1,000 earth movers using the platform and over three million metric tonnes of soil listed.
"We started with people putting up garden soil or something on the smaller scale and now we don't do projects of that size," Kirwin commented. "It's definitely been a quick uptick and a lot to keep up with, but we've seen pretty significant growth."
DirtMarket is also helping to educate people on soil regulations in the province.
"A lot of big companies have people in house to help work through the regulations…but a lot of medium and small size construction companies don't have a dedicated excess soil lead," Kirwin noted. "Often times we're providing connections to qualified persons or engineers to really help educate people and bring people up to speed on the regulatory reforms."
The co-founders expect to continue to expand.
"There is certainly lots coming down the pipeline for DirtMarket," said Kirwin. "We definitely started as a marketplace for soil and we're looking out at building lots of different pieces to help support the earth moving process from start to finish."
Follow the author on Twitter @DCN_Angela.