Amazon Canada has inaugurated the newest addition to its Toronto Tech Hub, unveiling 130,000 new square feet of office space at 18 York Street to bring its total Toronto tech centre commitment to 350,000 square feet and counting.
Teams working at the Amazon Toronto Tech Hub offices include AWS, Alexa, Amazon Advertising, Prime Video, Amazon Music, and Retail and Operations Technology. More than 2,000 local corporate and technology employees operate out of the offices.
Besides the eight new floors now occupied at 18 York Street, called YYZ18, the Tech Hub fills five floors at 120 Bremner Blvd. (YYZ14), with two more coming later this year, and five floors at YYZ16 at 40 King St. W. YYZ18 will add three more floors next year, boosting Amazon's footprint by 75,000 square feet.
"It's both investing in the city centre and it's about investing in Canadian cities and making sure that we have a great presence with really bright collaborative spaces where teams want to work together," said Amazon Canada senior manager of corporate communications Kristin Gable, who offered a tour of the facilities the morning of the inauguration ceremony, which took place June 15.
At a time when some commercial developers may be reevaluating office investments in the wake of work-from-home and other uncertainty created by supply-chain, inflation, workforce availability and other disruptions, Gable said Amazon remains all-in on its Toronto commitments. Its work model works best with employers onsite a lot of the time, she said, although there is lots of flexibility built into company policy.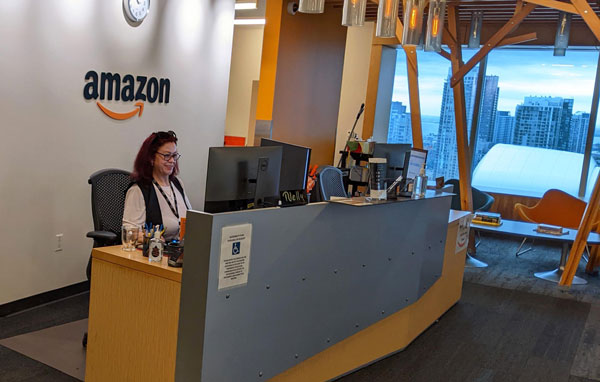 "When you go back to how we initially conceived the office back in 2015, it's really about having an amazing place to come in to be with your team and collaborate," said Gable.
"By having real estate, by creating highly-skilled jobs downtown, it's an opportunity for people to be in the heart of the city and to collaborate with their teams."
The 27-storey 18 York, developed by QuadReal, is part of the Southcore Financial Centre complex. It's 100 per cent leased.
Gable said tenants are looking for top ratings in building amenities and features and 18 York offered a package that would enable Amazon to attract top talent.
The building is LEED Gold designated and features open work areas with natural light from all directions. Typical ceiling height is nine to 11 feet and the raised-access floor system provides under-floor air distribution with individually controlled diffusers.
18 York participates in the downtown's
and utilizes a system of cisterns for water reduction and management. Other features include an urban forest outdoor amenity and a 13,000-square-foot tenant-exclusive fitness club.
QuadReal is also seeking or has obtained BOMA Platinum, a Fitwel three-star rating and 99 in Walkscore.
The front door is 180 metres from Union Station.
Indoors, the Amazon offices include multiple configurations of collaborative areas where the goal is for teams to be able to work together however they choose, Gable explained.
"You'll see that we're taking an approach with our tech hubs with a lot of agile seating, a lot of big training and conference areas, just to make sure that people can be together in a way that's positive and inspiring and really to motivate them to invent on behalf of customers."
Amazon's Toronto Tech Hub employees include software development engineers, user experience designers, cloud computing solutions architects, sales and marketing executives, and speech scientists – working to "make Alexa smarter," said Gable.
There is also a devices team that works out of a couple of floors of lab spaces.
Toronto is now recognized as the third-largest tech hub in North America. Gable said many of Amazon's new tech employees come from good Toronto-area universities and colleges.
"When Amazon thinks about where we are going to set up a tech hub, where we are going to create jobs, we look at things like universities, is there a talent pipeline, and Toronto is world class," said Gable.
Other tech firms invading Toronto have included Microsoft, Apple, Pinterest, Klarna, Twitter, Doordash, Ebay, Shopify and Google.
As evidence of the power of the sector's investment influence, Amazon alone invested $6 billion in Canada in 2020, including other ventures such as its fulfillment centres.
Follow the author on Twitter @DonWall_DCN.