The level of interior comfort experienced by building occupants can be measured several ways. Temperature and ventilation control seem obvious. More subtle, however, is the psychological uplift of outside light brought to the interior space. There is an instinctive desire, shared by all, to connect with our surroundings, coupled with the need for natural light in our environment.
Such human needs may sound simple but their successful application is more of a challenge today for architects and designers given the focus on energy efficiency.
Speaking at last month's Passive House Canada's annual conference in Victoria, Peter Dushenski, managing director of Edmonton-based GlasCurtain Inc, explained how exterior glass curtain walls have evolved over time to address these issues.
The use of glass curtain wall systems on large buildings began to take hold in the 1950s, addressing the desire for openness, transparency and interconnectedness between the interior and the exterior worlds. Energy performance was not top of mind, he said, whereas buildings today are expected to have minimal possible carbon emissions.
Glass answers esthetic ambitions and the human desire for light and connection. But can glass find a place with today's high environmental expectations, other than by simply reducing window-to-wall ratios?
In response to this challenge, the glass industry has improved the thermal performance of sealed window units over recent years.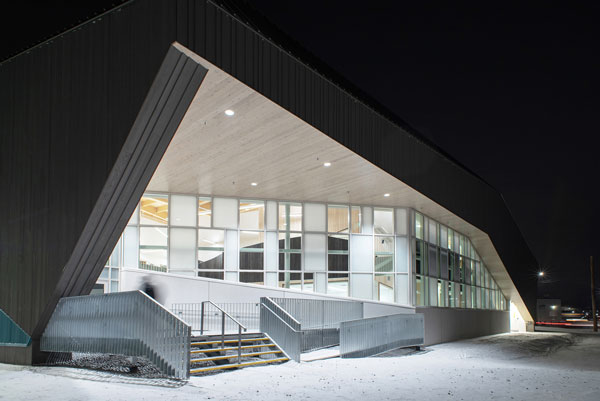 For example, after years of prototype testing and a patent dating back to 1913, Vacuum Insulated Glass (VIG) today offers R-values as high as R14 in the glass panel units. The vacuum between the glass layers replaces inserted gasses and eliminates the heat transfer between the layers due to convection and conduction. On the horizon are glazings, interlayers and coatings that are both transparent and have photovoltaic properties for electric energy collection. One day, these might be as viable an alternate as VIG is today.
However, the insulation values of a curtain walls is more than just the glass. The performance of the overall framed unit must be considered.
Curtain wall framing has evolved over the past 100 years, from steel to bronze to aluminum. However, Dushenski said metals such as aluminum can reduce unit R-values down to R3 to R5.
His company took a different direction and developed fibreglass (TP-RFP) framing as the foundation for its line of curtain wall systems. Fibreglass is far less conductive and brings unit R-values back up to R7, even to R9 for GlasCurtain's Passive House Institute-certified curtain wall units.
The auto, aircraft and sport industries transitioned from wood and metals to composites for strength-to-weight reasons. For windows, it's about thermal performance.  
"Fibreglass delivers 99 per cent less thermal conduction versus aluminum," Dushenski said. "That means anywhere from a 10 to 30 per cent whole building energy saving."
As a result, less warm air is needed to "wash" the interior of the façade, with the added benefit of making more floor area usable since desks can be placed closer to the outer perimeter. Because window-to-wall ratios are not as constrained, more natural light can flow to the interior.
Beyond energy efficiency, light and connectivity are the embodied carbons associated with fibreglass versus aluminum.
Back in 2009, long before Life Cycle Assessments (LCA) were a major topic, Dushenski's company investigated the environmental impact of using fibreglass as framing. His LCA indicated the production of fibreglass framing had 60 per cent less carbon emissions than aluminum framing.
Certainly any new building designed and built today will confront rigorous expectations for emission and embodied carbon reductions. However, new construction represents only a small percentage of overall structures.
More important are retrofits to existing buildings. With 80 per cent of today's buildings likely to be standing 30 years from now, most will face serious upgrades to their exterior façade's energy efficiency performance, for either regulatory or economic reasons. By then, building owners may have an increasing number of options only dreamed of today.
Light, connectivity, environmental efficiency: With the latest curtain wall innovations, perhaps we can have it all.
John Bleasby is a Coldwater, Ont.-based freelance writer. Send comments and Inside Innovation column ideas to editor@dailycommercialnews.com.