Volvo Construction Equipment's (Volvo CE) real-world testing of its electric earth machines confirms the company's commitment to phase out all diesel versions of its construction equipment in order to achieve net-zero greenhouse gas emissions by 2040.
In a news release, the company says its efforts to "explore every aspect of the electric ecosystem is helping to deliver a complete site solution for real urban applications. Together with multiple municipalities, cities and academic and industry partners, Volvo CE is thoroughly testing every part of how an electric machine is put to work from a system perspective – from charging infrastructure through to energy supply and more."
To test its technology in realistic conditions, the company developed a test platform it calls an Electric Worksite, or E-Worksite, in Gothenburg, Sweden earlier last year. This has allowed Volvo to set global benchmarks for electric jobsites while also testing the specific requirements for its electric machines across different tasks.
Urban construction is the focus of Volvo's electric product development, and Volvo's E-Worksite is no simulation. It's been used to tackle a variety of real-world challenges across Gothenburg, Sweden's second largest city. The first project completed was the development of a recreational space in the heart of the city. This was followed up at the end of 2021 with the redesign of the Drottningtorget city square.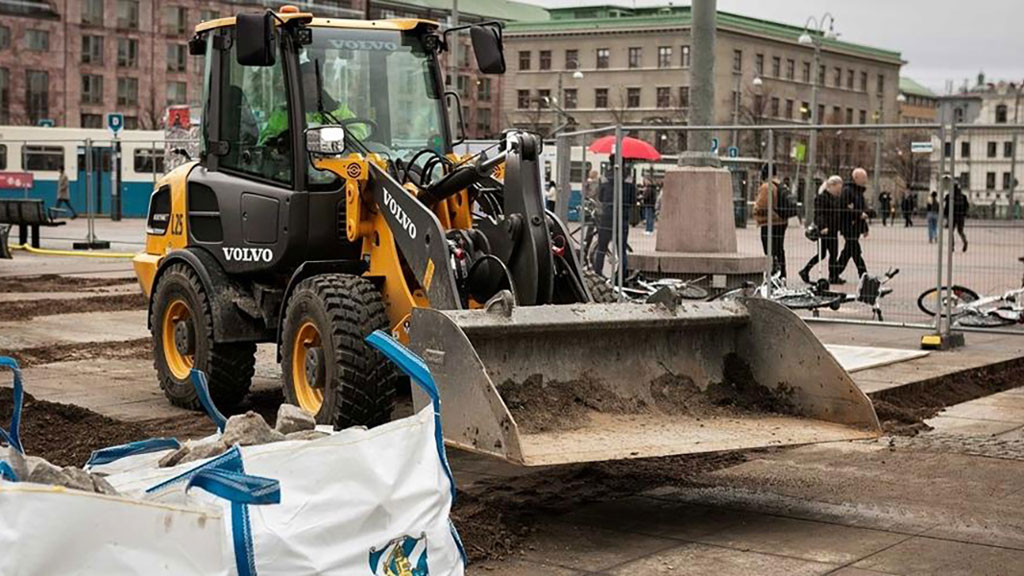 Volvo's strategy with its E-Worksite initiative is multi-layered, the company said.
"We want to collectively take on the complex task of understanding the electric ecosystem and guide our customers on how best to move forward in this transition" says Niklas Lindblom, project manager at Advanced Engineering Programs, Volvo CE. "Beyond the technology itself, business models, infrastructure and support systems, regulatory frameworks and a mindset change are all required on the road to full acceptance. It is a complex puzzle to solve as there will be no one-size-fits-all."
Volvo believes a side benefit of its E-Worksite analysis will be to provide data that will help municipalities develop satisfactory legislation for construction in cities. Zero emissions and reduced noise are issues that construction always faces when working in the tight confines of cities.
Furthermore, machine operators will benefit from reduced noise as well as reduced vibration. This can, in turn, reduce operator fatigue, which can translate into higher efficiency over the course of a day's work.
Electric machinery offers several benefits beyond the advantages of reduced noise and zero emission.
Electric componentry on electric machinery requires less maintenance, a reduction up to 30 per cent according to Volvo. Including fuel calculations, the overall operating cost over a two-week period is estimated to be about two per cent higher than the equivalent diesel. Still, owners may find the cost worthwhile if it means successfully meeting noise and emission requirements from municipalities.  
Two models of the electric machines currently in use on the E-Worksite will be delivered in North America over the next few weeks; the L25 Electric wheel loader and ECR25 Electric excavator. Both have carried out material moving and landscaping tasks on the E-Worksite.
Three other smaller electric versions of Volvo's compact line are now available for pre-order, with projected delivery in 2023. The 9,921 pound L20 Electric compact wheel loader offers a 1.8-ton payload and is available with a choice of 33 kWh or 40 kWh battery packs, delivering up to six hours between charges, depending on the workload.
The EC18 and short-swing ECR18 Electric compact excavators both have 2,900 pounds of break-out force and can deliver up to four hours of continuous work between charges. All three have onboard chargers that recharge from zero to full in less than six hours. Faster recharges are possible with the optional off-board fast charger.
The company has also announced that a larger 30-tonne grid-connected excavator will take on heavier tasks at pilot projects in 2022, while its new 22-ton EC230 Electric excavator, currently under study in European pilot projects, is expected to perform demonstrations later this year in North America.
John Bleasby is a Coldwater, Ont.-based freelance writer. Send comments and Inside Innovation column ideas to editor@dailycommercialnews.com.