London, Ont. sees more than its share of tornadoes and microbursts but most of them don't make headlines because they are manufactured in controlled settings inside the Wind Engineering, Energy and Environment Research Facility (WindEEE) at Western University.
The large domed centre, which operates three labs for the study of wind forces on buildings, just received a federal government grant for almost $3.9 million towards operational costs and research into how to improve durability in buildings and structures as the climate changes.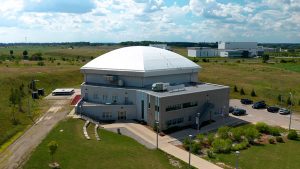 It is a welcome cash injection for the one-of-a-kind wind research centre at a time when resilience is becoming a buzzword in the design and building world.  
"The facility requires highly-skilled engineers and technicians, even at the operational level, not just during research," says Girma Bitsuamlak, director of WindEEE and a professor in the civil engineering department at Western.
WindEEE was erected about a decade ago mainly to study how to engineer structures to better withstand high winds but increasing storm and tornadic activity across the globe has heightened the need for additional research at the internationally-recognized centre. 
New agendas include improved building shapes, forms and even siting, all of which can increase energy efficiency and durability.
"There is clear evidence that our exposure to the risks of extreme weather is increasing, so to retrofit existing buildings or to make sure new designs are commensurate with new the stresses they face we need these kind of studies," says Bitsuamlak.
WindEEE consists of a main domed structure about 40 metres in diameter with a large-scale test chamber to simulate the impact of different types of high-force winds, including tornadoes, thunderstorm microbursts and downbursts.  
It contains 106 large fans, including 2.5-metre-diameter ceiling fans and a wind flow modification system for aerodynamic testing so that various wind patterns can be analyzed.
"We can generate a tornado in the lab."
Replicas of buildings, bridges and city infrastructure enable engineers to evaluate structural soundness in various conditions.
Bitsuamlak says the centre has been used to evaluate wind forces on such high-profile structures as the Burj Khalifa in Dubai, the tallest building in the world, the Confederation Bridge in Prince Edward Island and Toronto's CN Tower.
This fall Bitsuamlak says that European research teams are invited to use the facility.
One of its labs, aptly named the , tests wind loads on residential buildings to determine optimal design and construction while another lab looks at aerodynamics and features a wind tunnel for testing large-scale buildings and other structures such as bridges, he says.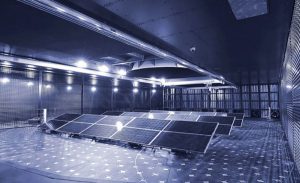 Increased wind forces aren't only the result of the changing climate. WindEEE recently hired an architect who will study the changes in wind velocity and patterns resulting from the evolution of city topologies. Toronto's increasing clusters of tall buildings is a case in point.  
One of the goals is to help develop "highly specialized computer simulation tools," for the design of future buildings and retrofits of older ones, Bitsuamlak says.
WindEEE was constructed in 2012. NORR provided architecture and engineering services.
Hassan Saffarini, principal of NORR, says WindEEE's research data helps building standards authorities identify code revisions that will bolster building resilience.
He says while the U.S. has made revisions to its codes and standards in recent years to account for increased storms, tornadoes and hurricanes, he isn't aware of revisions yet proposed for the National Building Code of Canada.
"There is, though, a lot of interest that we see from federal, and in some cases, private clients who want to understand the impact of climate (including wind) on design."