What do Goldman Sachs, Morgan Stanley and Credit Suisse have in common at their New York offices? They've been using ice cooling systems for years to either replace or supplement mechanical air-conditioning.
Air flowing over cold surfaces is an age-old concept that's making a big comeback due to the increased attention being paid to carbon emissions and electrical grid demands.
The ancient Persians used specially designed wind catcher towers, many of which can still be seen today in parts of the Middle East and North Africa.
Air funnels down to interior spaces through precisely designed openings and canals and sometimes across pools of cold subterranean water and then back up. Some water pools can even produce sheets of ice on their surface. The warm air rises and exits through another tower or opening, aided by the pressure within the building.
Although there are variations to the commercial processes available today, the principals behind ice cooling remain relatively straightforward.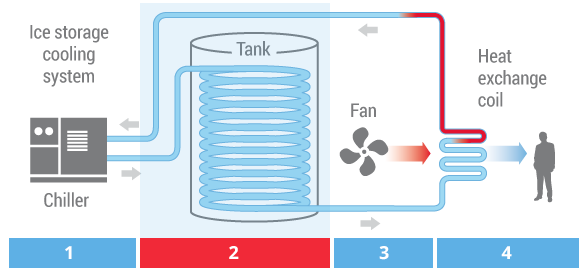 Calmac, a leading manufacturer of thermal energy storage based in New Jersey, describes ice cooling as a type of thermal energy storage battery. The company says its IceBank® energy storage tanks are installed today in 4,000 commercial and medical buildings, hotels and universities around the world.
At night during off-peak electricity hours, water combined with ethylene or propylene glycol is cooled by a chiller and then circulated inside the heat exchanger within the IceBank® tank. Ninety-five per cent of the solution surrounding the heat exchanger is frozen inside the tank using counter-flow-heat exchanger tubes. This takes from six to 12 hours, Calmac says. The water surrounding the heat exchanger never leaves the tank.
"During the day when electricity is at peak rates, the solution circulates through the ice storage tanks to deliver the stored energy to the building to augment or offset electric chiller cooling. The cold glycol is delivered at the proper temperature to the cooling coil in an air handler. A fan blows air over the coils to deliver cooling to the occupant spaces," the company states.
What brings ice cooling to the forefront of interior comfort today is the need to reduce energy consumption.
Willis Carrier invented today's mechanical air conditioner in 1902. By the mid-20th century, air conditioning had become a must-have feature in buildings of all types.
With this increased popularity came an enormous increase in electrical demand. Mechanical air conditioning around the world today gobbles up 20 per cent of all the electricity generated and could triple by 2050.
Unless the required future energy generation comes solely from renewable sources, the resultant carbon emissions will increase as well.
The potential to reduce GHG emissions is obvious and the financial savings for commercial building owners very real.
Goldman Sachs' 43-storey headquarters in New York has used ice cooling and thermal storage since 2014, with estimated savings of about $50,000 per month during the hottest months. With temperatures and electricity rates both heading higher over time, the ROI appears sound. Some payback periods have been reported as short as five years.
The initial investment is often competitive with conventional air conditioning for both new-builds and retrofits. The most recent ice cooling systems utilize AI to control their integration with mechanical systems in order to maximize comfort and minimize energy use.
In terms of carbon savings, the New York State Energy Research and Development Authority estimates Credit Suisse's system in their Manhattan office reduces annual carbon emissions equivalent to the removal of 223 cars or the benefit of the planting of 1.9 million trees.
The money wizards at Goldman Sachs, Morgan Stanley and Credit Suisse understand the concept of financial paybacks and the reputational advantages of taking carbon reduction action. Yet ice cooling systems today represent only a tiny percentage of the global cooling market. It can be a tough sell to property owners and developers and is seen as more beneficial for large structures with high energy costs.
However, scaling systems to smaller buildings and even homes might soon become financially and logistically viable.
John Bleasby is a Coldwater, Ont.-based freelance writer. Send comments and Inside Innovation column ideas to editor@dailycommercialnews.com.