British construction equipment manufacturer JCB Excavators Ltd. has taken the bold step of committing to hydrogen power for its line-up of larger site machinery. The company calls their initiative, "the Road to Zero," part of a $160 million investment to develop super-efficient hydrogen motors.
"Batteries are not practical for equipment with high power demands and for machines that work in remote locations, such as backhoe loaders and large excavators," the company says. "Batteries would weigh too much, cost too much and there would not be enough time to charge them, even if onsite charging infrastructure was in place."
JCB has long been at the forefront of innovation. The company invented the backhoe in 1953, the telehandler in 1973, and launched its first battery-electric mini excavator in 2018. 
Today, JCB offers over 300 models of electric and diesel-powered machinery. Its latest EcoMAX diesel engines have reduced NOx emissions and particulate emissions by 97 per cent since 1999 and are 50 per cent more fuel efficient than 10 years ago.
Electric machinery may offer great potential, but JCB has identified certain practical limits of large equipment running on batteries. It comes down to cost and useful running time.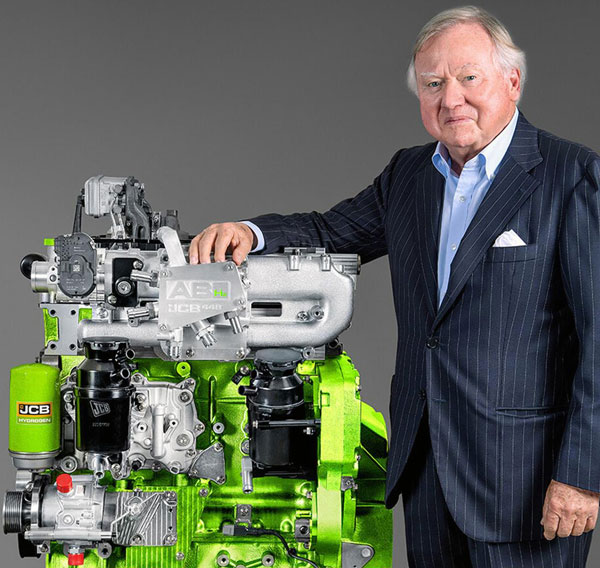 Analyzing the power requirements for a 20-ton excavator, JCB engineers calculated 22,000 pounds of batteries would be required for the machine to complete a 16 hour day of work, not unusual for heavy construction, and would take 12 hours to recharge. The estimated cost for the batteries alone would be about $500,000. Reducing the number of batteries would shorten the work time significantly, likely requiring a second machine to be ready while the first was recharging.
The company acknowledges in certain urban sites where recharging is more accessible, battery electric equipment might be ideal.
"There's a place for electric products, but it's probably the smaller compact, where you're not working with massive energy all day," Tim Burnhope, JCB's chief innovation and growth officer, told a recent media gathering. "But if you're working all day, full power, you've got some real challenges."
However, if emissions from machinery are to be reduced on remote sites where long working days are common, electric power has shortcomings.
JCB sees hydrogen as the answer.
Hydrogen can power a motor two ways. As a fuel cell, hydrogen can deliver electricity just as batteries do.
As the U.S. Department of Energy explains, "A catalyst at the anode separates hydrogen molecules into protons and electrons which take different paths to the cathode. The electrons go through an external circuit, creating a flow of electricity."
Although JCB had showcased a 20-metric ton fuel cell excavator in 2019, the company recognized several challenges associated with fuel cells, and instead decided to develop a motor that runs on hydrogen directly.
In January, JCB engineers introduced the industry's first hydrogen power plant, using and adapting established engine technology with readily available components. The result is a motor that combusts hydrogen and delivers power just like a traditional diesel engine but with zero CO2 emissions.
"Nothing but steam is emitted from the tailpipe," the company says.
"Hydrogen is stored as gas under high pressure, which is stepped down to lower pressure when injected into the engine.
"JCB's unique combustion process involves lowering the pressure and temperature within the engine to give a clean burn and a zero-emission product while delivering exactly the same power and torque as a diesel engine. The technology is far less complicated than hydrogen fuel-cell technology."
Hydrogen can be delivered to a worksite in tanks for quick refuelling just like diesel, using a tanker truck or in bowsers on a trailer.
Other leading manufacturers are also developing hydrogen-powered construction equipment. Some are using fuel cells and others are using their own proprietary hydrogen engines.
But for the time being, hydrogen-powered machinery is still in its infancy and, in Canada, limited by hydrogen's commercial availability.
However, JCB's "road to zero" is showing a path forward.
John Bleasby is a Coldwater, Ont.-based freelance writer. Send comments and Inside Innovation column ideas to editor@dailycommercialnews.com.